NVIDIA is one of the most popular graphics chips manufacturers in the market. It has garnered popularity in this field as it provides excellently performing Graphics Processing Units for gaming, cryptocurrency and professional markets. It also provides parallel processing capabilities to researchers and scientists.
Many users have recently reported that after one of the latest updates, they face an error with NVIDIA driver crashing in Windows 10. Here I shall discuss why is your Windows 10 display driver crashing, and how you can solve this error.

Why Do NVIDIA Drivers Keep Crashing?
First, you should know what drivers are. Drivers refer to the configuration files that allow the communication between your operating system and your hardware devices. If your hardware device driver is corrupted for some reason, you will see that there are any issues with your device, which may fail to work properly.
There is also a possibility that your device was disabled for some reason. This can happen due to many factors, like application and settings installations, or malware.
Sometimes, Vertical sync (which allows the gamer to synchronize the frame rate of the game with the monitor refresh rate for better stability) may also cause problems with your graphics.
There is also a possibility that your third-party antivirus software is causing compatibilities with your game and drivers. This is also one of the common causes that the graphics card keeps crashing, and maybe the reason that you are facing this error as well.
How To Solve 'NVIDIA Driver Crashing In Windows 10' Error?
You may additionally notice the screen to go black repeatedly for no reason. This is a confirmation that there might be something wrong with the installation of the drivers. If you too face this error on your device, here are some of the tried methods in which you can solve the 'NVIDIA driver crashing' error easily.
Method 1: Enable Graphics Card And Update Drivers
There are many reasons why your device may have been turned off. But fortunately, there is one simple way in which you can solve this by turning on your device easily.
Press Win + R to launch a Run
Type devmgmt.msc and press Enter to launch the device manager.
Locate and expand the Display adapters section by clicking on the small arrow next to it.
Here, you should see your NVIDIA graphics card. Right-click on it to reveal the context menu.
If it is not enabled, there should be a grey arrow pointing downwards, so just right-click on your card and select Enabled.
Next, select Update driver from the context menu to update the drivers.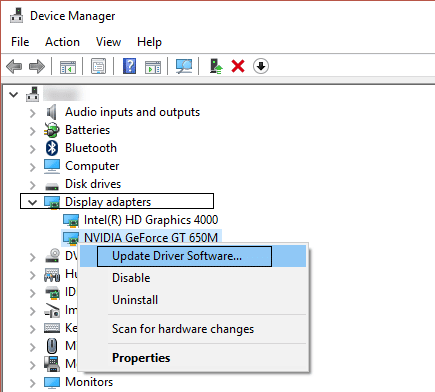 Follow the on-screen instructions to install the latest drivers if an update is available for the same.
Restart your device.
If your device was disabled due to some reason, you may be facing the NVIDIA driver crashing in Windows 10 error due to this particular reason. This should solve your error.
Method 2: Check For Malware
If you found the device to be disabled, there is a chance that there may be hidden malware on your device. Many users have reported that there was a hidden malware on their device, which was causing the NVIDIA drivers keep crashing error on their Windows 10 devices.
If you already own premium anti-virus software, you can use that to run a malware scan. Alternatively, you can choose from other free options like Malwarebytes, which can do the basics for free.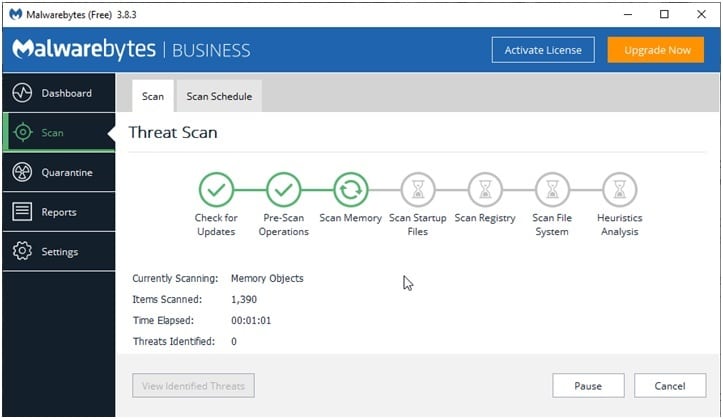 Method 3: Custom Installation Of Drivers
If your anti-malware found no malware or virus on your device, and the update driver search returned no values, there can be some error with Windows Update that is preventing the download of that specific graphics driver. In these situations, you can manually download and install drivers on your device.
You can access the drivers from the official NVIDIA website. Here, locate and download the appropriate version of the driver software.
Note: if you recently updated your graphics card, you may want to install the latest drivers available for that graphics unit. If you are on older hardware, instead of installing the latest driver, either locate the driver version that you knew worked with your GPU or go to the end of the list and install that version. If you find this version working perfectly fine, visit the website again and download the next available version above the last one. Repeat this until you find the version that is not supported on your system or the second entry from top whichever first.
Once you find the suitable driver, log into Windows as an administrator, and right-click on the driver software that you downloaded to reveal the context menu. Select Run as Administrator from the context menu.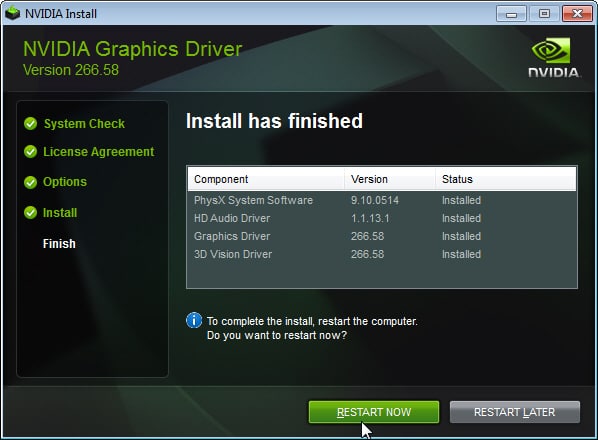 Pro Tip: Choose Custom install instead of Express. From the installation settings, perform a 'clean install', which allows you to remove any previous profiles that may have been causing mismatch issues.
Method 4: Choose Maximum Performance And Disable V-Sync
Sometimes your operating system will limit the processor's capabilities when the device is set in power-efficient mode. Removing this will help you achieve better performance. However, remember that this will affect your battery life significantly if you are on portable devices like laptops.
Launch the NVIDIA Control Panel. You will find this in the right-click context menu of your desktop.
Here, select 'Manage 3D Settings'.
From there, you must set V-Sync to off.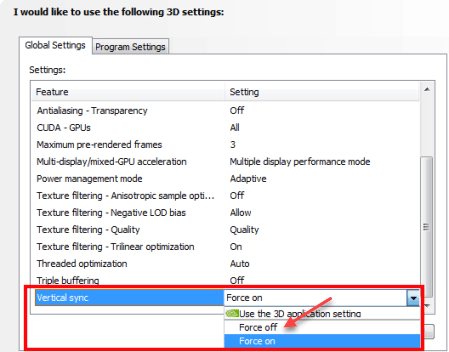 Next, go to Power Management Mode.
From there, set it to Maximum Performance.
This should remove the bottleneck that was causing your drivers to throttle, causing the NVIDIA driver crashing in Windows 10 error on your device.
Method 5: Disable Antivirus Shields
If you are performing some important task that requires you to use the full potential of your graphics card, you can try disabling the antivirus shields. Many users have reported that some antivirus software like Avast conflict with NVIDIA drivers, thereby causing this error.
Try disabling the antivirus shields for your device during the task. If you cannot do so, you may have to try some other antivirus software.

Method 6: Clean Up Your Device
There is always a possibility that your hardware may be misbehaving due to collecting dust from not being regularly cleaned. If possible, clean your hardware by removing the graphics card, and restart your device.  You should see your 'graphics card keeps crashing' error solved.
Wrapping Up
So there you have it. Now you know how to solve the 'NVIDIA driver crashing in Windows 10' error using the six fixes given above. Tell us in the comments if you found this useful, and to discuss further the same.