"When a display driver crashes, Windows will recover it by reinitializing the display driver.  Is there a way to do this manually, if my display becomes corrupted?"
Even machines need rest. While working for long hours, you must have noticed that the display sometimes does not work as smoothly as you would expect it to be. You can face a multitude of errors like a frozen screen, a black screen, irresponsive peripherals etc.
All these are an indication that there is some error in your graphics card driver. Windows 10 is intuitive in these situations, and it resets the drivers on its own. However, these resets often work very late, and users may want to reset their graphics drivers manually before Windows 10 does it on its own. Here I shall discuss how to restart graphics driver.
How To Restart Graphics Driver Manually?
Windows 10 usually detects that the driver has gone unresponsive, and will not function properly. Therefore, it restarts the driver. You will see that the PC freezes and your screen go black, and after a beep, the PC comes back to life normally.
You do not have to wait for your operating system to detect an error, as you can manually restart your driver.
To restart graphics driver manually, you can use the keyboard shortcut Win + Ctrl + Shift + B. You shall notice that the screen starts flickering, there is a beep and everything is back to normal.

Advantages Of Resetting Graphics Driver!
A simple reset should free up any locked cache data, resulting in smooth performance of your device. This is useful while you are working long hours, and see your system halt occasionally.
This method seems safe, and will not cause any harm to your device is used sparsely. The custom settings are left untouched which means everything should work exactly as it did before you reset the device.
Precautions To Take While Resetting Graphics Card
If your graphics card has some other issues, there is a chance that something else may go wrong too. As such there is no certain way to determine how your PC may react if there are some issues with your hardware.
In addition, you may want to refrain from using this keyboard shortcut while there is some unsaved work on your desktop. Also, do not use this shortcut repeatedly, as you may end up bricking your system. Only use this Windows 10 restart graphics driver shortcut when you see your PC choking and in emergencies.
Other drivers may end up frozen as well, and you will need to visit the device manager to reset that. Open the device manager from a Run dialog (Win + R) by typing devmgmt.msc and pressing Enter. Here, locate the driver that is not responding, and chose Disable Driver followed by Enable Driver from the right-click context menu.
Corrupt Display Drivers
If your display drivers have gone corrupt, a simple reset may not solve your error easily. You will need to reinstall the latest graphics drivers. To do that, you may follow these steps:
Open a Run dialog by pressing Win + R shortcut. Type devmgmt.msc and press Enter.
Find Display Adapters and expand it by clicking on the small arrow next to it.
Right click on the adapter select Uninstall.
Restart the computer.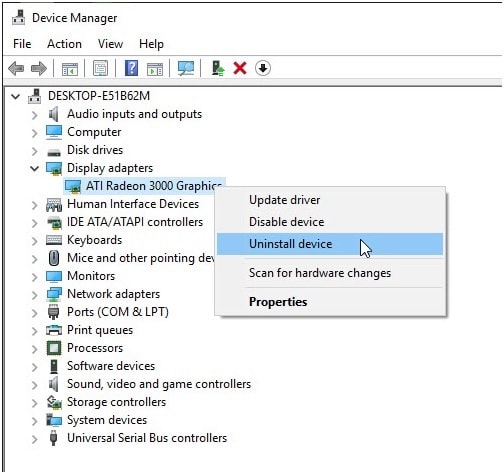 Windows should install the drivers required upon restart. Head over to Update section in the Settings app.
If somehow Windows does not download the latest drivers, you can visit the manufacturer's site and download the latest drivers from there.
Conclusion
So there you have it. Now you know how to restart graphics driver using the keyboard shortcut provided above. Also check our other related guides "how to fix Chrome flickering issue" and Firefox Error "A Web Page Is Slowing Down Your Browser"