Since managing multiple computers is a genuine challenge, the process of switching between two machines with a single mouse should be a smooth one.
This is where using a single mouse for two different computers becomes essential and practical. Moreover, it is an excellent way of saving space on your desk and minimizing or eliminating unnecessary clutter.
This guide will take you through the process of multi-computer mouse control by unveiling the various ways of doing it with the help of a single mouse for two different computers.
Here, we will explore the hardware and software-based solutions to help you unlock the world of cross-device mouse control.
Also, read: How To Use Keyboard As A Mouse In Windows 10?
How To Effortlessly Use One Mouse For Two Computers?
Sharing a mouse for two different computers can be done in two different ways.
One is by following the Hardware option, and the other is by taking the help of Software.
There are quite a few ways of setting up a single mouse for two different computers, and depending on your requirements and preferences, here are a few methods for you:
1) Hardware Solution:
a) KVM Switch
Hardware like KVM Switches is the primary way of sharing mouse and keyboard access between two computers. This is also one of the most well-known and stable solutions that allow the user to push a button or input a keyboard command to switch between controlling and viewing the two computers.
KVM Switch is used to control multiple computers with just a set of single input devices and is a much more streamlined way and can easily take place with just the press of a button.
But it is equally important to search for the best KVM switch, considering its functionality, features, and reliability.
It is an effortless and straightforward way to use and is compatible with other USB devices such as microphones, speakers, etc. Also, it is compatible with Windows and Mac OS X compatible.
The inconvenience lies in the fact that there are too many wires and it isn't free.
2) Software Solutions:
Here are a few software solutions for using one mouse for two computers:
a)Mouse Without Borders
Mouse Without Borders is a user-friendly setup and reliable mouse and keyboard-sharing software. After installing it, you need to enter the appropriate codes and then connect it automatically.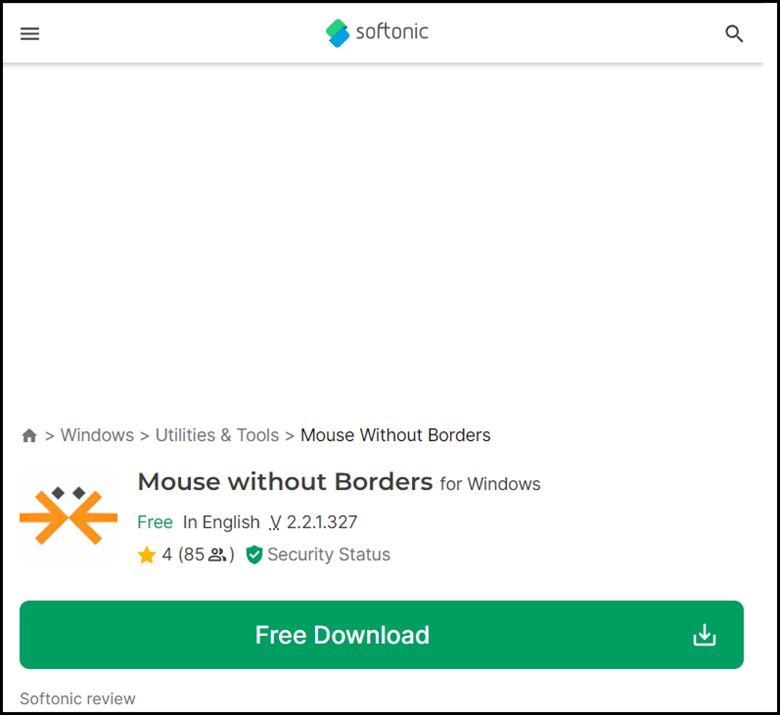 Even though it is free and reliable still, it is in an experimental stage.
But its compatibility lies only with Windows OS and not with any others.
Mouse without borders allows you to use a single set of keyboard and mouse for up to four computers. All you need to do is drag the mouse from one monitor to another as if they are one.
Doing this will help you to share the mouse and the keyboard, thereby allowing the drag and drop of files across two computers for copy-pasting effortlessly.
Also, read: Microsoft Mouse Without Borders Not Working In Windows 10
b) Remote Desktop
Remote Desktop connection is built into most Windows 10 machines, making it easy to access a remote mouse or keyboard on any other PC.
You can use remote desktop software like Microsoft Remote Desktop for Windows, Chrome Remote Desktop cross-platform, or AnyDesk to control one computer from another.
All you need to do is to install it on both computers and then configure the necessary settings. It works exceptionally well, but its compatibility needs to be compatible with cross-platform. Only computers with Windows Pro or Windows Enterprise can be accessed.
The disadvantages include that it needs a stable internet connection to work and the connections are only sometimes safe and secure.
c) ShareMouse
ShareMouse by Bartels Media offers cross-platform compatibility and is indeed a great option. But it has spotty connectivity, and the drag-and-drop feature is only available with the paid Pro plan.
This premium software comes with limited features for personal use. But after installing it on your computer, ensure all the devices are on the same local network.
The noteworthy aspect is that it offers the first 30 minutes without any paid license. The free version is dedicated for personal use up to two PCs only, and it is compatible with MS Windows and macOS.
ShareMouse allows seamless mouse transition with the other connected monitors, along with an active screen hosting the keyboard. However, other features include drag-and-drop files across the network, encrypted network traffic, sync events, and transition prevention.
The drag-and-drop option is only offered with the Pro version, and the Hotkeys are available only for the paid version.
Linux and Android devices aren't compatible and can't be used for operating a remote PC.
d) Input Director
Input Director is great for Windows users interested in sharing reliable software and are comfortable with a time-consuming setup.
It provides customizable hotkeys helpful security features, and runs smoothly. But the setup part is complex, and it works only for Windows.
This particular tool is compatible with Windows 7 to Windows 11 and is free to use for personal purposes. Additionally, it also provides a shared clipboard for copying files across connected PCs. This also allows synchronizing screen savers, shutdowns, sleep, wakeups, etc.
e) Synergy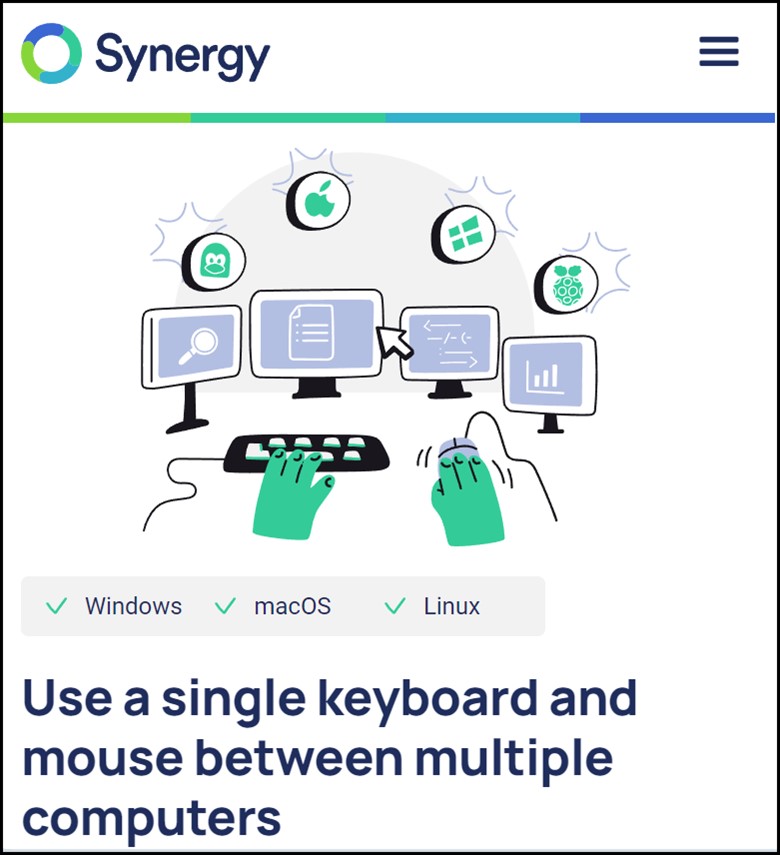 Synergy has recently entered this industry and has a complex setup process that works great as soon as the stuff is complete.
Synergy will allow your mouse to move seamlessly between one or more computers if the server and the client settings are configured specifically.
Users can share a keyboard and a mouse on an unlimited number of machines. It also offers a shared clipboard and runs on Windows only but has customizable hotkeys.
But above all, the setup is challenging, and it is no longer open source.
3) Bluetooth Or USB Switch
There is also another option of using a Bluetooth or USB Switch for manually switching the mouse between computers by connecting it via Bluetooth or USB.
This simple yet effective solution will require you to unplug and reconnect the mouse each time you switch.
Nevertheless, choose the method that is best for you, and whether it is hardware, software, or a combination of both, using one mouse for two different computers will increase your productivity and help you to manage multiple systems more efficiently and effectively.
4) Purchase Mouse With Multi PC Support
This is another option where you can finally buy a mouse that has built-in switching in it. For instance, the Logitech M720 Triathlon has physical buttons allowing users to switch between two computers.
This is a mix of software and hardware and can be connected to both computers wirelessly via Dongle and Bluetooth and can be switched seamlessly just with a press of a button.
To add extra functionality, you can download the software from Logitech, such as shared clipboards and easy filing options.
Which Is The Most Reliable And Convenient Method For You?
If you need to switch between computers frequently or you need multiple monitors, then a KVM switch is the best option for you since it is much more reliable than any other software solution.
But if there is no requirement to switch between computers frequently, then it isn't an excellent decision to spend the money on a KVM switch. In this case, a software solution is a good option, and it is much easier to set up.
Benefits Of Using A Single Mouse For Two Computers:
There are quite a few benefits of using one mouse for two different computers, and those are:
Increased productivity
Improved efficiency
Reducing cable clutter
Saving desk space
Additional Tips For Using A Single Mouse For Two Different Computers:
Ensure both computers are on the same network
In the case of a KVM switch, ensure its compatibility with your computers and operating system
While using a software solution, it is essential to install the software on all your computers
Configure the KVM or software as per your liking
Practice using both the KVM and software until you are entirely comfortable with it
Does Mouse Without Borders Work On Windows 10 And 11?
"Mouse Without Borders" is a great software that is available on Microsoft Garage, which allows a single mouse and keyboard that can be used across four different PCs.
Yes, it can run both on Windows 10 and 11, but it isn't supported on Windows 11 officially. Which indicates that it may not work correctly on Windows 11
There are quite a few users who have reported compatibility issues with Windows 10, but those are fixable, too.
This tremendous and straightforward freeware KVM (keyboard, video, mouse) tool uses a mouse and a keyboard for a maximum of four computers or other computing devices.
Here is how you can use the mouse without borders on Windows 10 and 11:
Download Mouse Without Borders by clicking on this
Install Mouse Without Borders on each computer that you want to control.
Open it and follow the onscreen instructions to connect it to the computers.
Note: Ensure you are running the latest version of the software as an administrator. If you still have problems, try running it in compatibility mode for Windows 10.
Frequently Asked Questions (FAQs)
Is Share Mouse Safe?
ShareMouse is a safe-to-use option.
Can I Use A Wireless Mouse On Two Devices?
Yes, with a wireless keyboard and mouse supporting Bluetooth or a universal receiver, you can easily pair them with multiple devices and switch between them.
What Is The Fastest Way To Connect Two Computers?
Ethernet cabling is the fastest way of connecting two PCs.
Can I Use Mouse Without Borders To Control My Computer Remotely?
No, a mouse without borders isn't designed for remote control. It is only used to control computers on the same network.
Closure
The ability to use one mouse for two different computers signifies the flexibility and adaptability of technology in today's digital world. However, by following the steps and options outlined above, you can now seamlessly achieve this objective, but it is essential to select the one that aligns best with your specific needs.