League of Legends is probably one of the most popular online multiplayer games of all time. It has millions of players online still playing the game years after its launch. Any app that hosts so many players is bound to have its share of troubles, League not being an exception.
One of the most commonly reported errors is when users see League of Legends voice chat not working. Here I shall discuss how you can easily solve League voice chat errors.
Why Is League Of Legends Mic Not Working?
Sound is one of the most important aspects of any game. League of Legends also provides an option to voice chat with your friends. With League voice not working, players can be at a disadvantage as they cannot coordinate their plays with their teammates.
There have been many reported reasons as to why the League voice chat not working. Some of these include:
Incorrectly set up audio systems
Disabled in-game sounds
Outdated drivers, and
Other audio-related system issues
[FIXED] League Of Legends Voice Chat Not Working
Now that you know the potential reasons as to why you may be facing this, here are some simple solutions that you can try in order to fix this error.
Solution 1: Join Voice Channel Automatically
Before attempting any solutions, make sure that the in-game sounds are enabled. There is a chance that you may have forgotten to turn them on after disabling them for one game session. You will need to change the voice settings inside the client.
Follow these steps for the same:
Open the League of Legends client, and click on the Settings icon.
Go to the Voice section from the left pane.
Here, select the box next to the option that says, 'Join the voice channel automatically'.
Also, make sure that the Input device is set to your external microphone if you are using one.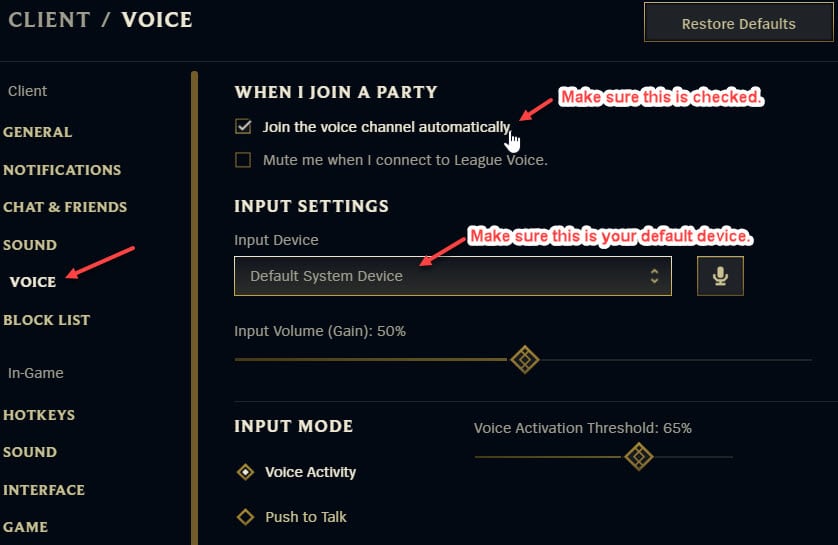 Solution 2: Check The Physical Connections
Just to be on the safe side of things, it is advised that you check the connections between your computer and the speakers or headphones that you are using as audio output. This will eliminate the possibility of the connections being an issue with your League voice chat.
However, if there was a connection problem, fixing the connections should allow you to chat with your friends in the game now.
Solution 3: Set The Correct Audio Input And Output Source
The most common solution according to users, is resetting the default audio channels. There is a possibility that a recent Windows Update or some other application may have changed the default speakers, thus routing the audio through some other source.
This is very common for users who use multiple audio output devices like speakers and headphones. Fortunately, this can be easily solved. All you need to do is change the default output device and disable all the other ones while you are gaming.
To do so, follow these steps:
On your taskbar, locate and right-click on the Speaker icon.
From the revealed context menu, click on Open Sound Settings.
This will open the Sound section of the Settings app.
Under the Output section, select your preferred device from the drop-down menu.
Next, click on Manage sound devices.
This will open another page in the same window.
Under the Output devices section, click on the device that you do not use.
Click on the Disable button.
Repeat this for all the other devices that you do not use during gaming.
Now, under the Input devices section, make sure that the microphone is enabled.
If it is not, click on the Enable button under your microphone.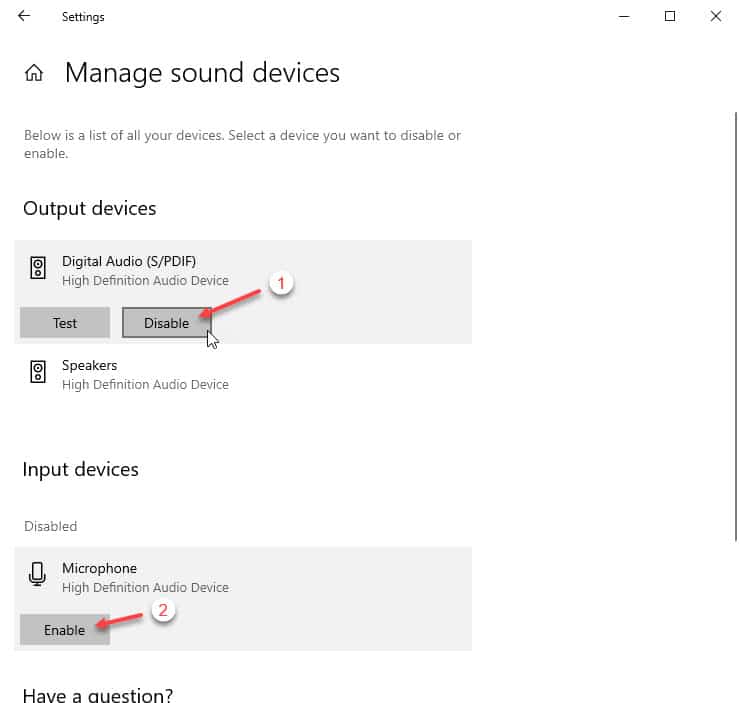 After you save the changes, you should be able to use the speakers and the microphone freely without any issues.
However, if this failed to solve your error and you still see League of Legends mic not working, there might be some issue with your system that needs resolving. Follow the solutions provided next for the same.
Solution 4: Disable Allow Applications To Take Exclusive Control
Sometimes, some apps may have taken control of your speakers or headphones. This prevents other applications from playing audio through that channel. If you suspect this is the case, you can simply turn off a setting to prevent this from happening.
You have to disable the setting that is named 'Allow applications to take exclusive control'. You will find this under the speaker's properties. Click on the setting name above to find the detailed steps for the same. 
Solution 5: Update Your Sound Drivers
There is a possibility that outdated sound drivers are causing the audio errors in League of Legends. Updating your device drivers is very important for the proper functioning of the hardware devices.
If you do not know how to update your drivers, you can follow the steps provided in our article dedicated to managing device drivers. Update the drivers as mentioned there, and check if the error persists. Your error should now be resolved.
Solution 6: Check If Computer Volume Is Too Low
If the solutions provided above did not help you, there might be something wrong with the computer, which is causing the computer volume to be too low. There is a chance that some completely unrelated issues may be causing the error on your computer.
Wrapping Up
So, there you have it. Now you know how you can easily solve if you see League of Legends voice chat not working on your computer. Comment below if you found this useful, and to discuss further the same.