Microsoft launched Windows 10 in 2015, and it was made with security updates in mind. With Windows 10, users get regular security patches and feature updates, keeping their devices feeling fresh and up to date. However, it is not perfect, with many users reporting a plethora of errors in their systems.
One such error that I shall discuss here, is when users get computer volume too low in Windows 10. This error is not uncommon, with many users reporting low audio device volume on their system or volume lower than Windows volume level bar.
We have shown a VIDEO walk through at the end of the post for easy solution.
How To Fix If Computer Volume Too Low On Windows 10?
There can be a variety of reasons why you may be hearing volume too low on Windows 10. Here are some potential fixes that you can try to diagnose why you may be getting this error, and how you can solve low audio device volume.
Note: This is assuming that you are on the latest version of Windows 10. If not, first update Windows 10 to the latest patch released by Microsoft. If updating Windows did not help you and you still suffer from low audio device volume, follow the solutions provided next:
Solution 1: Check All Volume Levels
The place you can begin solving this error is by checking all the volume levels on your device. Check the volume of your device from the system tray icon. Also, use the hardware buttons to increase the volume if you are using a laptop device.
In Windows 10, you can individually check and control the volume emitted by individual applications. This can be done from the volume mixer. To open the Volume mixer, follow these steps:
First, right-click on the speaker's icon on your taskbar.
From the context menu that opens, select Open Volume Mixer.
In the Volume Mixer dialog box, you will be able to see the applications that are using the audio devices.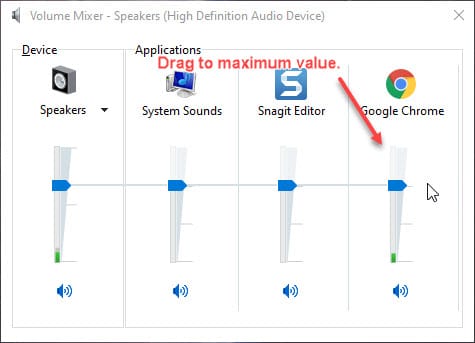 Now you will need to adjust the volume of the individual applications. Simply set all sliders to the maximum value as a low volume fix.
Solution 2: Check External Speakers
If you have external speakers connected to your device, check the volume of these as well. You might have accidentally set the volume on your speakers to a lower volume, and hence see volume too low on Windows 10.
Also, if possible, clean the speakers and do some cable management. There is a chance that you might be seeing Windows 10 volume too low because of interference from your mismanaged cables etc.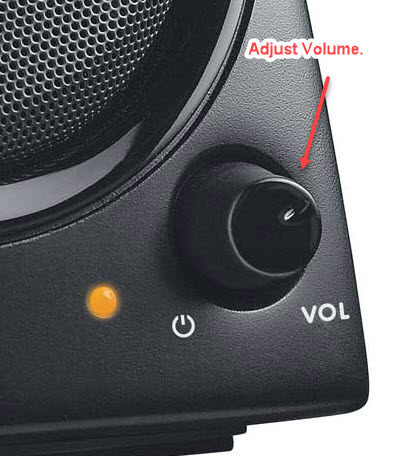 Solution 3: Check If Windows Is Automatically Lowering Volume
Many users had earlier reported an error in Windows 10, where Windows 10 automatically lowered the volume of the computer. We have covered this in an in-depth guide, that you can check out here.
Solution 4: Communication Settings
Windows has an inbuilt feature that helps users automatically adjust the volume of different sounds when you use your computer to place or receive telephone calls. It can reduce your volume by up to 80%, or completely mute your audio if selected to do so by you.
Open Windows Search by pressing Win + S.
Type Sound in the search menu.
Click on 'Change System Sounds'.
Under the Communications tab, click on the radio button associated with Do nothing.
Click on Apply followed by OK.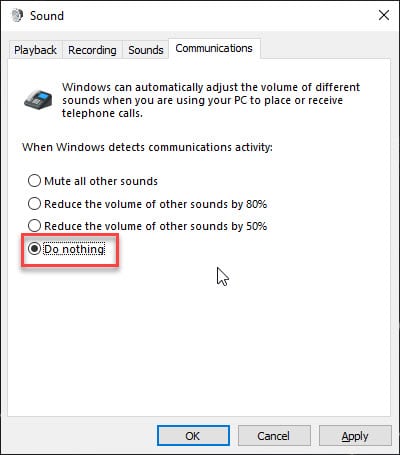 Wrapping Up
So there you have it. Now you know how to diagnose and solve if the computer volume is too low in Windows 10 using one or a combination of the solutions provided above. Comment below if you found this useful and tell us how you solved the error on your device.