Graphics Device Driver Error Code 43 indicates that the Device Manager has stopped a certain hardware device that has encountered an error.
You will get a 'Windows has stopped this device because it has reported problems' message for a particular device in your Device Manager.
In this case, Windows fails to identify the driver error for which the hardware gets affected.
This code 43 mostly applies to your graphics cards and USB devices. In this article, we are going to discuss how to get rid of code 43 for your graphics device. Have a look!
Also read this article if your Graphics card is not working after update.
How to Fix Graphics Device Driver Error Code 43?
When you are getting Graphics Device Driver error code 43, follow the methods given below and fix the problem.
1) Power Cycle Your Device
Sometimes simply shutting down your PC and restarting it can fix problems like graphics driver error code 43.
So, before you move on to any advanced solutions, power cycle your device.
To do that turn off your computer and disconnect all the attached peripherals and power cables.
Wait for 10-15 minutes before you reconnect everything and turn on your PC.
If after turning on your PC you still find the same problem, then move on to the next solution.
2) Update Your Graphics Driver
An outdated graphics driver can be the reason behind error code 43. So, update the graphics driver to solve such problems.
The latest version of the drivers will provide the newest features, and bug patches and fix the errors associated with the last update.
Now to update your graphics driver using Device Manager, follow the steps given below:
Press Windows + R keys to launch the Run utility.
Enter devmgmt.msc in the run command box and click on the OK button. You may also press Enter to run the command.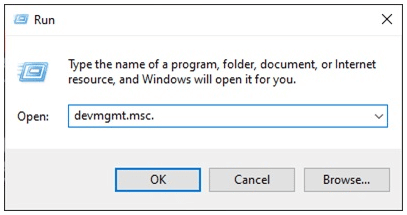 Expand the Display Adapters section and right-click on your graphics driver and choose the Update driver option.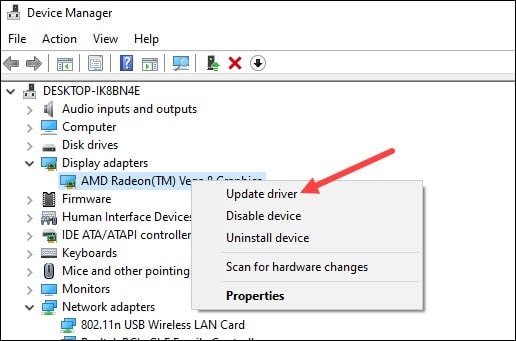 From the next window, click on Search automatically for drivers option. Wait till the updating process is finished.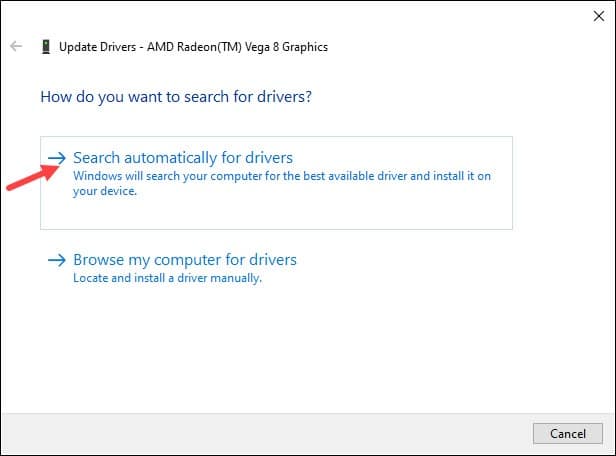 You can also update the graphics driver using GeForce Experience and Radeon software for Nvidia and AMD graphics cards. If GeForce Experience doesn't work on your PC then follow this article.
After updating your drivers, if you again get a Graphics Device driver error code 43 then you can also try restarting the graphics driver, which will reset it. Here is how you can do it.
3) Reinstall Your Graphics Driver
If updating the graphics driver could not fix the problem, then reinstall the graphics drivers.
To do so, follow the steps given below:
Open Device Manager and expand the Display adapters section. Now right-click on your graphics device and this time select the Uninstall device option.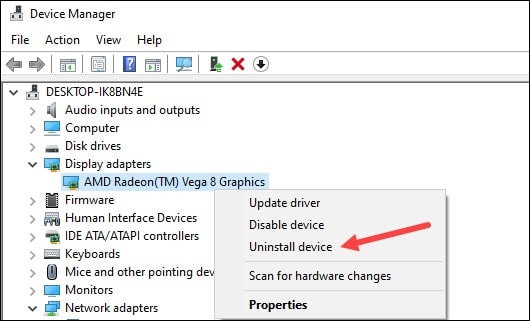 Follow the on-screen prompts and wait till Windows finishes the uninstallation procedure.
Restart your PC and the graphics drivers will get automatically installed. Now you should not see the error code 43.
4) Roll Back Your Graphics Drivers
You can also try roll-backing the last graphics driver update and see if that fixes the error code 43 issue.
To do that, follow the steps mentioned:
Expand the Display Adapters section from the Device Manager. Select Properties as shown below.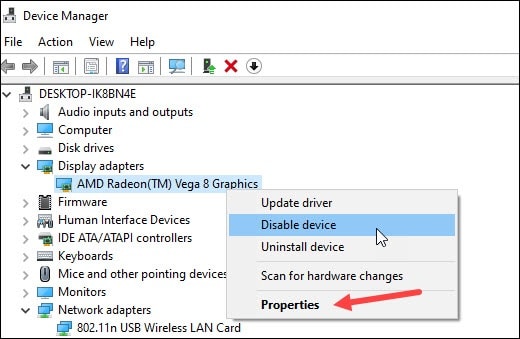 Click on the Driver tab and select the Rollback driver option. Wait till the process gets completed.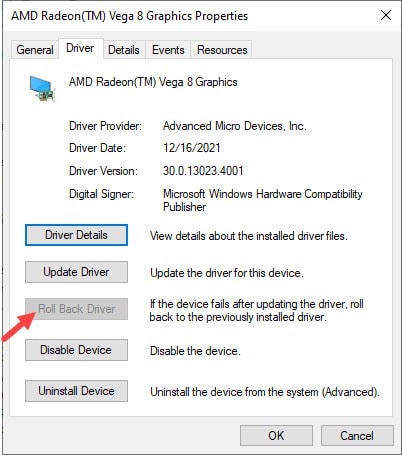 5) Update Your BIOS
If no other steps could help to fix error code 43, then update your BIOS. BIOS performs hardware initialization and helps in the booting process.
An outdated BIOS can also be the reason for the Graphics device driver error.
But before you proceed with updating your BIOS, make sure to take a backup of every important file as any incorrect steps can lead to permanent damage.
BIOS is different for each motherboard. So, to update your BIOS properly, visit your manufacturer's official website and follow the detailed guide provided there.
Final Words
If the above methods helped you fix Graphics Device Driver Error Code 43, then leave us feedback in the comments section below.
Ask us if you have any tech-related queries and we will try to help you.