We have discussed the blue screen of death before. BSoDs are safety precautions taken by Windows 10 to prevent any severe damage after your system crashes for some error. So, when you see a Blue Screen of Death, you need to troubleshoot the component that caused the system to crash.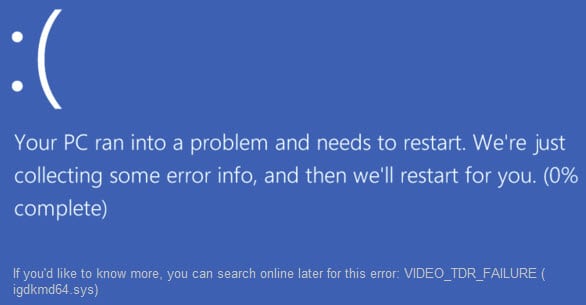 Here I shall discuss one such BSoD with the error message that says, 'video_tdr_failure (igdkmd64.sys)'.
What Causes The Video_Tdr_Failure?
The video_tdr_failure error usually occurs due to some error with your system graphics card. TDR stands for Timeout, Detection, and Recovery, where a hung up GPU has dynamically recovered automatically. Failure of TDR can result due to graphics card not responding.
If you recently updated your graphics card, there is a chance that this may be caused to incorrectly configured device drivers. However, there is a chance that this may also be caused by broken system files, or the device unable to handle the overclocked profile.
Since GPUs are becoming more and more efficient, they are able to handle such complex tasks like playing multimedia and high quality games. Thus, the igdkmd64.sys Windows 10 error can be very annoying for users who perform demanding tasks on their computers.
How To Solve Video_Tdr_Failure In Windows 10?
Now that you know what this error is related to, here are some simple solutions that you can try in order to solve this error easily on your computer.
Solution 1: Update The Graphics Drivers
If you recently upgraded your graphics card, the TDR process can fail if the correct drivers for your card are not installed for your card. This can be easily fixed by simply installing the correct drivers on your Windows 10 device. Update the graphics drivers to the latest version and check if the error persists.
If you updated the graphics driver and then saw this error, you can try rolling back the driver to a previous version that worked normally.
Solution 2: Manually Restart Graphics Card
If your display corrupts and you get a BSoD, there is a chance that Windows is unable to restart the corrupted display driver automatically. If you suspect this is the case, you can restart graphics driver manually to check if this solves the igdkmd64.sys Windows 10 error.
Solution 3: Revert Overclocking Settings
Getting more performance out of your hardware can be fun, but it can lead to the component getting damaged quicker. Thus, if you see the igdkmd64.sys failed error, you might want to revert the overclocking settings that you set for your CPU and GPU.
Once you are back to the factory settings, check if the error persists.
Solution 4: Change Intel Graphics Properties
Most consumer devices are supplied with Intel's integrated graphics. If your device also has Intel graphics drivers, try changing the following settings to solve your error:
Open the Intel Graphics settings from the system tray icon or right click context menu.
Under the 3D settings:
Application Optimal Mode > Enable.
Multi-Sample Anti-Aliasing > Use Application Settings.
Conservative Morphological Anti-Aliasing > Turn Off.
General Settings > Balanced Mode.
Under Video settings – Basic:
Standard Color Correction > Application Settings.
Input Range > Application Settings.
Now check if the TDR process fails again. Your error should now be resolved.
Solution 5: Switch To Discrete Graphics
If you have a dedicated graphics card on your laptop or PC, switching between the two graphics cards may be causing the TDR failure. If you perform tasks with heavy graphical load, switch to the discrete graphics card by disabling the integrated graphics card.
Follow these steps for the same:
Open the device manager console by searching devmgmt in Windows Search.
Expand the Display Adapters section by clicking on the small arrow next to the entry.
Locate the integrated graphics device, and right click on it.
Select Disable from the context menu.
Restart your computer.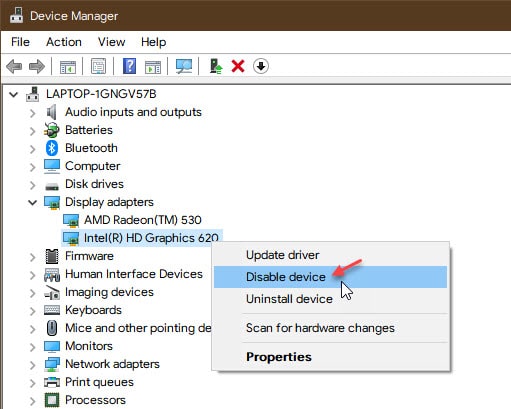 Note: You may see increased power consumption and heat emission upon using the discrete graphics card over longer period of time. Make sure your cooling solution is top notch to protect your devices and increase their longevity.
Solution 6: Run SFC And DISM Scans
If the solutions provided above did not help you in solving the video_tdr_failure error, there is a chance that some broken or missing system file may be causing the BSoD. These damaged files often lead to many features not working properly on your computer.
Run the DISM and SFC scans to locate and repair broken system files on your computer. Restart your computer once the utilities finish repairing your computer. Your error should now be resolved.
Solution 7: System Restore Or Reset This PC
If the system checking utilities were unable to find any missing or corrupt system files, the only way to repair your PC would be to restore it to the version where it was working without errors. Update the graphics drivers if that is the case for you as well.
Wrapping Up
So there you have it. Now you know how to solve the video_tdr_failure igdkmd64.sys Windows 10 error using one or a combination of the solutions provided above. Comment below if you found this useful, and to discuss further the same.