Windows 10 is easily one of the most popular desktops operating systems in the world. With each update comes customization options,  which can be used to customize and modify the operating system to our personal likings. However, it also comes with a plethora of errors, one of which I shall be discussing here today surrounding keyboard clicking sound and not typing.
Why Do I Hear Keyboard Clicking Sound?
On Microsoft Surface devices, when you use the keyboard folio, there is an option that allows you to enable or disable the keyboard click sounds. On other devices running Windows 10, you can access this setting from the on-screen keyboard and toggle keyboard noises off.
Being the primary method of text input, keyboard click sounds can be very annoying, especially when coupled with an error where the keyboard does not type as well. This error is primarily caused by a setting called the Filter keys, Which is an Accessibility feature introduced in Windows 10 to ignore repeated keystrokes.
When enabled, this setting can cause a clicking sound when you press a key on your keyboard. This is a case of underdeveloped features in Windows 10, and you will be much better off disabling this setting.
However, you may also see that the keyboard makes clicking noise Windows 10 do you do some other hidden errors, which can be solved by running the built-in troubleshooters.
How To Turn Off Keyboard Clicking Sound In Windows 10?
now that you know why you may be hearing this noise, let us take a look at how to turn off the keyboard clicking sound on your computer.
Solution 1: Turn Off Clicking Sounds For External And On-Screen Keyboard
On certain Touch screen devices like the Microsoft Surface devices, there is an option to turn off the keyboard clicking sounds. Follow these steps to access and change the settings:
On Touch-Based Devices:
Open the Settings app. You can use the keyboard shortcut Win + I.
Click to open the Devices section.
From the left pane, select Typing.
In the right column, turn the toggle off next to the following option:
Play key sounds as I type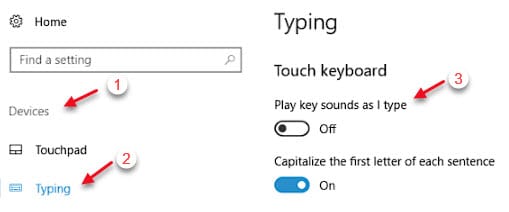 Alternative Method:
Open a Run dialog using the keyboard shortcut Win + R.
Type osk and press Enter to launch the on-screen keyboard.
In the right part of the keyboard, locate and click on the Options button.
This will launch the Options window for the on-screen keyboard.

Uncheck the box next to the following option:
Use click sound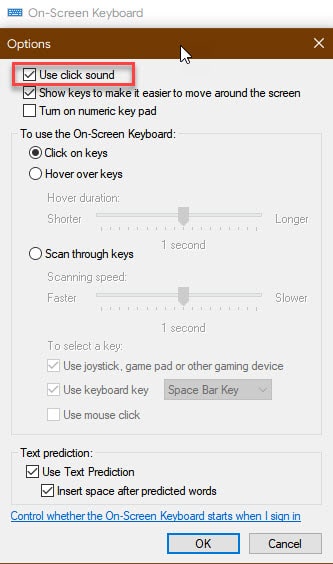 However, if you are not using a device with a touch screen or keyboard folio, there are some other solutions that you can try, which are listed below.
Solution 2: Turn Off Filter Keys
While being an important feature for certain users with physical limitations, Filter keys are hardly useful to others. there is a possibility that you may have enabled this setting for a certain user, or by mistake.
If you do not require the modifier system and want to stick to the traditional press and hold, you can turn off Filter keys in Windows 10 to get rid of the keyboard clicking sound.
Solution 3: Run The Keyboard Troubleshooter
If turning off Filter keys did not solve this error on your device, there may be some other cause that may require troubleshooting on your part. Luckily, Microsoft supplies a built-in troubleshooter with Windows 10, as it is aware of the buggy nature and the multiple errors that come with the operating system.
Run the keyboard troubleshooter to diagnose the problems with your hardware. You will find the troubleshooter under the following section:
Settings > Update and Security > Troubleshoot > Keyboard
Let the troubleshooter scan your hardware for errors, post which you should not hear the clicking sounds.
Wrapping Up
So there you have it. If you do not like the keyboard clicking sound, now you know how to turn it off using the methods provided above. Did you find this useful? Comment below if you did, and to discuss further the same.