Microsoft Windows has many important accessibility features in Windows 10, which can be very beneficial to the users who require them (e.g. people with physical disabilities). However, these accessibility features can be a nightmare for users who do not feel the need to use these additional features.
If you wish to turn off these accessibility settings, here I shall discuss how to turn off filter keys in Windows 10.
What Are Windows Filter Keys?
'Filter keys' is one accessibility feature that can tell the keyboard to ignore repeated keystrokes. This feature is extremely useful for the users who have hand tremors and might hit the same key twice or more. Filter keys can be extremely helpful for these types of users with physical limitations.
Another such feature is the sticky keys. With Sticky keys, the need to press and hold the keyboard Ctrl, Shift and Alt keys are eliminated, as they are changed to a modifier system. This means that instead of holding them down for multiple key combinations, you can just press one key at a time.
You can turn on the Filter Keys by pressing the right SHIFT key. Keeping it pressed for 8 seconds will activate the filter keys.
How To Turn Off Filter Keys In Windows 10?
The accessibility center in Windows 10 has been integrated with the Settings app. Hence, to turn off filter keys, you need to do so from within the Settings app.
To turn off filter keys:
Open the Windows 10 Settings You can use the keyboard shortcut Win + I.
Click to open the Ease of Access section.
From the left pane menu, click on Keyboard.
In the right pane, locate and turn the toggle towards off next to Filter keys.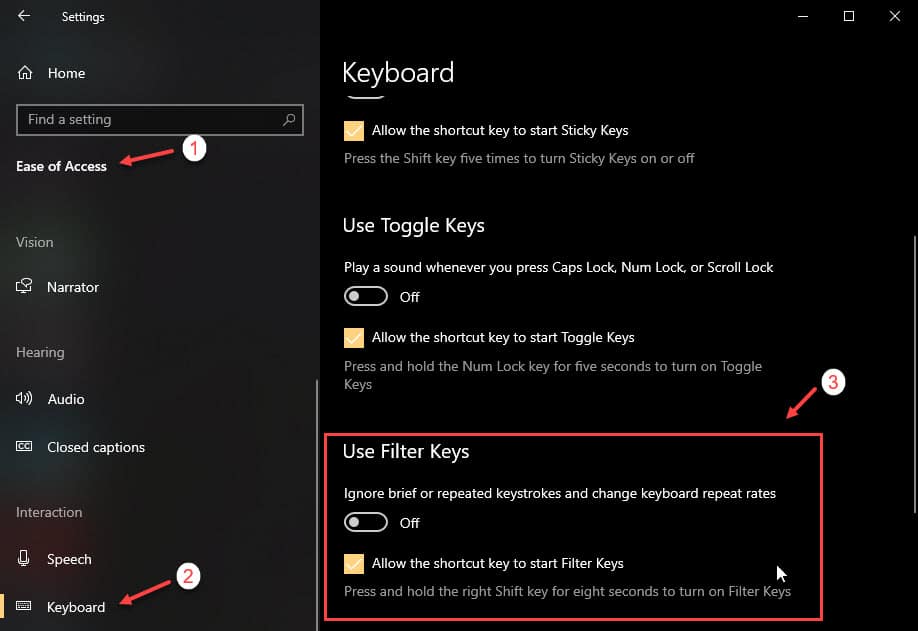 How To Setup Filter Keys In Windows 10?
If you wish to fine-tune your Filter keys settings, you can do so from the Control panel. Simply follow these steps:
Type Control Panel on the search box, and click on the appropriate result to launch it.
Change the View by to Small or Large icons if previously set to Category.
Then open Ease of Access center.
Locate and click on Make the keyboard easier to use option from under Explore all settings.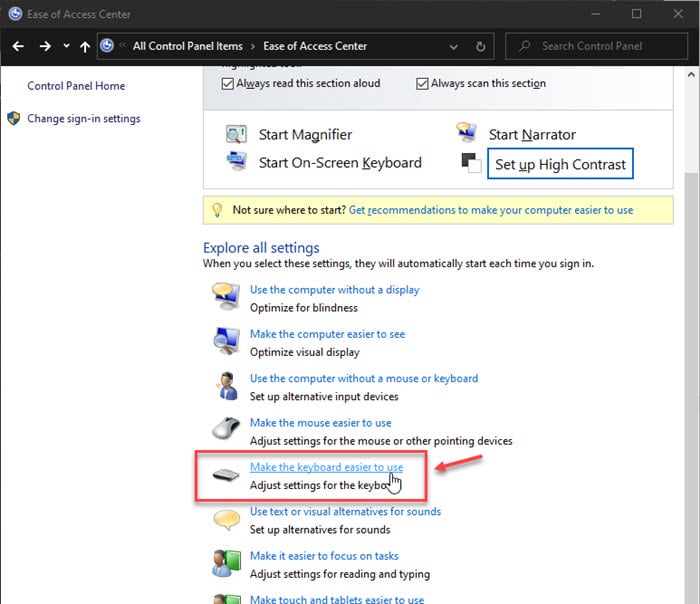 In the Filter Keys section, click on it to open Setup Filter keys.
What Do Filter Keys Options Mean?
You can change from the control panel three settings, which can help you fine-tune the Filter keys options. Here is a quick summary of what each of these settings means:
Bounce Keys – This setting commands Windows to ignore unintentional keystrokes. This becomes extremely useful, when users press tend to press same keys more than once. The Bounce keys settings can be set to ignore the second keystroke from a time frame of 0.5 to 2.0 s, after which the computer will accept the second keystroke as a correct input.
Slow Keys – For ultra-sensitive keyboards, you can configure Windows to bypass the extra key presses for a small period of time.
Repeat Keys – This setting is useful for users with hand tremors, which can lead to certain key being pressed for longer periods of time or repeat keystrokes. This will allow you to alter or disable the repeat rate completely.
Conclusion
So there you have it. Now you know how to turn off filter keys in Windows 10 using the steps provided above. Comment below if you found this useful, and tell us your favorite accessibility feature in Windows 10.