Google Chrome is one of the most popular web browsers available on the market. It has gained this reputation thanks to its focus on speed and security. Many users prefer it over other browsers because of its security measures, and the speed and reliability it offers. If you can look past the occasional heavy resource use, Google Chrome is definitely one of the best browsers available right now.
Google Chrome has its bad bits too, and many users have reported that the browser sometimes does not load the intended pages at all.
Here I will discuss the Google Chrome won't load pages error and some potential ways to fix it.
Why Websites Won't Load On Chrome?
If Google Chrome crashes, freezes, or won't start at all, you might see one of these messages:
Proxy error in Google Chrome:
 err_connection_reset_chrome
This webpage is not available:
err_connection_closed
err_connection_failed
There are a variety of reasons that this error may present itself to you, ranging from excessive RAM usage, connectivity issues, broken extensions, malware etc.
How To Solve Chrome Won't Load Pages?
If the pages won't load on Google Chrome on your device as well, there are some basic steps that you can use to diagnose the root of the error which will help you solve the error. Follow these solutions one by one to diagnose and solve the Chrome won't load pages error.
Solution 1: Close Unnecessary Tabs
It is no secret that Google Chrome is a resource-heavy application. When you open task manager, you will find that there are multiple processes running in the background that is necessary to keep Chrome running.
If you are on a weaker device with not many powerful specifications, Windows will block the proper functioning of some applications to maximize usability. This can be one of the reasons that Google Chrome won't load pages if it uses too much RAM.
To overcome this, you can try closing some unnecessary tabs that may be open alongside your required tab. Also, try closing some background applications that are not in use.

Solution 2: Check Your Connectivity
If the pages won't load on Chrome, it is possible that there may be some issue with your internet connectivity that is causing the loading failure. This is a very common issue and can be resolved very easily.
First, try opening the web page in another browser. If the web page fails to load on other browsers as well, there is a possibility that there may be some error with your internet connectivity.
On nearly every kind of network, there is a timeout period, after which the connectivity throttles upon continued usage. Restarting your router and putting your device on Airplane mode and back, will reset the network, and the throttle should be over. This will clear the network errors, and you should be able to resolve the Google Chrome error.
On Windows, you can try clearing the DNS cache as well. To do that:
Open an elevated Command Prompt. To do this, open a Run window by pressing Win + R. Type cmd and press Ctrl + Shift + Enter to launch Command Prompt with administrative privileges.
Type the following command to flush your DNS cache:
ipconfig /flushdns
Wait for the confirmation message and then try loading your web pages again.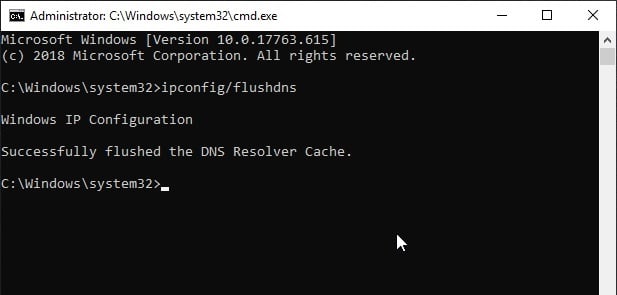 Solution 3: Check For Broken Extensions
If you have confirmed that only the Chrome browser is unable to load certain pages, it is possible that some broken extensions may be causing the error on your device.
To check if that is the case, open the file page you were having the error on using Incognito Browsing mode. Run an Incognito Window by right-clicking on the taskbar icon and selecting New Incognito Window.
Now try accessing the page using the Incognito window. If the page loads normally in Incognito mode, there is probably some broken extension on your device that is causing this error to appear.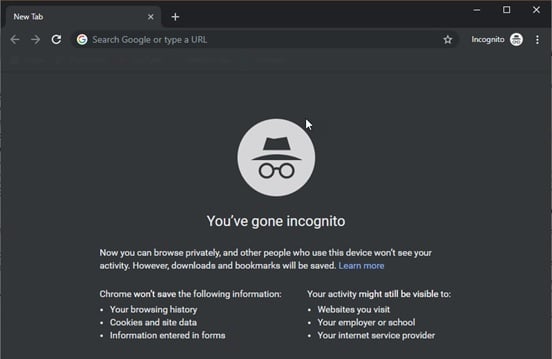 The extensions by default are disabled in this mode, and you can confirm that the error was caused by some broken extension if you don't face this error anymore in Incognito mode.
Start by enabling the extensions one by one and check if the error persists.
Solution 4: Clear Chrome Data
If the page does not load in incognito mode as well, there may be some corrupt cache data that is causing the browser to fail loading pages.
The cache is the data stored on your device by various websites, to load data from them faster the next time you load the website. However, sometimes a mismatched cache data can cause all sorts of errors, and this error is one of them. To solve your Chrome won't load pages error; clear all your Google Chrome data like cookies and cached images and files.
To clear Google Chrome data, press the Ctrl + Shift + Delete in a new tab to open the Clear browsing data dialog box. Here select All time from the Time range drop-down menu. Then select Clear data.
Solution 5: Run A Full Malware Scan
It is seen that viruses or malware-infected PC won't load web pages properly. You need to run a full virus and malware scan to check if any virus is blocking the access of web pages on your Chrome browser.
You can use the inbuilt Windows Defender Security, or choose from third party freeware like Avast free Antivirus and Malwarebytes anti-malware.
Solution 6: Check If Any Third Party Software Is Blocking The Loading Of Pages
Many times, third party antivirus software will block Chrome from accessing pages on the internet.
Turn off the shields of your antivirus for the duration that you need to access the web. This will help you determine if the third-party antivirus is causing the error on your device.

Solution 7: Reinstall Chrome
As a last resort, if all other fixes fail, you can try performing a clean reinstall of the Google Chrome browser. This will also help you in case you have a corrupt Chrome installation. A fresh install will reset all the broken files and settings, and form the data libraries again.
Uninstall the Chrome application from the Control panel. Then remove the residual files as well. To remove the residual files, you can use a third-party junk file cleaner like CCleaner.
Then download a fresh copy of the Chrome installer from the Google website and run the installer.
Wait for the installer to finish.
Now try loading the web page in this new installation of Google Chrome.
Conclusion
Google Chrome may be one of the most popular web browsers, but it is not without its bugs. For any possible, pages won't load sometimes in Google Chrome. Now you know how to solve Chrome won't load pages error using one or a combination of the solutions given above. Tell us which method helped you in the comments below.