These days it is difficult to imagine life without the internet. Some users on Windows 10 recently reported an error where they are unable to access the internet and get an error message that says, 'The Windows wireless service is not running on this computer'.
Here I shall discuss some of the easy ways in which you can solve the 'The Windows wireless service is not running on this computer' error. In case just the Wifi Icons are missing have a look here.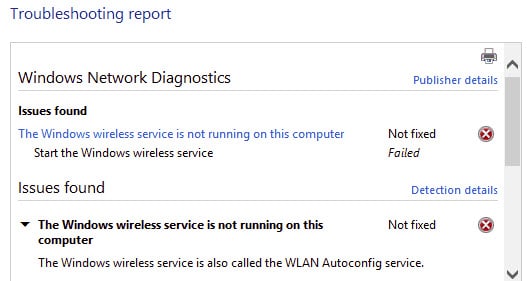 Before You Look For Solutions, Try These!
The error message indicates that there is something wrong with the wireless network. This error can be caused by a variety of reasons, some of which may include:
Misconfigured WLAN auto-config service
Malfunctioning network configurations
Faulty network adaptor
Corrupted system files.
If you too face the error where wlansvc is not running on your device, you can try some basic fixes that should get you started.
Firstly, try checking if the WLAN setting is turned on for your device. Many laptops usually come with a shortcut key that can be paired with the Fn key to quickly toggle Wi-Fi on or off. Check by pressing the appropriate key again to check if the Wi-Fi is set to on.
Next, run the internet troubleshooter.
You can do this from the Windows Settings app that can be accessed by using the shortcut Win + I.
Here, go to the Update & Security
From the left pane, select Troubleshoot.
From the right pane, scroll and click on Internet connections. Click on the 'Run the troubleshooter' button.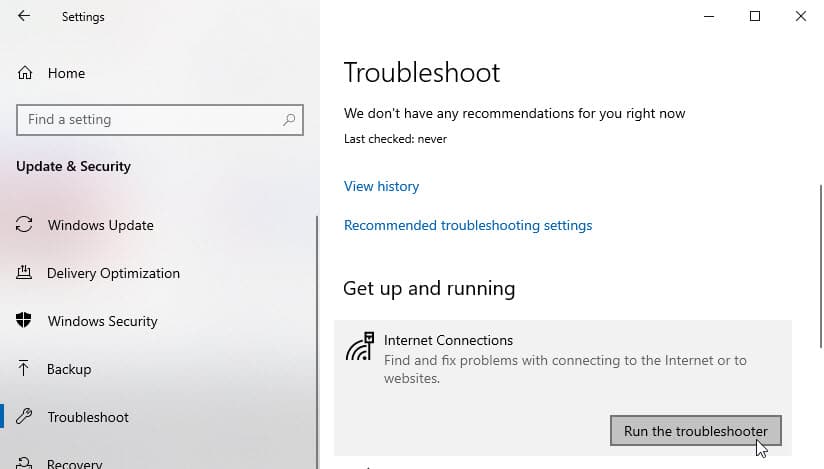 How To Solve 'The Windows Wireless Service Is Not Running' Error On Windows 10?
If the preliminary solutions did not help you solve your error, you can proceed to these solutions provided below, which can help you solve the wlansvc is not running error.
Solution 1: Check And Restart Your WLAN AutoConfig Service
The WLAN AutoConfig services provide the logic and functionality required to configure, discover, connect to, and disconnect from a wireless local area network (WLAN) as defined by IEEE 802.11 standards. It also contains the logic to turn your computer into a software access point so that other devices or computers can connect to your computer wirelessly using a WLAN adapter that can support this.
It is possible that some recent updates or changes in settings turned this service off, and that is why you are facing this error on your Windows 10 device. Start by checking if the service is enabled, and start it if it is set to off.
Open a Run dialog by pressing Win + R.
Type services.msc and press Enter to launch the Services console.
In the list of available services, search for the entry WLAN AutoConfig.
Double click on this service to open its Properties.
Check if the service is running from the service status.
Change the startup type to Automatic. In addition, if you find it already running, stop the service, and then start it again using the buttons provided.
Restart your device.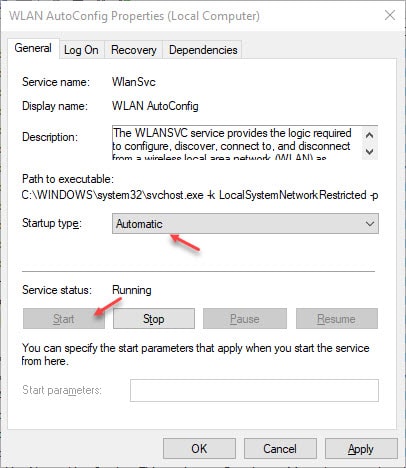 This should restart your WLAN service, and solve the 'Windows wireless service is not running on this computer' error.
Solution 2: Update Your Network Drivers
Drivers are the configuration files that facilitate the communication between your hardware and your Operating system. Faulty or corrupt drivers can lead to your hardware malfunctioning, and cause the Wireless service not running error on Windows 10.
You can manage and update your drivers from the device manager.
Open a Run dialog by pressing Win + R.
Type devmgmt.msc and press Enter to launch the Device Manager console.
Here, locate your WLAN hardware and expand the section by clicking on the arrow next to it.
Right-click on your hardware, and select Update driver from the context menu.
Follow the on-screen instructions to update your device drivers.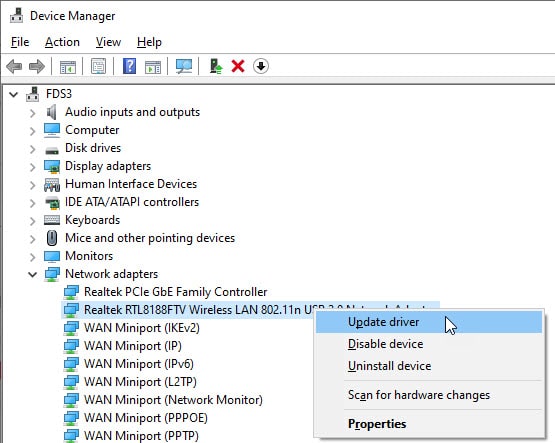 Solution 3: Reset Network Configurations
In addition to updating device drivers, also try resetting the network configurations. This is usually done to reset any disrupted or corrupt network settings, which may be preventing you from being connected to the internet.
Open an elevated command prompt. To do this, open a Run dialog by pressing Win + R, type cmd and press Ctrl + Shift + Enter to launch the command prompt with administrative privileges.
Type the following command and press Enter to reset the network configuration data:
netsh winsock reset
Reboot your device for implementing the changes for your device.

If this fails to solve your 'Windows wireless service is not running Windows 10' error, there might be some system files missing or corrupt, and this may be causing the WLAN error. For these situations, you need to scan for any missing or corrupt system files using the SFC command.
Solution 4: Run SFC Command
If you have corrupted system files, this is the easiest way to check for them and troubleshoot.
Open an elevated Command prompt. Search CMD in the Start and select Run as Administrator.
Type the following command in the input field
sfc /scannow

Wait for the scan to finish and see the results.
Restart your system to fix the error.
This scan will check for potentially corrupted system files and repair them.
Note: SFC scans usually take some time to finish, do not interrupt the scan as it may leave your PC in a more damaged state than before.
Conclusion
So there you have it. Now you know how to solve 'the Windows wireless service is not running' error on your Windows 10 device using one or a combination of the solutions provided above. Comment below if you found this useful and to discuss further the same.