While Microsoft is promoting the Edge browser with Windows 10, there are some users who prefer the Internet explorer over other heavy browsers. While there are possibly many reasons for this, one of the most probable reasons is the fact that IE 11 is very lightweight and not heavy on the system resources.
The Favorites bar in IE 11 works by allowing you to save your most visited websites as 'favorite' buttons right under the address bar, so you can access them faster with just one click. Here I shall discuss how to show favorites bar in internet explorer 11.
How To Show Favorites Bar In Internet Explorer 11?
Just like Chrome, there is also a favorites bar in Internet Explorer. However, you will find that it is hidden by default. You will have to enable this from within the Internet Explorer. Simply follow these steps:
Open the Internet Explorer 11 app on your computer.
Locate the address bar and right-click on any empty area above it.
From the context menu that appears, select the Favorites bar.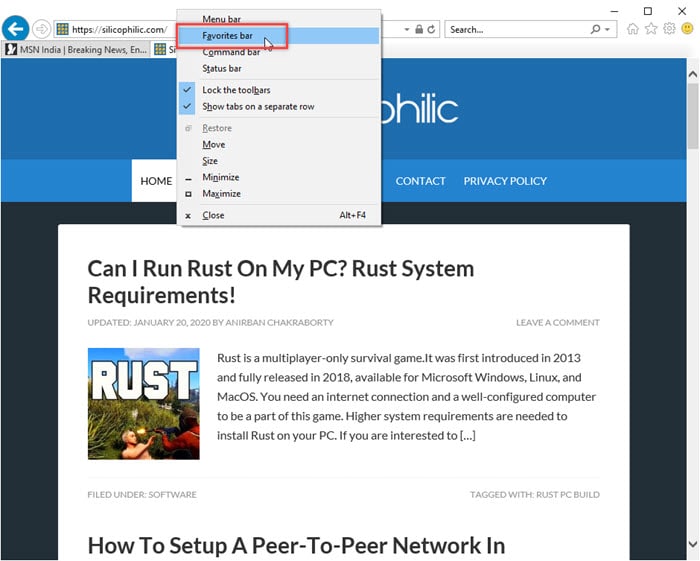 This is how you can show the favorites bar in Internet Explorer 11. To hide the favorites bar, right-click over the address bar again, and click to uncheck the Favorites bar option again.
How Do You Get The Favorites Bar To Appear In Microsoft Edge?
Microsoft Edge also has the favorites bar, just like many other browsers. To show favorites bar in Microsoft Edge, follow these steps:
Open Microsoft Edge on your Windows 10 device.
Click on the three horizontal dots at the top right corner of the window.
From the menu, click on Settings.
The General section of the Settings will open.
Locate, and turn the toggle towards On under the Show the favorites bar option.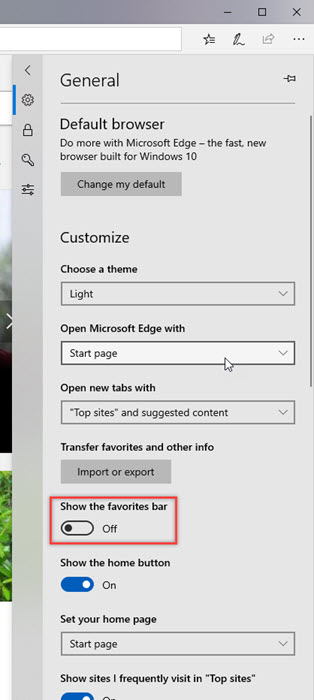 Pro Tip: In Edge, you can add your favorites to the toolbar itself, right next to the address bar. For this, open the context menu similar to step 2 above, and hover over Show in toolbar. From the additional menu, select Favorites.
Wrapping Up
If you were wondering how to show favorites bar in Internet Explorer and Microsoft Edge, now you how to do so using the simple methods provided above. Did you find this useful? Comment below if you did, and to discuss further the same.