Windows 10 was launched quite a while back and is definitely one of the most popular operating systems in the desktop and laptop PC environment. Microsoft is slowly changing its approach towards mobile devices, and Windows 10 is now being optimized for mobile devices.
One such feature is the on-screen touch keyboard, which serves as the primary source of input in the case of touch-enabled devices. While the touch input is certainly beneficial in some cases, there might come the need when you need to resize the on-screen keyboard.
Resize Touch Screen Keyboard In Windows 10
You can move and resize your on-screen keyboard however you like. This becomes very handy when more than one person uses the on-screen touch keyboard, and each person has a different size of hands making it difficult to use the same size of keyboard.
To turn on the touch screen keyboard, you can type on-screen keyboard in Windows Search (Win + S). alternatively, you can follow our guide on how to make the touch screen keyboard appear automatically in Windows 10.
Note: The touch screen keyboard will stay on top of other windows when you launch it.
When you open the touch keyboard, all you need to do in order to expand the keyboard size is drag a corner towards outside. You can drag the on-screen keyboard just like you would do for any other window on your computer. Since you may preferably use the touch screen, you can also tap and hold using your finger instead of a click, and drag the keyboard to its new size.
Unable To Change Windows 10 Touch Keyboard Size
If you are not able to change the touch keyboard size, there is a simple registry tweak that you can make to resize the touch screen keyboard. The Registry is used to store much of the information and settings for software and hardware installed on your device, along with the user preferences, operating system configurations, and many such settings.
To resize the Windows 10 touch keyboard, follow these steps:
Open a Run dialog by pressing Win + R.
Type regedit and press Enter to launch the Registry Editor.
Navigate to the following path
Computer\HKEY_LOCAL_MACHINE\SOFTWARE\Microsoft\Windows\CurrentVersion\Explorer
Right-click on the Explorer key and select New > Key from the context menu.
Rename this key to Scaling. Go to this key by clicking on it.
In the right pane, right-click in an empty space, and choose New > String Value.
Name this string value as MonitorSize.
Double click on MonitorSize to modify its value.
Enter the string value 25 for a keyboard that has a width of half the screen.
Restart your Windows 10 device after closing the registry editor.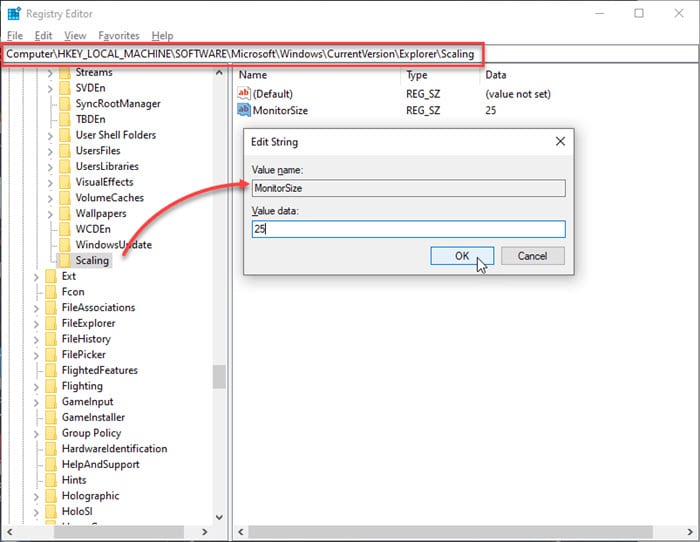 If you do not find the value 25 suitable to your needs, adjust the size with a different string value.
Wrapping Up
Using the two methods provided above, you can freely resize the touch screen keyboard on your Windows 10 device. Using the touch screen keyboard in an incorrect size for an extended period of time can be painful, but resizing it helps you use the keyboard and your device efficiently. Making the keyboard smaller comes in handy while using your mouse as you will not have to move it as much. Making the keyboard larger means you have more space for pressing individual keys.