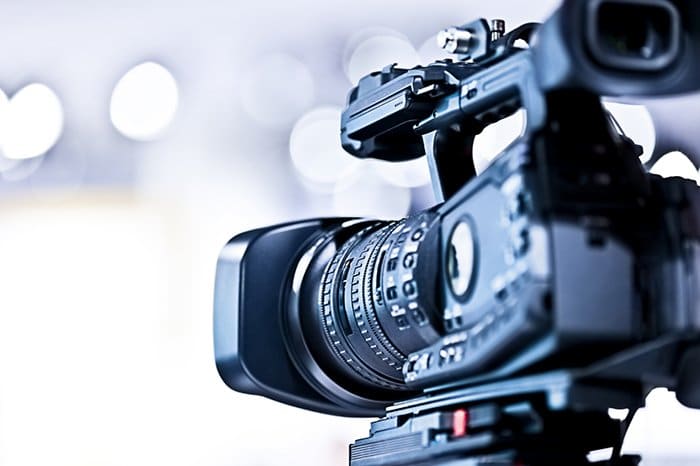 Can't play a video file on your webpage? Is this the first instance? Maybe you get errors on multiple trials as well.
I know this is frustrating but you are not the only one facing this problem.
It has been noticed that many Firefox users get a 'Cross' sign in the middle of the screen with a message 'no video with supported format and MIME type found'.
And, this issue can be solved if you follow this guide. Before that, you must know the reasons why 'no video with supported format' messages come on the webpage.
Reasons For Showing Errors While Playing A Video File
Not only you, there are many users face these challenges. This is because of the change in values of the media player anonymously.
You may have installed Adobe Flash player but all webpage videos don't require a separate player because Firefox can play a few types of media files on its own.
Whether you have Abode Flash activated or not, these videos can be played seamlessly. If you experience a sudden stop of playing webpage videos, especially in Facebook, it defines a change in the values of the media player.
How To Solve No Video With Supported Format And MIME Type Found Issue?
As you get to know, you can play a few types of videos without a plugin. If you found troubles in doing so, you can refresh the webpage or reopen it on another tab.
In general, this change can solve the issue. Or, you can also restart the Firefox and play the video again. In my case, it works at the first stage and later I got the similar message on Firefox no video with supported format and MIME type found.
Now, the only solution that we can do to get it done is- remove cookies and clear caches of the browser. Restart it and log in to the site to play webpage videos.
No doubt, it will play smoothly without showing any errors.
How To Remove Cookies And Clear Caches From The Browser?
Many issues can be caused if you have corrupt caches or cookies stored. It is then imperative to remove them from the browser so that you can use it appropriately.
Step-By-Step Procedure For Removing Cookies
Click on the 'Menu' button or three parallel lines at the right corner of the browser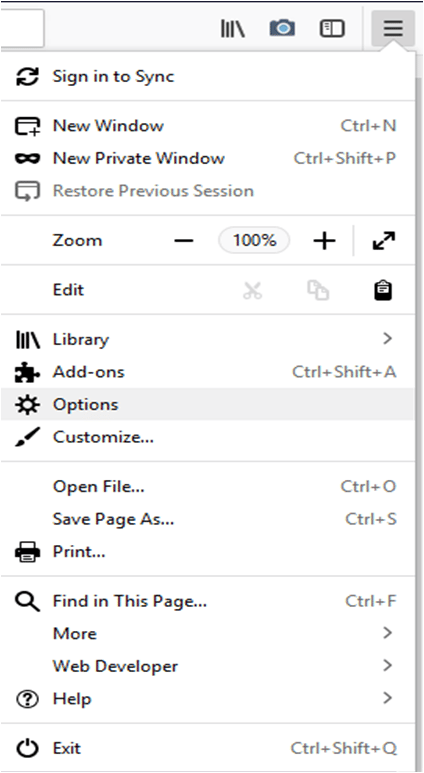 Go to 'Options' and select 'Privacy & Security' at the left-hand side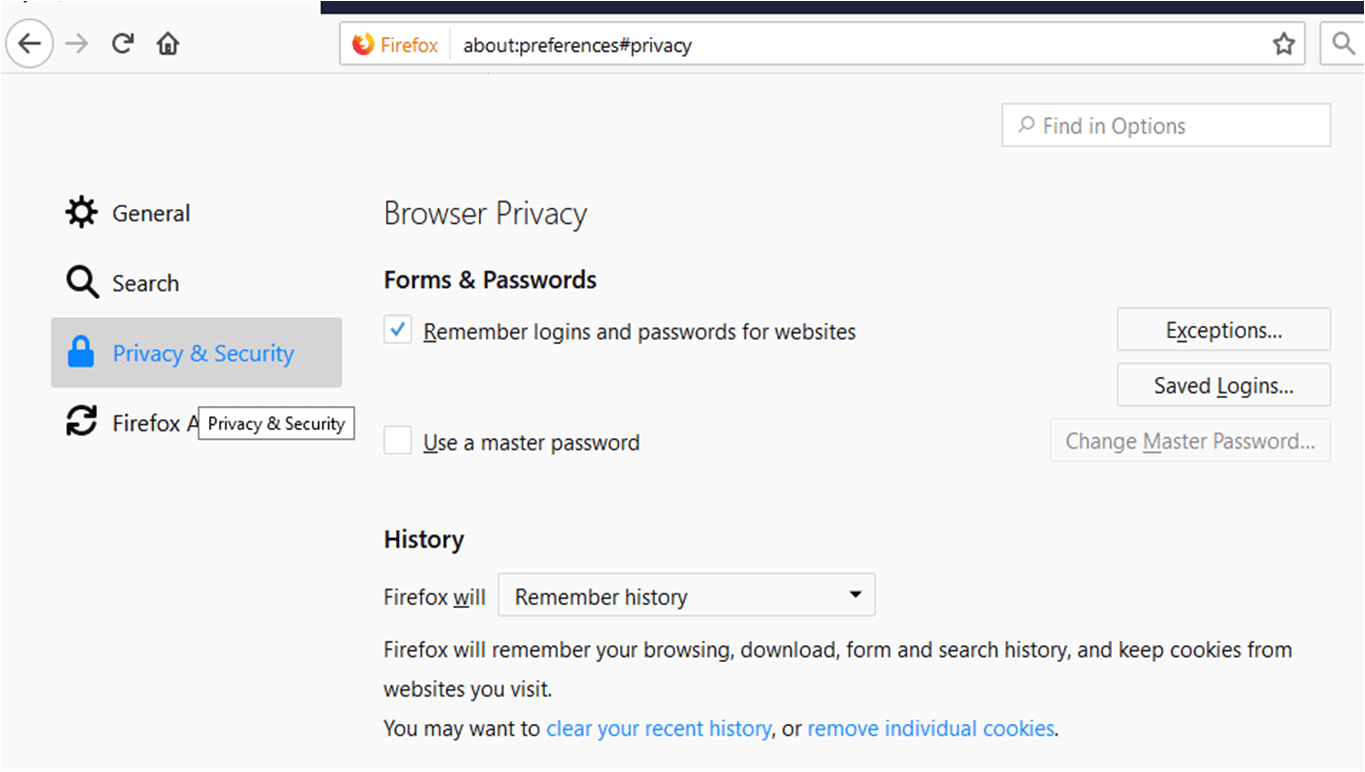 Click on the box next to 'Firefox will' in the 'History' tab
Change it to 'Use custom settings for history'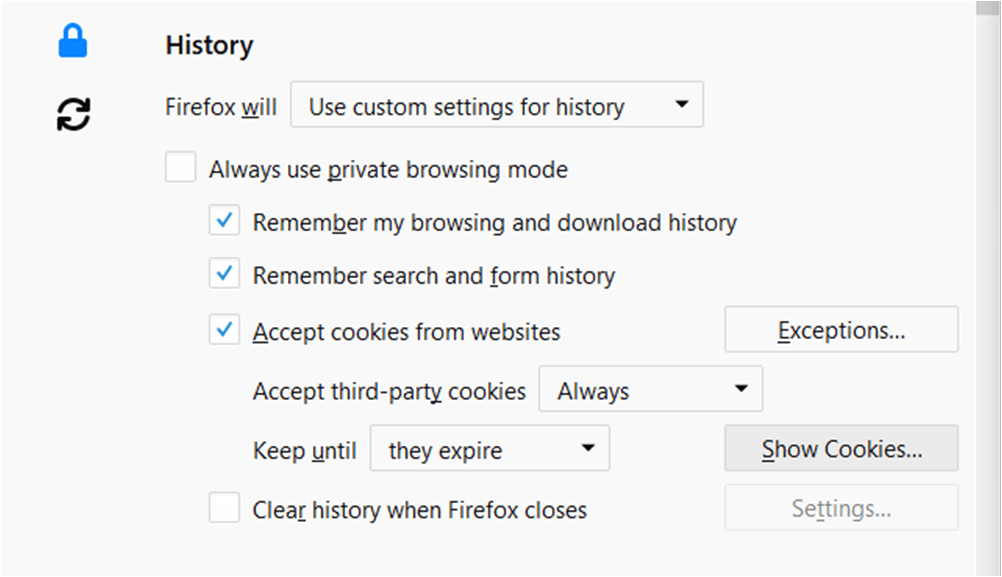 Click on 'Show Cookies' and it will open a dialog box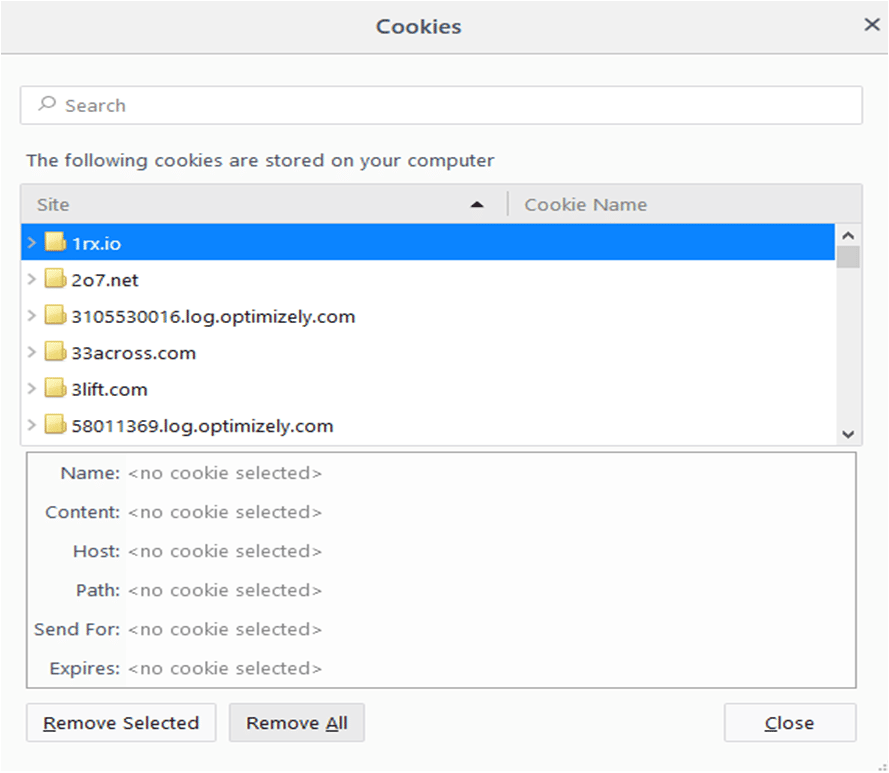 You can see a list of cookies stored on your computer.
Click on 'Remove All' and Close the window
Now, you have to clear caches from the Firefox before you start browsing. Let's check it out-
Step-By-Step Procedure For Clearing Caches
Repeat the steps up to 'Privacy & Security'
Scroll down the page to 'Cached Web Content'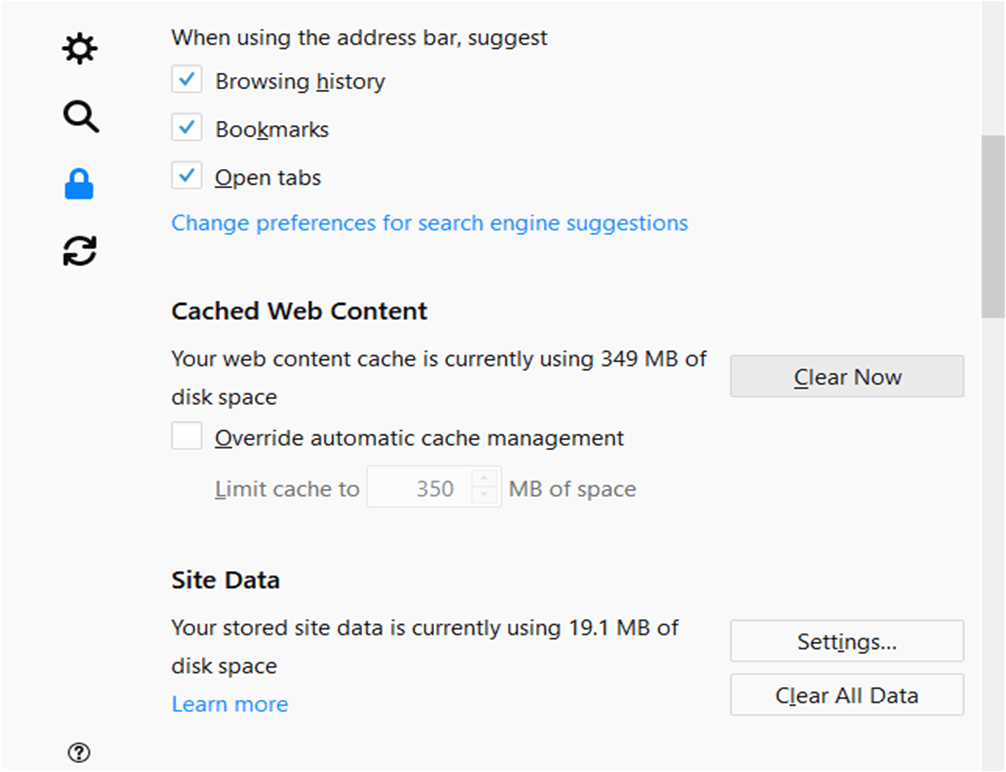 It's done. So, restart the Firefox browser and open respective websites to enjoy online audios and videos without any restrictions.
Note:
If you still have problems and get those error messages, you must be aware of the supporting video/audio formats of the browser.
Supported Formats Of Video And Audio Contents In Firefox
While using web browsers, you must be aware of supported video and audio content formats so that everything remains clear.
Some of the supporting compression formats that enable the files to run on the webpage include-
VP8 video
Vorbis audio
Theora video
Opus audio
These formats support following types of audio/video files-
.webm
.ogg
.ogv
.oga
.ogx
.opus
.spx
Apart from this, your Firefox browser also supports .flac file type (Free Lossless Audio Codec).
The above-mentioned file types have no patent restrictions to watch videos on the webpage.
A few patented media files that don't require any fee and have enlisted in the built-in OS library of Firefox include .mp3, .aac, H.264/mpeg-4, .m4p, .m4a, .m4b, .m4v and .m4r file type.
Bottom Line
In most of the cases, errors such as 'no video with supported format and MIME type found' get solved by removing cookies and clearing caches.
If you have the latest version of Firefox, then it surely solved your problem. For more details or any suggestion, you are free to message or comment on the below box.