Netflix is one of the most popular streaming services, with a plethora of shows and movies to watch and relax. With your respective subscription level, you can watch your videos on TV, mobiles, or stream right onto your Windows 10 PC.
However, many users have recently reported that when they click on a show that they want to watch, instead of the video playing, they get a black screen with the following message, with error code M7702-1003:
"Whoops, something went wrong. Missing Component. We cannot find all the required components to play Netflix on this device. Please visit chrome://components, locate the WidevineCdm component and click the "Check for update" button."
Here I shall discuss how you can solve the Netflix error M7702-1003 error on your Windows 10 PC using the methods discussed below.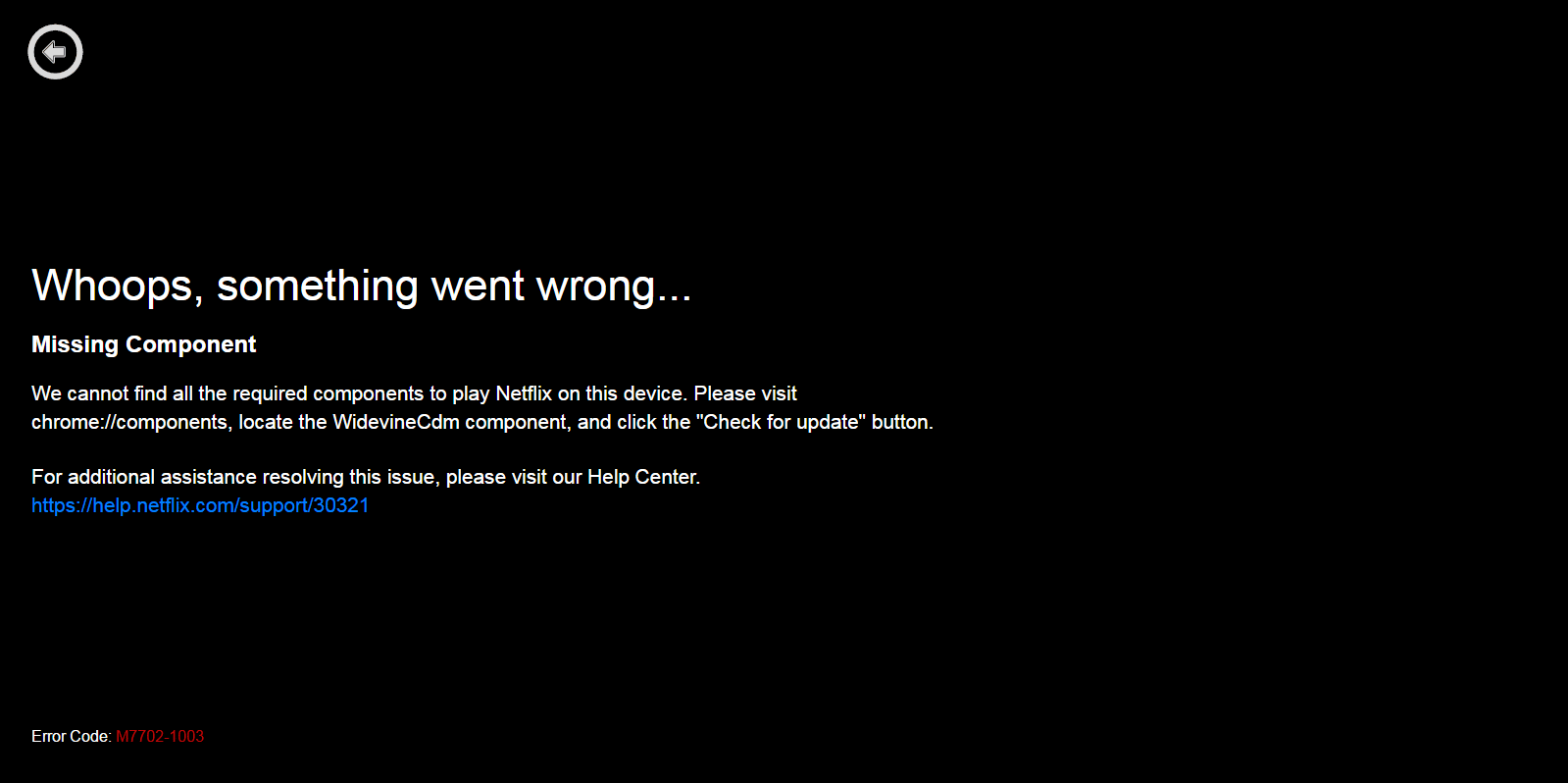 Solve Netflix Error Code M7702-1003
The primary reason that users face this error on their devices is the WidevineCdm extension. Widevine is a Content Description Module (CDM) for the digital rights management of the Chrome web browser. It operates as an encryption scheme to distribute video content securely to consumer devices. Content creators, MSOs, and other enterprise media companies can use Widevine to ensure the monetization of content across every device.
If you see this error on your device, it usually refers to the fact that the Widevine component on your browser is either outdated or is being blocked by a security setting or program. To solve this error, follow these simple methods in the order they are provided.
Note: This is considering that you are on the latest version of Google Chrome. If not, first try updating your browser to the latest version from Help > About Chrome section. Any outstanding updates may have fixed the bug that was causing the Netflix error M7702-1003. 
Solution 1: Allow Protected Content
There is a simple method to allow protected content on Google Chrome. Simply follow these steps to allow protected content on your browser.
Open Google Chrome on your Windows 10 device.
Click on the Chrome menu ⋮ from your browser toolbar.
Here, click on Settings.
Scroll down and select Advanced.
Under Privacy and security, select Site Settings.
From the list of available settings, select Protected Content.
Ensure that the toggle next to Allow sites to play protected content (recommended) is set to on.

If you do not see Allow sites to play protected content (recommended), select the toggle next to the Blocked message.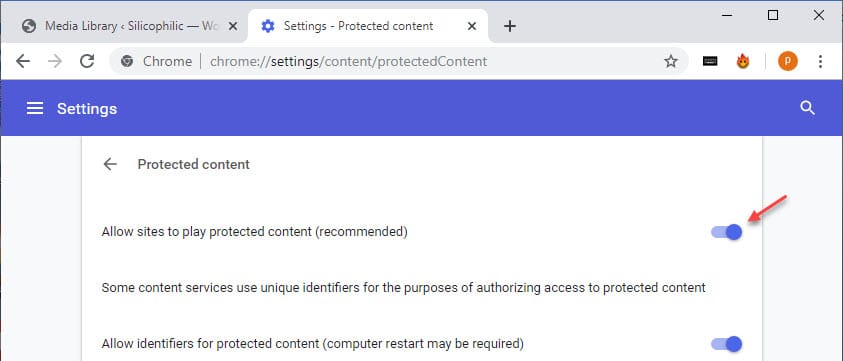 If this was disabled for some reason, this may be the reason that Netflix was unable to play protected content on your device.
Solution 2: Update Content Protection Feature
Sometimes, the antivirus software on your device may block the updates for some critical security components like the WidevineCdm extension. Due to this, if you miss this update, Netflix may end up showing this error on your device. Try these steps:
Temporarily disable your antivirus software and firewall.
Open Google Chrome on your device.
In the address bar on the Chrome browser, type chrome://components and press Enter to launch the component extensions page.
Here, locate the Widevine Content Decryption Module.
Click on the Check for update button.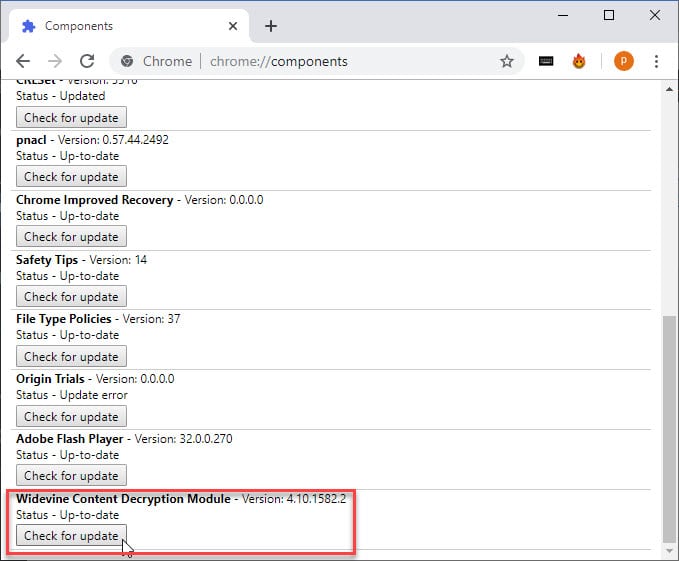 Once you see Status – Component updated, restart Chrome and try running Netflix again. Your error should now be solved.
However, if you see Status – Component not updated, you need to reinstall Google Chrome.
Solution 3: Remove Or Replace Antivirus And Other Protection Software
It is plausible that your antivirus software is at fault, and is blocking the playing of protected content. If you suspect that, this may be causing the error on your device, you can try disabling or uninstalling the antivirus software. Now try playing Netflix on Chrome on your Windows device.
If you see that Netflix now runs smoothly without showing the Netflix missing component error on your device, it is possible that conflict with your antivirus is causing this error. You may consider switching to another antivirus in this case.
Solution 4:  Delete The Widevine Cdm Folder
If none of the steps mentioned above helped you, try deleting the Widevine folder to resolve the Netflix missing component error.
Quit all instances of Google Chrome open on your device. You can copy these steps to a text editor, or open this site on another browser.
Open a Run dialog by pressing Win + R.
Type %userprofile%/appdata/local to open the Local AppData folder.
Click on Google > Chrome > User Data
Here locate and delete the folder named 'Widevine Content Decryption Module'. If you sent it to the recycle bin, clear it from there as well.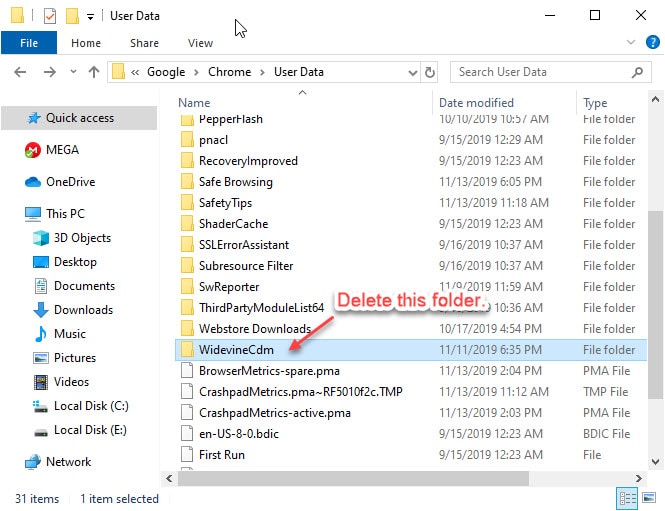 Once that is done, open the Chrome browser again.
Type chrome://components in the address bar and press Enter.
Now, under the Widevine Content Decryption Module plug-in, select Check for an update.
Try running Netflix shows again. This time, the videos should load properly without any issues.
Solution 5: Reinstall Google Chrome
As a last resort, if all other fixes fail, you can try performing a clean reinstall of the Google Chrome browser. This will also help you in case you have a corrupt Chrome installation. A fresh install will reset all the broken files and settings, and form the data libraries again.
Uninstall the Chrome application from the Control panel. Then remove the residual files as well. To remove the residual files, you can use a third-party junk file cleaner like CCleaner.
Then download a fresh copy of the Chrome installer from the Google website and run the installer.
Wait for the installer to finish.
Now try loading the web page in this new installation of Google Chrome.
Wrapping Up
Netflix is one of the most popular content streaming platforms, and many users spend hours on it, consuming content. If you too were facing the error code M7702-1003, now you know how to solve this using the steps provided above. Do comment below if you found this useful, and to discuss further the same.