We all fancy a dark theme in our applications to get that easier on the eyes look. It looks aesthetically pleasing and the dark background doesn't hurt your eyes as much as a bright white background does. Dark theme is also said to be battery efficient. More and more developers are incorporating a dark theme in their apps to get this look.
If you apply a system-wide dark theme in Windows 10, it will turn the system background to black, but it won't affect the Microsoft Office apps.
However, if you want to get a dark mode in your Office apps like Microsoft Word, Excel, PowerPoint, etc., you need to select the theme for the apps separately.
Dark Theme For Microsoft Office – Word
Microsoft office has included black and dark grey themes from Office 2016. So, this trick should work for Office 2019, 2016 and 2013 on Windows 10.
To change your theme, you need to follow these steps:
Open Microsoft Word from the Start
Click on File to open the sidebar.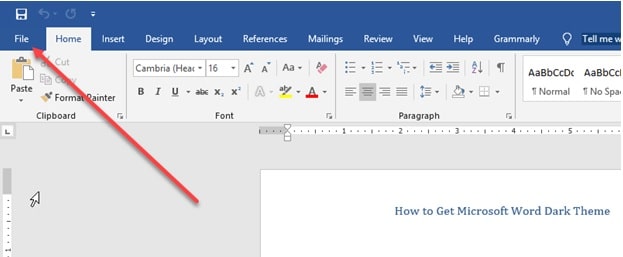 3. From the left sidebar, click on Account.
    4. Here you will find Office theme.
    5. From the dropdown menu, select Dark Gray or Black depending on how dark you want your background.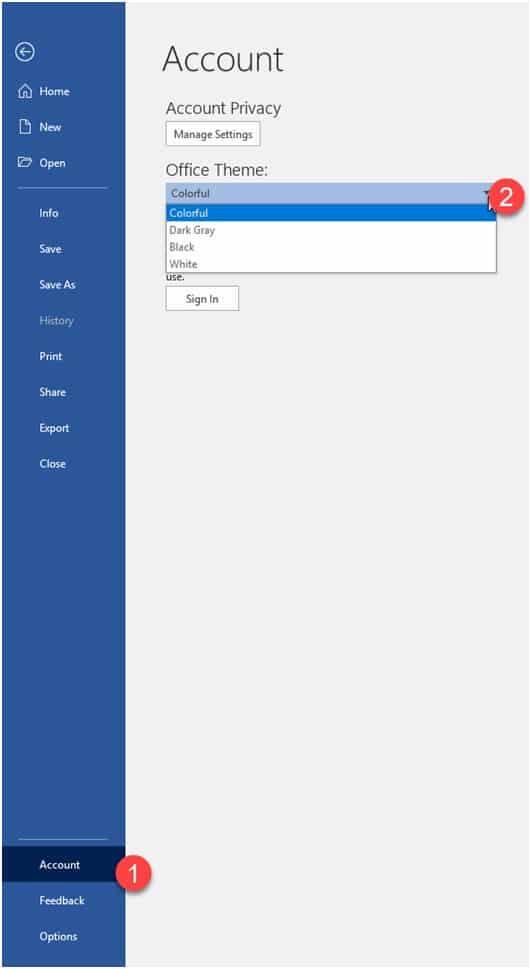 6. You can also select an Office background here to change how the office background looks.
You can also change your Office theme from the Word Options menu.
To go to options:
Open Word from the Start
Click on File to open the sidebar.
From the left sidebar, click on Options.
In the General tab, look for Office theme under Personalize your copy of Microsoft Office.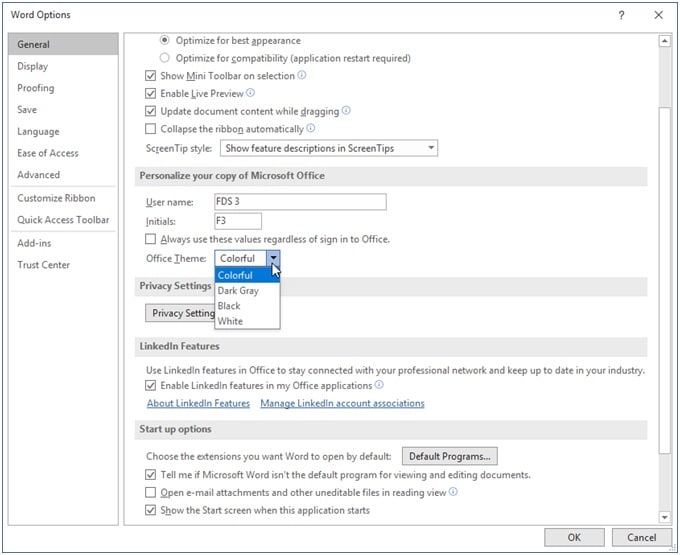 5. From the dropdown menu, select DarkGray or black depending on how dark you want your background.
This will change the background theme of Word to grey or black depending on what you selected.
As soon as you change the office theme in Word, it gets applied to all the Office apps as well. So, you can change the theme for the entire Office Suite from within any one of the apps.
Here is a comparison of Dark Grey and Black themes to help you decide which may be better for you.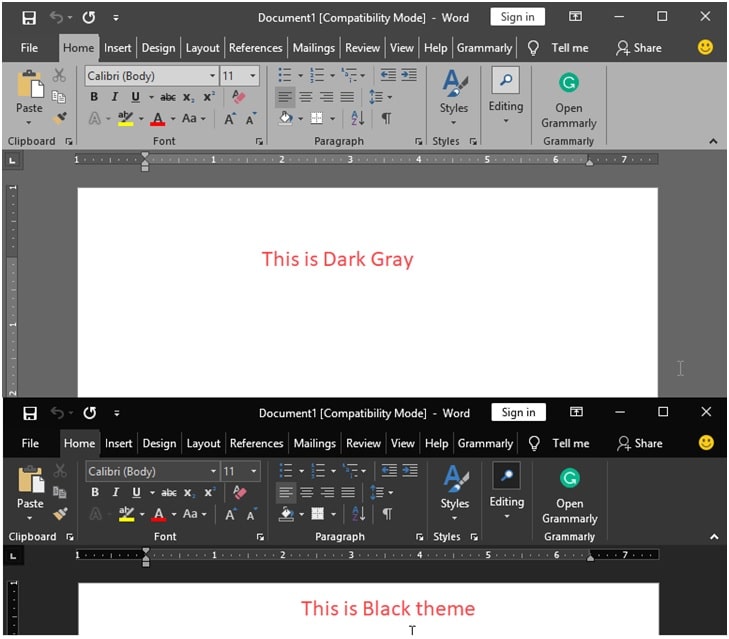 Note: theme will only change the taskbar and ribbon colors. The page color will still be white and the text will be black.
To change the page color, you can do so by going to the design menu. Look for Page color in the right-hand side of the ribbon under the Design tab.
Caution: changing your page color will increase the ink or toner consumption, so keep that in mind before changing pagecolor.
Conclusion
A dark theme is aesthetically pleasing and it is more soothing on the eyes. If you work for long hours in front of a screen, you will certainly benefit from the dark theme in your apps. Now you know how to implement the Dark theme in Microsoft Office apps to complement your dark-themed Windows 10. Comment down below if you find this trick helpful for applying dark theme to Microsoft Wordor to discuss further.