Many users have complained about a random True Key app on their system. If you are one of them and are worried this might be some kind of malware, here I will tell you how to uninstall True Key from your PC.
What Is True Key?
True Key is a free password management application provided by Intel. It is a password manager that supports several methods of sign-in that include face and fingerprint unlock, email, master password or by using a trusted device. It is limited to 15 passwords in the free version, and if you require more than that you can buy the premium version for $19.99.
How Did It Get Installed On Your Computer?
Adobe Flash earlier bundled out with McAfee Security Scan plus only. But now it has bundled in this password manager by Intel as well. McAfee was also an Intel company till 2017 so there must be some agreement between Adobe and Intel.
True Key is also available as a standalone app that you can download separately, but most users got this app during the installation of Adobe Flash. It is also available for Android and iOS on their stores.
These offers are selected by default in the Get Adobe Flash player page and many users may have installed it from there unknowingly.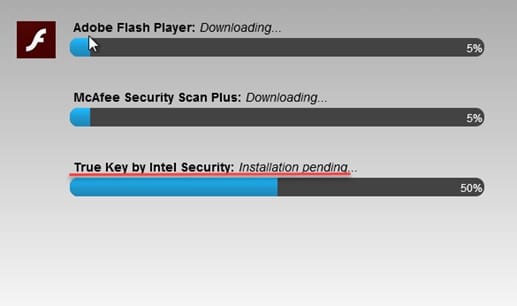 How To Uninstall True Key?
True Key is now a stand-alone app developed independently by McAfee, so you may find this app in the list of programs installed on your PC.
To uninstall True Key and to see the list of programs on your PC:
Close all open web browsers on your PC.
Press Win + X to open the WinX menu.
Select Apps & features at the very top.
From the list of apps, locate True Key and right-click on it.
Select Uninstall to remove the software from your PC.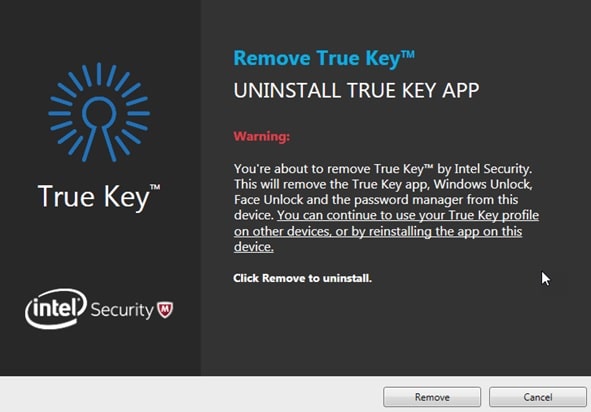 If you don't find True Key in the list, it may be bundled in within McAfee Security plan or some other McAfee application. Uninstall these applications as well if you don't find True Key in the list of programs installed on your PC.
This may not remove the services that True Key runs in the background. To remove those as well, follow these steps:
1. Open the Run dialogue by pressing Win + R.
2. Type the following and press Enter:
services.msc
3. Locate the service 'Service Installer Wrapper TrueKey' in the list.
4. Right-click on the service and click Stop.

5. Go to the following folder next:
C:\Program Files\TrueKey
6. Delete all the files present inside this folder e.g. config.ini, InstallerWrapperService.exe, etc.
7. Restart your PC to complete the removal of this application from your system.
Remove True Key Extensions
True Key also exists as extensions for your web browser. You can remove these as well to completely remove True Key from your system.
To remove True Key from browsers, right-click on the True Key icon present in the taskbar, and select Remove from Chrome.
Alternatively, you can click on the hamburger menu to reveal More tools, then click on Extensions to see the list of extensions installed in your browser. In Firefox you will find this inside about:addons page.
From the list of installed addons, remove the True Key extension.
Functions Of True Key
True Key is a password management system by Intel. It works by encrypting the users' passwords with AES-256 algorithm. It ensures that only the user can decrypt and access their private information like passwords with the elected options.
Password managers like these remove the hassle involved with remembering passwords. It allows users to enter their most visited sites using other methods of sign-in like face and fingerprint recognition etc. they have the ability to integrate with the web browsers and synchronization so that users don't have to remember their passwords each and every time.
Conclusion
If you installed this app by mistake by not clicking on the opt-out feature in the get adobe flash page or someplace else, now you know how to uninstall True Key from your system. Comment down below for a further discussion about True Key or other password managers.