Google Earth is one of the most popular map applications, with very innovative features, which make it stand out from the other map applications. It provides the most accurate and the most convenient view of our Earth that you can get on your screen.
With some recent updates, Google Earth is now more data-heavy, and now offers increased perks like street views, water view, three-dimensional buildings, etc. However, some Windows 10 users have indicated an error where they see Google Earth not loading maps on their device.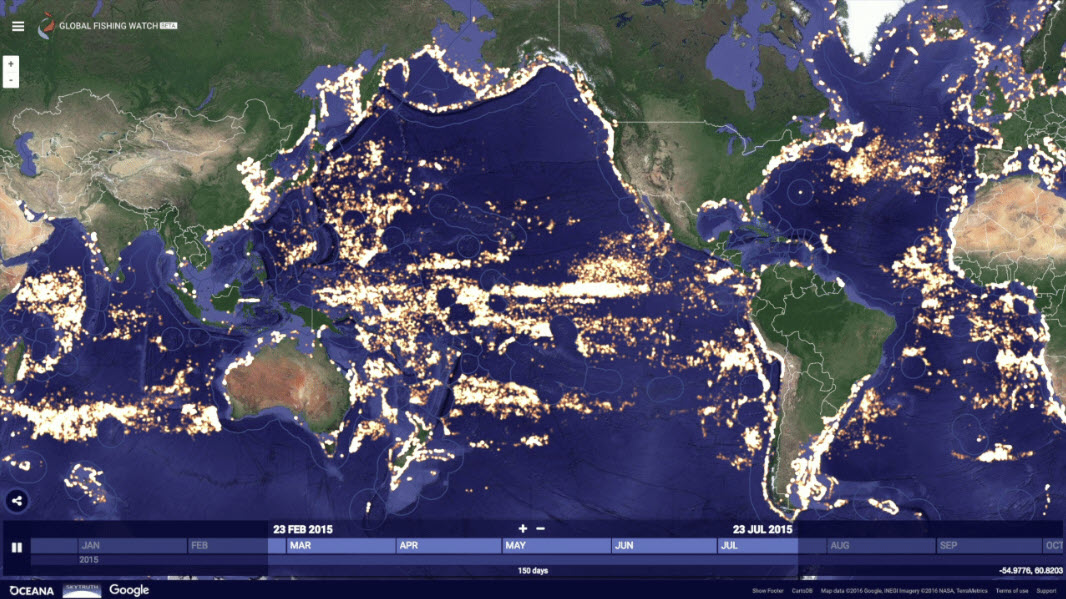 Here I shall discuss how you can easily solve the Google Earth pro not loading error on your device.
How To Solve The Error 'Google Earth Not Loading'?
With frequent updates, Google Earth adds tons of features every time it is updated. However, with more features comes more chances of the app being prone to errors. Certain users have faced some problems with the application, and reported them on many forums stating 'Google Earth not responding' and 'Google Earth won't load'.
If you see the Google Earth pro not responding on your device as well, follow these simple solutions to solve the error on your device.
Solution 1: Disable Display Scaling
If Google Earth won't load, and you are getting this message: "Your desktop resolution is set to smaller than 1024×768. Google Earth requires a resolution of at least 1024×768 to be viewed properly," your problem is probably with display scaling settings and the DPI to which the app is set.
Here is how to change DPI settings, so that you can run the program normally on your device:
Locate the Google Earth icon on your Desktop.
Right-click on it and select Properties from the context menu.
Go to the Compatibility
Find the display scaling on high DPI option and disable
Restart Google Earth.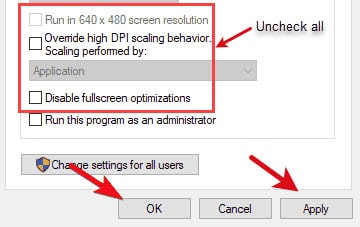 Solution 2:  Launch The Troubleshooter
Cache refers to the data that is stored by websites and applications to load the said content faster the next time you load it. Cache data is very important in reducing the loading times of your frequently visited pages, and also helps in predictive algorithms.
However, a large amount of cache is often prone to crashing and can cause the application to malfunction. In these cases, rebuilding the cache library is the way to start solving your error. Follow these steps to clear cache in Google Earth pro.
Open the Google Earth pro desktop application on your device.
At the top, click to open the drop-down menu.
Click on Help.
Next, click on the Launch Repair tool.
Click on the troubleshooter link at the top of the repair tool to launch it.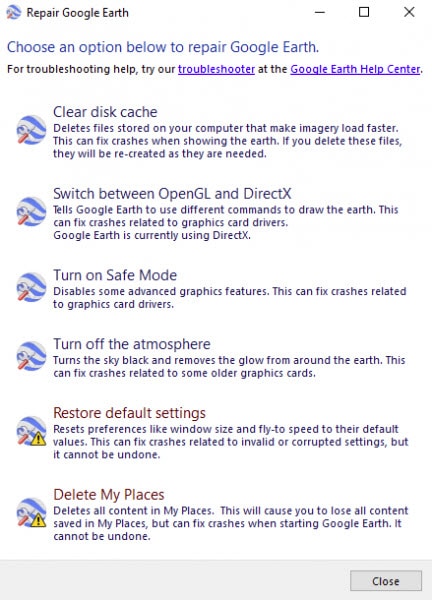 Alternatively, you can also use the Run window to launch the Repair tool.
Open a Run dialog by pressing Win + R.
Paste the following location in the Run dialog to open the repair tool:
"C:\Program Files\Google\Google Earth Pro\client\repair_tool.exe"
If you have the 32-bit version of GE Pro, use the following location instead:
"C:\Program Files (x86)\Google\Google Earth Pro\client\repair_tool.exe"
Here, click on the Clear disk cache option to clear the cache stored on your device. The cache library will be created again, solving the Google Earth not responding error.
Solution 3: Recreate The Shortcut Icon
There have been some reports among users that while installation of a new version, they get an error code 1603.
The 1603 error is an indication that the application is already installed on your computer, so you cannot repeat it. Windows 10 users experience this during the update process, and the Google Earth shortcuts from Desktop and Start Menu have been removed on their devices.
In such cases, you just have to create a shortcut again. This should solve the Google Earth not loading error on your device.
Solution 4: Update Graphics Drivers
Drivers are the configuration files, which facilitate the communication between your hardware device and your operating system. Corrupt or missing device drivers can lead to many errors on your system which revolve around your device malfunctioning.
This is actually one of the most common causes that this error can happen. If you have skipped some device driver updates, those outdated drivers can conflict with your hardware and can result in many different errors including this Google Earth not loading error.
To check and update your device drivers, follow these steps:
Open a Run dialog box by pressing Win + R.
Type devmgmt.msc and press Enter.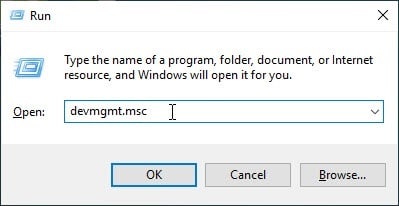 This will open the Device Manager.
Here, locate the devices that may be associated with your error e.g. the Graphics card drivers, display adapters drivers, etc.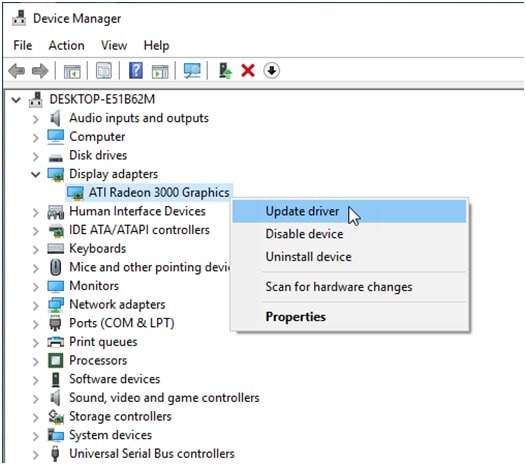 Right-click on these devices, and select Update Driver.
The Windows assistant will search for and prompt you to install the latest version of the device drivers.
Restart your system.
If your Google Earth error was caused by some outdated drivers mismatch, this should solve the error and Google Earth should run normally on your device.
Solution 5: Use Integrated Graphics
Integrated graphics use a portion of a computer's RAM instead of their own dedicated memory.  If Google Earth is not working on Windows 10, the problem might be the dedicated graphics card. To fix this particular issue, you need to switch to the integrated graphics while using Google Earth.
To change which graphics the application uses, you can do so from the application menu. Open the location of Google Earth's executable (.exe) file, and change the settings from the right-click context menu.
An easier way of doing this is from the graphics card control panel. There are dedicated settings in both NVIDIA and AMD control panels to configure individual applications for using dedicated or external graphics card. These control panels are much easier to navigate, so change Google Earth's graphics card settings from these.
Solution 6: Reinstall Google Earth
If none of the solutions above helped you in solving the 'Google Earth pro not responding' error, you might need to reinstall the application to solve the error on your device.
Remove the residential files as well when you are uninstalling the application. For removing residual files, you can use third-party applications like CCleaner, which can help you clean the residual files as well. Or else, you can use third party power uninstallers like IObit uninstaller. Read about batch uninstallers here.
Wrapping Up
So there you have it. Now you know how to solve the Google Earth not loading error on Windows 10 devices using one or a combination of the solutions provided above. Comment below if you found this useful, and tell us how you solved the error on your device.