For several reasons, you may find yourself in the need of converting one type of audio file to another. For example, you may need to submit a project or presentation in a specific file format like .wav instead of MP3. In such situations, a music converter comes to your rescue.
What are the best music converters that you can use to convert music to mp3 or other formats? Let us take a look at some of the user favorites so that you can choose the one that best suits your needs Read here the list of methods you can use to download music from YouTube and other video hosting sites.
Best Music Converters
A music converter converts one audio file format to another for a particular file. If the music program you are using is not compatible with the audio format, a music converter can come to your rescue, as you can easily use it to convert the said file to a different format which is supported by your player and device.
Also read: How to convert YouTube music to iTunes format
That being said, not every converter may be useful for you, as each application has a unique set of features that defines it. So here we take a look at some of the user favorites, and you can check out the ones that you like.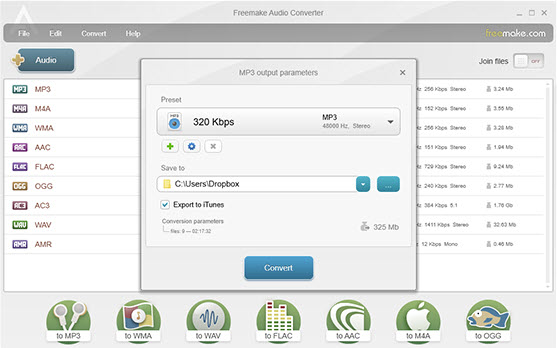 You must have heard of Freemake, as the software is immensely popular among users as a conversion software. Being in the scene for over 10 years, Freemake has been developed to now have multithread support which makes it smoother on almost all devices.
Not only can you convert over 50 audio formats, you can also perform device specific conversions. For example, you can convert to any specific type of device like iPod, Zune, Walkman and much more. Batch conversion is also immensely popular among users, which allows them to convert multiple files at once.
Supported Formats: MP3, AAC, M4A, WMA, OGG, FLAC, WAV, AIFF, DTS, M4R, AC3, VOC, and much more.
Switch by NCH software is one of the most efficient audio converters available for Windows. It handles many popular audio file formats and uses multiple supported codecs to convert audio files with ease. There is also a batch converter, which can handle multiple files at once.
One of the most praised features of Switch is the ability to import and convert playlists, which allows users to convert m3u and PLS formats. You can also extract audio from video files in many formats such as AVI, MPEG, etc. The application also adds a convert option in the Explorer context menu, so you can convert the file directly from the folder.
Supported Formats: MP3, AAC, M4A, M3U, M4R, OGG, RAW, RSS, VOX, WMA, WPL, FLAC, and much more.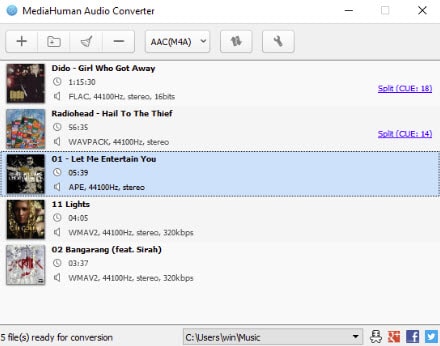 MediaHuman Audio Converter is one of the most frequently updated Audio converters with a clean and simple user interface. The application itself lacks some advanced options, but it does the basics right and that may be all you need. If you are looking to avoid the cluttered user interfaces, give MediaHuman Audio Converter a try.
Apart from being a good converter, the application also supports exporting the music directly to iTunes. The batch conversion is also immensely popular among users, who want to convert various files in multiple formats at the same time. The application also allows you to keep the folder structure, while also allowing to alter the output folder. However, these settings are neatly tucked away unless you need them.
Supported Formats: AAC, AC3, AIFF, ALAC, FLAC, M4R, MP3, OGG, OPUS, WAV, M4A, M4B, M4R, and WMA
Primarily made for Windows 7, Hamster is one of the best music converters you will find to convert music to mp3. It is on this list of best audio converters due to the minimalistic user interface, which makes it extremely easy to navigate through the application.
The application itself can handle many audio file formats, and you can also convert multiple audio files at once. If you are not sure of the output format, you can instead choose the device on which you will be playing the music, and the best file format will be automatically selected for you. You can also choose to merge multiple files into one, which makes it extremely useful in making playlists.
Note: You will have to select the output location each time you convert music.
Supported Formats: AAC, AC3, AIFF, AMR, FLAC, MP3, OGG, WAV, and WMA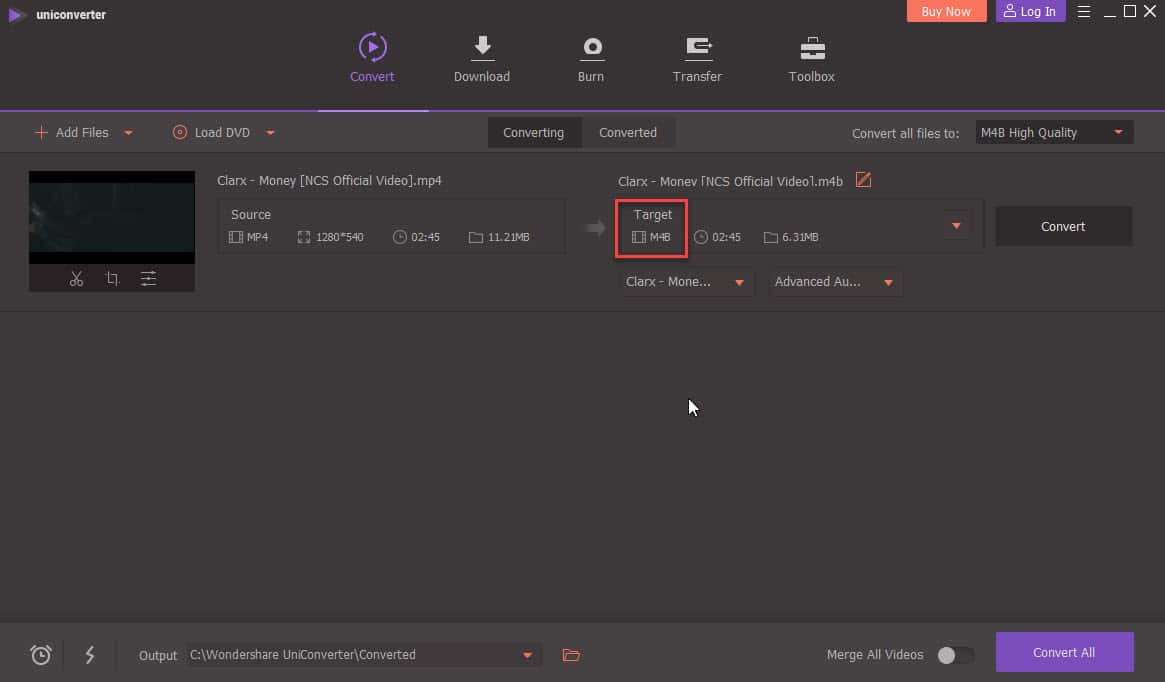 Wondershare Uniconverter is an all in one converter application that take cares of all your needs. The free version of the applications comes with certain limitations, such as restrictions in the duration of conversion (1/3rd of the original length) and number of conversions. However, This may be the only converter you need for all your conversion needs.
Not only can you convert music to mp3, you can extract music from the videos as well. The converter also allows you to convert to specific music players and devices such as iPod Touch and Classis, etc. Wondershare Uniconverter also supports batch conversion, and you can trim the audio files to your desired length as well.
Supported Formats: MP3, MKA, AAC, M4A, AIFF, APE, WMA, WAV, OGG, and much more.
Bonus Tips
The converters mentioned above are an appropriate choice if you want to convert multiple audio files, which requires the use of dedicated applications. However, if you are only looking to convert a single file, there are a host of online converters that you can check out, some of which are discussed below.
Online software as a service product has seen a rise in recent times, and you will find many online converters for different purposes, such as for converting between different photos, documents, and music file formats.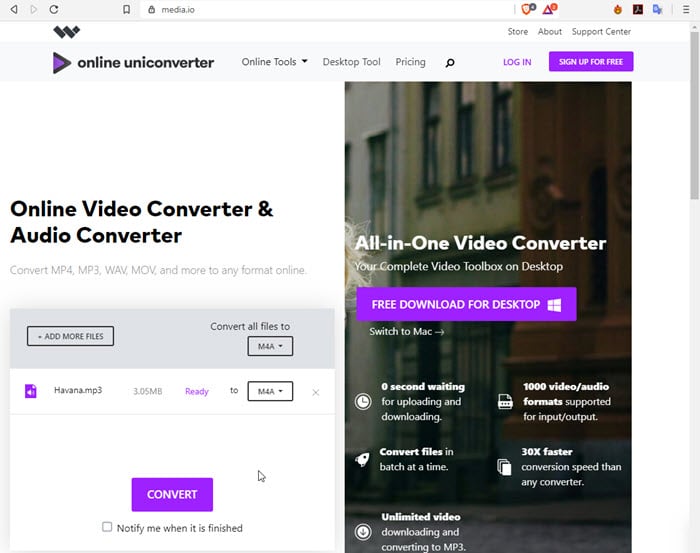 Wondershare also has an online converter, which allows the same functions as the dedicated application. The online Wondershare converter does not impose the 1/3rd length limiter, and you can upload and convert any song in video and audio formats without any issues.
The conversion speed is significantly slower than that of the dedicated application, so keep that in mind while using the converter. A simple trick involves adding multiple files to the conversion and then downloading all of them once finished. This should allow you to engage in other tasks while the conversion takes place.
Supported formats: More than 100 formats including FLAC, AU, OGG, MP3, WAV, WMA, M4A, M4B, MKA, AAC, OMA, and much more.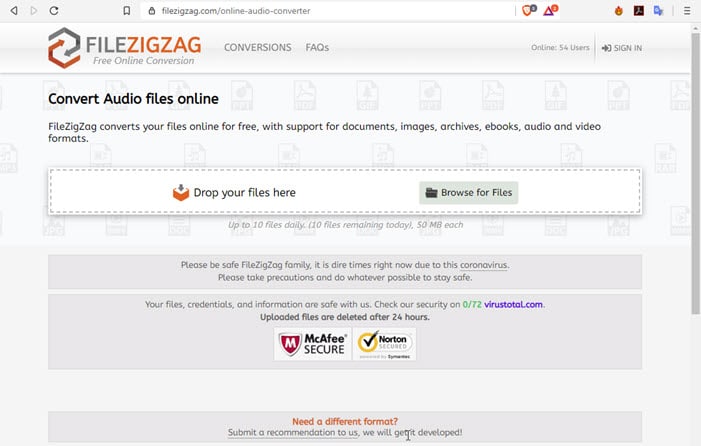 FileZigZag is one of the complete online conversion solution that you may be looking for. With support for multiple file formats, the service can handle documents, images, books, audio, and video formats with relative ease. Although there is a data limit as to how much you can convert in a day (10 files and 50 MB each), this converter is the one stop solution if you want to convert fewer files and do not want to install a dedicated application for the same.
Supported Formats: AIF, AIFC, AU, AAC, M4A, OGG, WAV, MMF, MP3, FLAC, etc.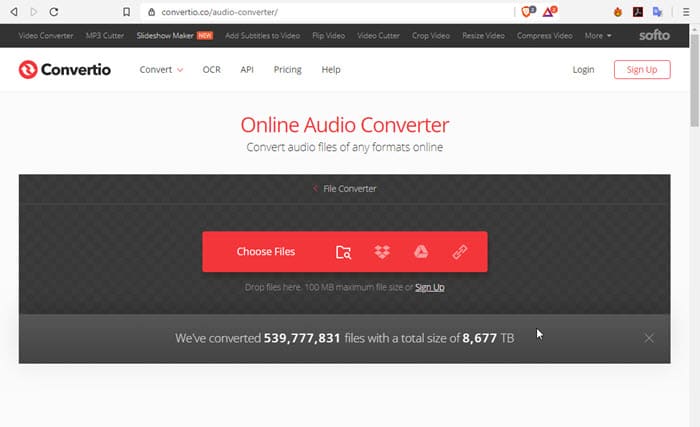 Convertio is another browser-based online converter, which claims to have support for more than 300 different file formats. It is widely popular among users, with more than 6 million voters registered on the website. The free version of the product allows a maximum of 100 MB per conversion, and you can upgrade to the unlimited plan to remove any restrictions.
You can upload the files from your computer or enter the cloud storage link to directly convert online files. The converted files can be downloaded locally, or you can choose to directly transfer them to your cloud storage accounts. The batch conversion is another popular feature among users.
Supported formats: APE, CDA, FLAC, MOV, MP3, OGG, RAW, VOX, WPL, WMA, WAV, etc.
Wrapping Up
So there you have it. This was a list of the best music converters in 2020. Comment below if you found this useful, and tell us which service you use to convert your music.