The driver overran stack buffer is a common blue screen error when a driver overruns a stack buffer.
If you are having this problem, your computer will shut down and then automatically restart.
Actually during your start-up, you get to see this problem. It's really annoying as you will not be able to perform any task on your computer.
In this article, I am going to search for the reasons that trigger this issue and provide some potential solutions.
Reason Behind Driver Overran Stack Buffer Error
Some users often over lock their system for maximizing the performance of their system. So, in case you are suffering from the driver overran stack buffer error, delete all the overclocking settings.
This message will indicate the file that is causing the issue. This error can lead to file loss and can welcome many other issues as well.
If you face this problem during the installation of your Windows 10, then make sure that this is a typical hardware problem.
So, let us now explore some feasible solutions to get rid of this problem.
Method 1: Run BSOD Troubleshooter
To solve the driver overran stack buffer problem you can try this step to run the BSOD Troubleshooter. Follow the steps mentioned below:
Step 1: Go to Settings and open Update & Security. Then from the displayed menu, choose Troubleshoot.
Step 2: Now from the right-side panel, choose BSOD and hit Run the troubleshooter option.
Step 3: For completing the process, go through the onscreen instructions. After you have completed the process, check whether the issue is solved.
Method 2: Check For Any Hard Drive Issues
Always check whether there is any hardware issue. Sometimes due to some corrupted files, problems like windows 10 driver overran stack buffer may occur.
Step 1: Go to the Advanced Startup and holding the Shift key give your Computer a fresh restart.
Step 2: Now select Troubleshoot and from there move on to the Advanced Section.
Step 3: Now enter into Command Prompt and run the below mentioned commands.
exe/rebuildbcd
exe/fixmbr
exe/fixboot
Press Enter after every command to run them.
Step 4: Sometimes along with these commands, you may need to run the chkdsk command also.
Enter the following command with the proper partition letter:
chkdsk /r (your drive partition letter):
Step 5: Perform the step with each hard drive partition and after that reboot your system and check for any improvement.
Method 3: Reset Your Windows 10
In case the problem is created by software, you can resolve it by resetting your Windows.
But make sure that it will remove all the files from the C drive and so, here I advise you to keep a back-up of those.
For resetting your Windows 10, follow the steps given below:
Step 1: For few times restart your PC during the boot sequence until the Automatic Repair gets started.
Step 2: Now choose to Troubleshoot and then go to Reset This PC option. Now delete everything from here.
Step 3: Select the drive where you have your Windows installed and remove the files. Then choose the Reset option.
Now follow the instructions provided on screen for completing your reset process. After the process gets completed recheck whether your problem is solved this way.
Method 4: Remove Any Problematic Software
Sometimes the third-party software may create a lot of problems in the system.
In this case, also, you may try to remove the problem creating software and check whether this can provide any solution to the problem.
Some users have reported that folder lock and plug-in for your Internet Explorer can create problems. So, I advise you to remove them from your System.
Your antivirus software may give you another trouble. So, for the time being you can remove the antivirus programs as well.
Method 5: Check for any Hardware Issue
If none of the above-mentioned processes have helped you, check that you are having a powerful processor for your system.
It is always recommended to choose a top CPU for your Computer when you expect the best performance. So, take care that you have the proper processor for your better gaming experience.
In case you are throttled with driver overran stack buffer, you can try this step.
Method 6: Update The Drivers
There may be corruption in the drivers, or they may need an update. So, remember to re-check your drivers as this can cause you a lot of problems with your system.
Besides having a problem with the driver overran stack buffer, drivers can generate other problems too.
We recommend you install the latest drivers available. Follow the steps mentioned below to accomplish the task:
Step 1: First of all, you need to search for the model of the wireless adapter you are using.
Step 2:  Then visit the manufacturer's website from there you need to download the latest driver required as per your model.
Then proceed for the installation of the driver.
Step 3: It is a bit tiring job to download the drivers manually. So, remember to check the specific model of your device.
You may also take the help of a third-party tool for downloading and installing the drivers instantly. Now check whether this solves the problem.
Method 7: Update Your Windows
Updating windows is required to address many problems in the System along with the driver overran stack buffer issue.
You can perform this task quite easily from your Updates and Security panel. Follow the below-given steps to do it:
Step 1: Go to Settings and go to Update & Security.
Step 2: Now choose Windows Update and select Check For Updates. When you locate any update complete the procedure and restart your system.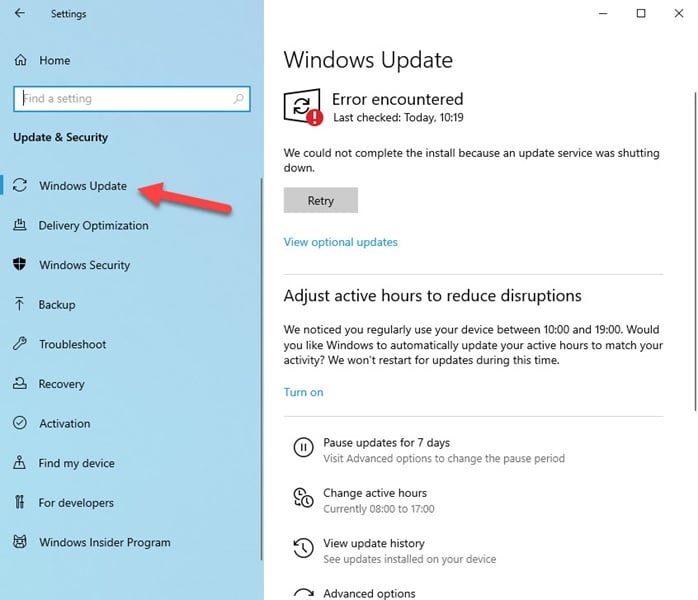 After you have rebooted the windows check whether it has made any improvement.
Many users have reported this process has solved their problem immediately. So, before you try any other remedy, you can give this a try.
Method 8: Run A SFC Scan
When your driver overran stack buffer corruption in the system files create the problem you can scan it and you will be able to fix the problem.
You can take the help of the Command Prompt and by using the SFC utility you can fix the problem.
To execute the process, I am describing the steps below. Please follow these steps to commence the procedure successfully:
Step 1: First of all, run Command Prompt as an administrator and open the SFC utility by pressing Windows Key and X hotkey.
Step 2: Now enter DISM.exe /online /cleanup-image /restorehealth and then hit the Enter button. You must do this before initiating the SFC scan.

Step 3: In Command Prompt, type sfc /scannow, and hit the Return Key. Wait till the scan gets completed. It may take thirty minutes to accomplish the entire process.
Step 4: After finishing the scan, give your Windows a fresh restart and check whether the step has repaired the corrupted files.
Winding Up
So, there you are! Hope the article has helped you to seek an answer to driver overran stack buffer.
If you have any more ideas or suggestions related to this topic, please feel free to use the dedicated section below.
You can also shoot us a mail if you have any further queries. We always look forward to hearing from you.