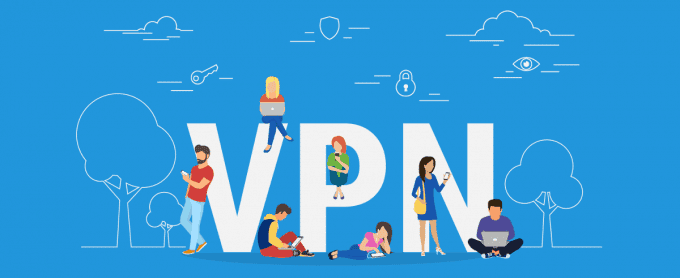 Do you own a website and want to see how that looks in a different country? Maybe you want to watch some overseas streaming Television program? Or want to download some files via torrent clients, Access some websites that are restricted in your country?
Two solutions spring to mind. A VPN (Virtual Private Network) service, and a proxy server. Read on to know the difference and take a look at the latest free VPN apps for windows.
Why Use A VPN?
VPN stands for Virtual Private Network. The way this service works is by creating an encrypted connection between your PC and the "virtual" server, thereby hiding your online activities from others trying to monitor your usage, and preventing your ISP from being able to track, store, or sell your precious data.
 However, for casual users, paying for a premium VPN service makes no sense. There's an alternative solution as well in form of a proxy server.
What Is A Proxy Server?
A proxy service is what I like to call a toned down version of high quality free VPN. It hides the user's first IP address and uses other servers for resource exchange.
Seems cool, but a proxy connection is not as secure as a free VPN, so only use this feature if you are not exchanging important information like banking etc.
A VPN is a much more secure option as it not only hides your IP address, but it stops all ISP tracking for your connection. I recommend the HMA! Proxy as it is very user friendly, and set up is fast.
Lastest Free VPN Available For Windows In 2020
There are a lot of top quality VPN services available online. So to help you people in times of your need, we have collected a list of the best free VPN services for Windows available as of 2020. Check the list and find the one that best suits you.
1) Hola VPN (Web Browser Extension)

Hola is probably the most used free VPN service, with over 7.7 million users.  It is a free and AD free VPN service that can be used to unblock most of the websites on the internet. To unblock all websites, you can subscribe to PLUS, that also provides additional security.
Moreover, there is no limit on usage. This is free, unlimited, peer to peer based community powered VPN. Probably not the safest VPN out there, this provides the fastest connections out of all others listed here.
Visit the extension store of your browser
Search Hola VPN in the search bar.
Click Add to 'Browser'.
 There is also a windows app available for download.
Download Here: https://hola.org/
2) Hotspot Shield Free VPN

It is also very well known high quality VPN service available for windows.  It is very easy to use and primarily focuses on security.
For the free version, the app will select an available server that you can connect through, after some ads. You can protect up to 5 devices on a single account, and use 500 MB of daily data allowance (15GB a month).
For the paid ELITE version, you can connect to anything available on the internet and select from 25 different servers. Yes, that's a lot to choose from.
However, the set up is very difficult and time consuming. You have to put up through a 7 days trial of the premium version that involves signing up with your credit card details. However after 7 days, you can opt for the free plan available with restricted data allowance.
Download here: https://www.hotspotshield.com/
3) Windscribe Free VPN

It includes a firewall inbuilt for additional safety. It has client software available for windows and Mac and also has extensions for chrome, Firefox and opera.
Windscribe allows 2GB per month of free VPN protected data, which can be extended to 10GB if you sign up with your email address.
For the free service, you have access to servers from only 10 countries, for the paid subscription; you can have access to 610 servers in over 60 countries. Windscribe also doesn't store connection logs, IP stamps or sites you visit, and there is an in built ad blocker and firewall as well.
Download here: https://windscribe.com/
4) Proton VPN

This is also an unlimited VPN service, making it ideal for watching sports or geo-blocked content.
For the free version, there are only 3 servers you can select from, and connect only one device at a time, but you don't have to login with any data, making it very private to use. You can however expect speed drops at peak times as the bandwidth is allocated to the paid users, but that's a trade you may have to make for absolutely no cap on data usage.
You can try the full version as a paid subscription that offers 340 servers from around 30 countries.
Download here: https://protonvpn.com/
5) Me
As the name suggests, this service is very strong on privacy. There are also no ads or speed suppression. There is client software for download for windows and Mac.
For the free version, you get 2 GB of data per month, and a connection to 3 servers, from one device only, while with the monthly subscription plan, you get access to 30 servers.
There are no ads, and the company promises security by claiming that it does not store any user data or logs.
Download here: https://hide.me/en/
6) PrivateTunnel

It is a multiplatform VPN provider, with client software available for windows as well. It is simple to use free VPN service with paid for subscription packages available as well.
There is a conventional provision of data allowance. You will be provided with 200MB of data that you can use at will, which when expires more data can be purchased in bundles of 20GB or 100 GB. There is a yearly plan available as well.
The interface is fairly easy to use and there are many platforms it is available on, but we found the speeds throttle up and down at times.
Download here: https://www.privatetunnel.com/
7) Freelan

Freelan is one of the lesser known free open sourced VPN software that has many great features. It has client software available for windows, macOS and Linux.
Apart from the tedious setup, there are no flaws, and the possibilities are endless.
It is a full mesh, peer to peer virtual private network to create secure point to point or site to site connections in Client-server, Peer to peer, or hybrid Configurations.
With these configurations, you can create your own network in any way you want.
Download here: https://www.freelan.org/
Visit https://www.freelan.org/get_help.html#adjusting-the-configuration for full details on how to establish a connection.
8) Betternet

This is also relatively new and lesser known VPN service. It is an ad supported VPN service that provides excellent security options. There is client software available for windows and android, and Chrome and Firefox extensions.
This is a free private network, but relies on apps and video ads hosted to make money.
It is available in free and paid versions, with the security features bundled in the premium version. You get access to 11 servers in 10 countries with the premium version. This is very easy to use, but the app does not provide control over choosing which server to connect to. The free version is good for browsing as it randomly hides IP addresses, but may cause some speed throttling.
Download here: https://www.betternet.co/windows-vpn/
9) Surfeasy (Opera Free VPN)

This is a well known VPN service, with excellent support for privacy and security. It is made by the same company that makes opera, and promises some excellent features.
The company promises that it does not store any user logs and provides utmost support for security.
You can connect 5 devices simultaneously, and get access to over 1000 servers from across 25 countries.
With the free version, you are allowed a 500mb monthly data limit only making it usable for very light usage only, however with the opera browser integration, you can get unlimited data usage without registration.
The downside to this is the speed throttles as the traffic increases, with some connections being frustratingly slow.
Download here: https://www.surfeasy.com/
Why You May Consider Paying For A Premium Service?
Most VPNs available offer a free plan, and a paid subscription on top that offers more security, a wider variety of servers to choose from, and an extra protection against potential hackers. So, if you regularly use a private network, you may want to get a paid subscription.
So there you have it, our list of 9 free VPN for windows. Did you find any of these helpful? Comment if you use any software from this list, or have some more recommendations that can be added to our list.