Usually, with Windows 10, you do not have to look far to solve your errors. This is thanks to the built-in troubleshooters which allow users to locate the cause of an error and subsequently solve it as well. Windows Update troubleshooter is very important for users who cannot update their version of Windows.
However, what will you do when the update troubleshooter itself stops working? Users have recently reported that they get this error message when they try to run the Update troubleshooter:
'A problem is preventing the troubleshooter from starting'
Here I shall discuss how you can solve this error easily using the following solutions.
FIXED – A Problem Is Preventing The Troubleshooter From Starting
Usually, this error is accompanied by some other error messages as well, like these
Windows online troubleshooting service is disabled.
Windows update troubleshooter won't run.
The troubleshooting wizard can't continue.
An error occurred while troubleshooting.
These errors are usually all branches of the same error and can be solved using a similar set of solutions. Let's look in detail at how you can solve this error easily.
Solution 1: Restart Windows Services
Since Windows services are responsible for proper maintenance of the applications and their features, the associated applications can malfunction if the services get locked up. Restarting these services should free up the applications, therefore regaining normal functioning.
Follow these steps carefully to restart the necessary Windows Services:
Open a Run dialog by pressing Win + R keys.
Type services.msc and press Enter to launch the Services console.
Locate the following service and double click on it to open the Properties window for the same:
Windows Update
Change the startup type to Automatic from the drop-down menu.
If the service is already running, click on the Stop button to stop the service.
Restart the service by clicking the Start button.
Click on Apply followed by OK to save the changes.
Repeat these steps for the following services as well:
Windows Update Medic Service
Cryptographic services
Restart your computer once you have restarted all the necessary Windows services.
Now check if you are able to update Windows without getting the error message. The problem should now be resolved.
Solution 2: Disable Firewall And Antivirus
Your firewall is involved in protecting your Windows device from malicious users by closely monitoring the data exchange that takes place over your network connection. However, and incorrectly functioning firewall may result in all network activity being blocked, leading to the Windows update troubleshooter won't run error message.
Disable firewall and check if the error persists.
If you have third-party antivirus software for security purposes, the antivirus can also affect the data transfer across the network connection. Disable the antivirus shields and check if the Windows Update error persists.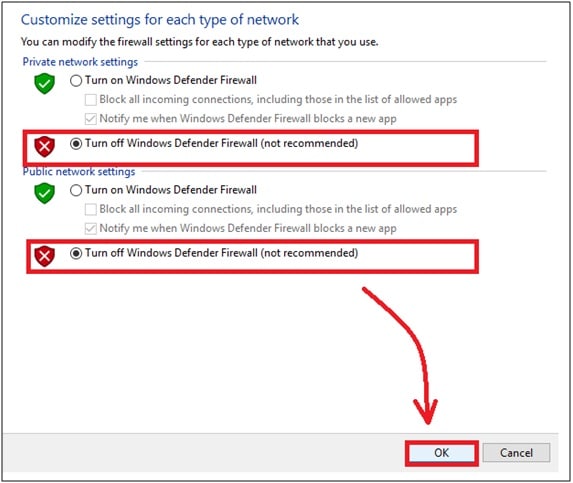 Solution 3: Modify Group Policy
The Group Policy holds many important settings in GUI format, which can be used to alter crucial Windows functionality. There is a Group Policy entry that can be used to prevent using online resources for Windows Update troubleshooting. If a recent Windows update or some other application changed this setting, there is a chance that this may cause your Windows update error.
To verify if this is the case, follow these steps:
Note: The Local Group Policy Editor is available only in Windows 10 Pro and above. Check out this article to know how to enable gpedit in Windows 10 home.
Open the Local Group Policy Editor, by typing gpedit.msc in a Run dialog and pressing Enter.
Navigate the following path by clicking the appropriate entries:
Computer Configuration > Administrative Templates > System > Troubleshooting and Diagnostics > Scripted Diagnostics
On the right-hand side of the window, you will notice three entries named the following:
Troubleshooting: Allow users to access online troubleshooting content on Microsoft servers
Troubleshooting: Allow users to access and run Troubleshooting wizards
Configure Security Policy for Scripted Diagnostics
For the first two entries, change the State of these policies to Enabled.
Else, make sure that all the entries are at Not configured state, which is the optimal state for the normal functioning of Windows Update Troubleshooter.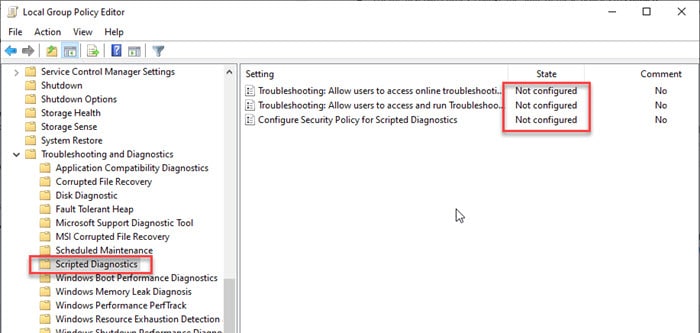 Restart your device for the changes to take effect.
Now when you try to launch the Update Troubleshooter, you should not see any error messages.
Solution 4: Disable User Account Control Temporary
This is a workaround that was reported in some Windows forums. This solution involves changing the user Account Control notification prompt that appears when any app tries to make a system-level change to your computer. The idea behind this may be to allow Windows Update to make changes with administrator privileges.
Adjust User Account Control Settings to Never Notify and check if the Update error persists. You should be able to update Windows freely.
Solution 5: Reset Windows Update Components
You may also see the 'Windows online troubleshooting service is disabled' error message when there is a problem in the Windows Update Components. Luckily, you can easily solve this by resetting the Windows Update components manually.
Solution 6: Run DISM And SFC Scans
If none of the solutions provided above helped you in solving this error, there is a chance that there are some broken system files on your computer. These damaged files can lead to many features not working properly on your computer. Luckily, in Windows 10 you can use the built-in utilities to repair these files.
Run the DISM and SFC scans to locate and repair broken system files on your computer. Check if you still see 'an error occurred while troubleshooting' error message.
Wrapping Up
So there you have it. Now you know how to solve if you see the 'a problem is preventing the troubleshooter from starting' error message. Did you find this useful? Comment below if you did, and to discuss further the same.