TeamViewer is one of the most popular remote desktop assistance software and lets you access and control computers remotely. Available for Microsoft Windows, macOS, Linux, iOS, Android, and ChromeOS, it is one of the most popular desktop sharing software, with additional options for web conferencing and file transfer.
Some Windows 10 users have reported an error where they get a message that says, 'No connection to the partner. Partner did not connect to router. Error Code: WaitforConnectFailed'.

Here I shall discuss some easy ways how you can solve the TeamViewer partner did not connect to router error.
How To Fix 'TeamViewer Partner Did Not Connect To Router' Error?
You may be getting this error because your partner computer may not be connected to the network. You should check if both your computers are connected to the network. However, you may face this network even when you are connected to the network.
For these cases, you can follow these solutions, which shall help you solve if you see TeamViewer unable to connect.
Solution 1: Update TeamViewer And Windows
This error can be caused if one of the computers on the network does not have the latest version of TeamViewer. Therefore, to solve the TeamViewer no connection to partner error, you must first eliminate the possibility that this error is caused by outdated software.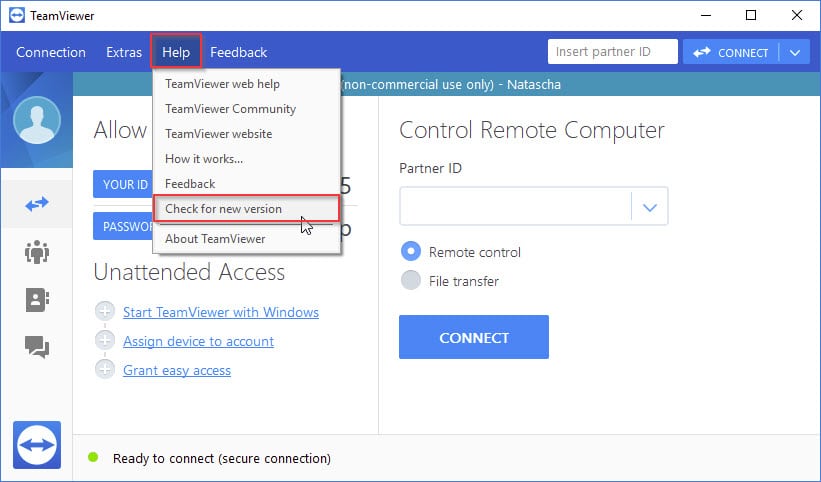 Also, update Windows 10 to the latest version as well. Outdated Windows 10 lacks all the latest driver updates, which may be causing the TeamViewer application to not detect other computers on the network.
If both the TeamViewer application and Windows 10 are updated to the latest version, here are some other solutions that you can try to solve the TeamViewer partner did not connect to router error.
Solution 2: Restart Your Network
TeamViewer no connection to partner can be caused by an unstable connection. You need to restart your network if this happens, as you and your partner computer may not be able to connect to the network for shared access.
Turn off your device.
Unplug both your modem and router and wait 30 seconds.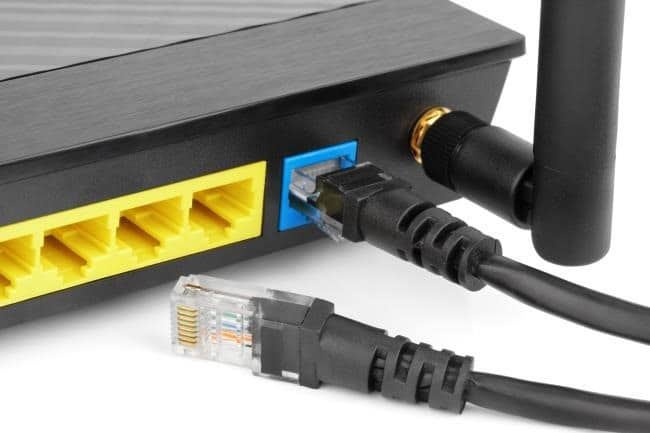 Now plug in your modem and router one by one, and wait for them to load up.
Log into your ISP terminal if there is an option for the same, and then turn on your device.
Solution 3: Allow Full Access To TeamViewer
Sometimes, due to certain restrictions imposed by Windows, the TeamViewer client software is prohibited from connecting to another computer. You need to make sure that TeamViewer has full access on both the computers that you are trying to connect.
To give Full Access to TeamViewer, follow these steps:
Open TeamViewer client software on both your computers.
Click on the Extras tab, and click on Options from the drop-down menu.
In the TeamViewer Options window that opens next, go to the Advanced tab from the left pane menu.
Locate the Advanced settings for connections to this computer
Click on the drop-down menu next to Access Control.
Change the value to Full Access.
Click on the OK button to save the settings.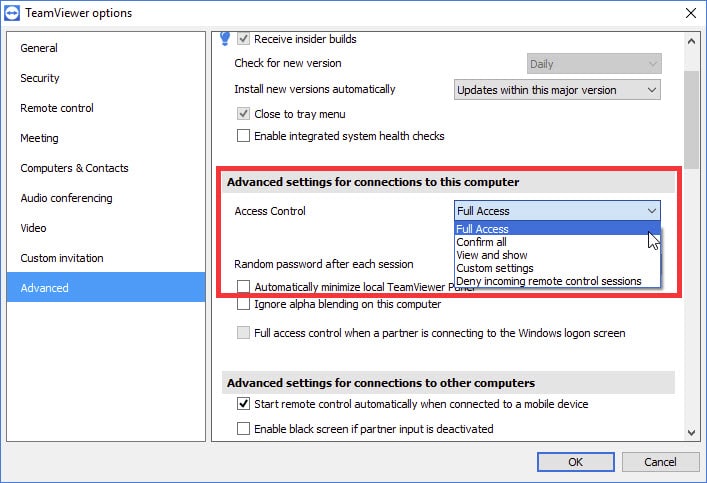 Restart TeamViewer client software on both the computers to check if the error is solved.
If restricted permissions were causing the error on your device, this should have solved the error on your device.
Solution 4: Flush DNS And TCP/IP
On nearly every kind of network, there is a timeout period, after which the connectivity throttles upon continued usage. On Windows, you can try clearing the DNS cache as well. To do that:
Open an elevated Command Prompt. To do this, open a Run window by pressing Win + R. Type cmd and press Ctrl + Shift + Enter to launch Command Prompt with administrative privileges.
Type the following commands in order to flush your DNS cache and reset TCP/IP:
ipconfig /release
ipconfig /flushdns
ipconfig /renew
nbtstat –r
netsh int ip reset resetlog.txt
netsh winsock reset
Wait for the confirmation message, and then reboot your device.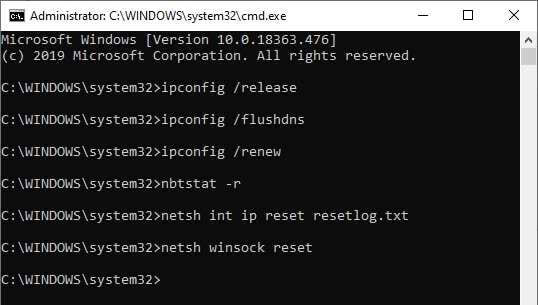 Now check if you are able to connect your computers to a TeamViewer network. This should solve your error.
Solution 5: Reinstall TeamViewer
If none of the solutions above helps you, there might be something wrong with your installation, which is causing the application to misbehave.
A clean reinstall of the application should help you resolve the issue on your device, thereby solving the error.
Wrapping Up
So there you have it. Now you know how to solve if TeamViewer partner did not connect to router using the solutions provided above. Comment below if you found this useful, and tell us how you resolved the error on your computer.