As the internet becomes more and more powerful, JavaScript is taking over as the leading language script for web-based activities. To make the transitions fluent, web developers use redirecting as a method.
Although some redirects are harmless, some can be malicious as well. You may be taken to unwanted websites that are not at all related to the topic you are viewing. This can make the redirects very annoying. When a lot of redirects open, these open tabs use up a lot of important resources. Here I will show you how to stop websites from redirecting in popular web browsers.
Note: If you are searching for 301 redirects blocking, you need to know that there is no option available to block these requests. However, for other kinds of redirects like ads or phishing sites, you can follow this guide, and know how to stop the page redirects.
How To Stop Automatic Page Redirects?
Nearly all the web browsers have an inbuilt provision for blocking these 'meta-refresh' tag redirects. Here I will discuss how to stop webpage redirects in web browsers.
Google Chrome
Google Chrome is one of the most popular browsers worldwide because of its speed and security optimizations. Chrome has been blocking these redirects automatically for quite some time now.
To confirm and set redirects off, follow these steps:
Open Chrome.
Click on the hamburger menu(≡) and click Settings.
Click Advanced.
Under the Privacy and Security section, make sure the Safe Browsing is turned on.
Under the Content settings, click on Pop-ups and redirects.
Make sure pop ups are set to Blocked.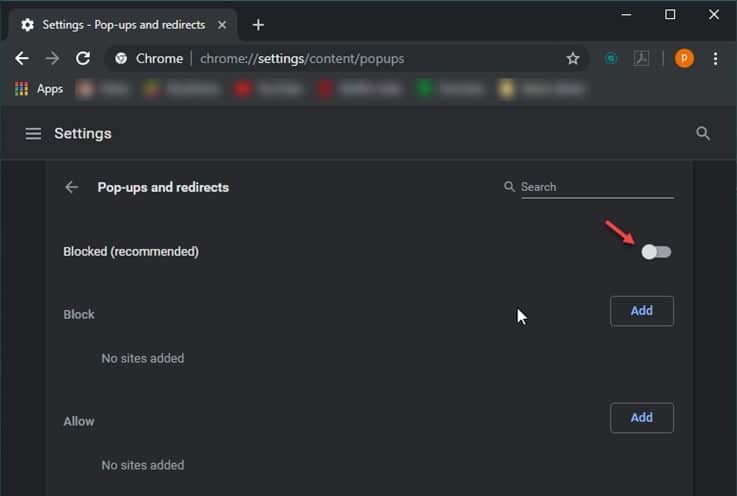 By default, you will find it disabled. However, if you don't, you can always turn popups to blocked.
Alternatively, you can install a Chrome extension called Skip Redirect to prevent redirects from opening.
Mozilla Firefox
Firefox is a great alternative to Google Chrome. It is also super feature-packed and customizable as well.
To block redirects in Firefox, follow these steps:
Open Firefox.
Click on the hamburger menu (≡). Select Options.
From the left-hand pane, select Privacy and Security
Under the Permissions section, click on the checkbox next to Block pop-up windows.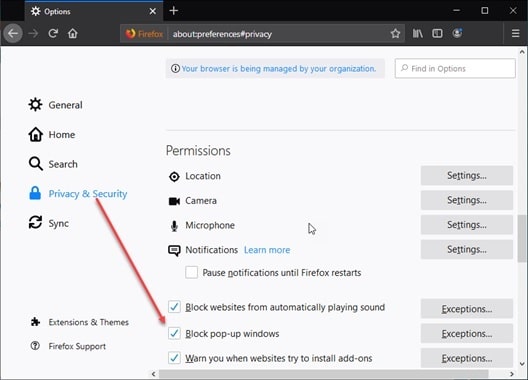 Usually, this is checked by default. If you don't find this checked by default, turn this on to disable popups and redirects.
You will receive a message that says, "Firefox prevented this page from automatically redirecting" the next time some page tries to redirect you to other pages.
5. Under the Security section, make sure the box next to Block dangerous and deceptive content is checked. If not, tick the box to complete the unwanted redirection of websites.
 Microsoft Edge
Microsoft's Edge browser is slowly gaining popularity as a reliable browser because of its speed and ease of use. The markup tools are great for reading materials online. Edge also allows you to block website redirects.
To block redirects in Edge, follow these steps:
Open Edge.
Click on the hamburger menu(≡), select Settings.
Click on Privacy & Security Settings.
Enable the toggle switch below 'Keep me protected from malicious sites and downloads with Windows Defender SmartScreen'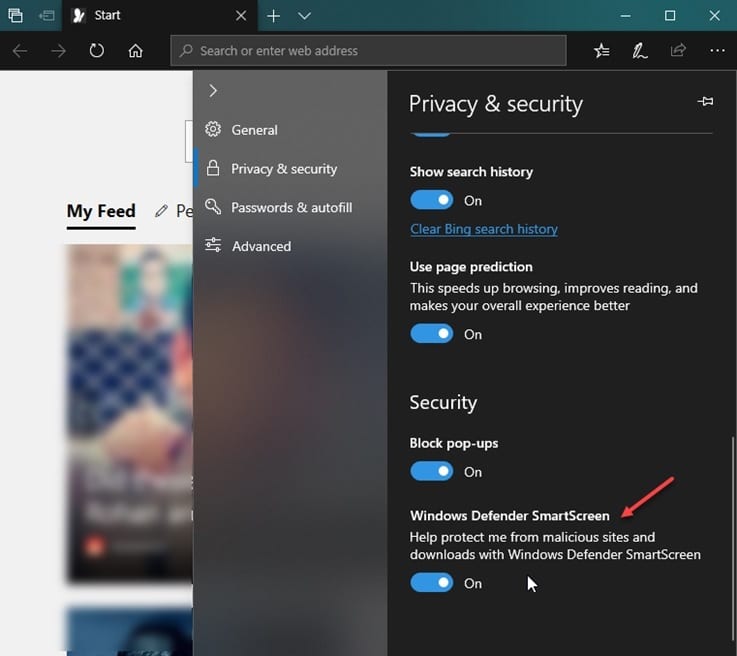 5. Relaunch Edge to confirm your settings.
Safari
macOS users can also suffer from redirects. If you use Safari as your primary browser, you can disable pop-ups and redirects in it too.
Open Safari.
Click on Safari on the top left corner in between the Apple logo and File. Select Preferences.
Under the Security tab, check the box next to Warn when visiting a fraudulent website.
From Pop-up windows, click Block.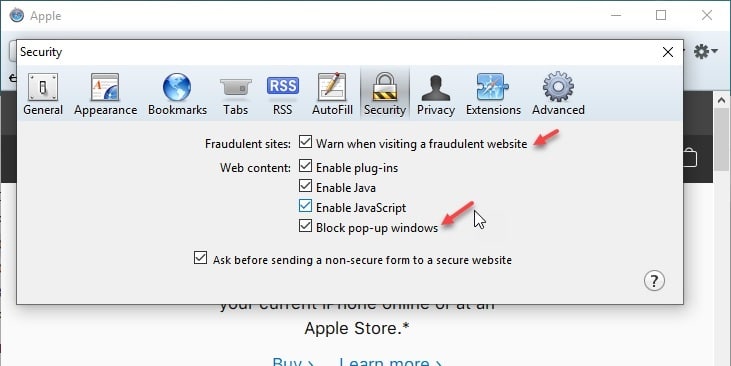 5. Restart Safari.
Malware
If you have malware or adware on your system, sometimes these applications can also open website redirects and cause your system to become unresponsive.  You can download adware as part of bundled applications usually coupled as checkboxes during the installation of other applications.
Install an antivirus and run a deep scan using that to get rid of malware and virus affecting your system and causing these redirects.
You can also use anti-malware applications like Malwarebytes or ADWcleaner. These software blocks redirect virus from installing themselves on your system.
Wrapping Up
Although not all redirects are harmful, some of them can be used to redirect you to phishing websites that can be harmful to the data stored on your PC. Some of these redirects may also install some unwanted virus on your system. Now you know 'how to stop redirects' in all popular web browsers using the methods provided above. Comment below if you found these helpful and discuss further on the same.