You may suddenly come across a problem when your Skype is connecting but not ringing but you are able to find the missed calls. All you need to do is immediately check the audio level in Skype to find whether the sound is somehow muted. Sometimes the issue is also with the headphones! Ensure that it is properly plugged in via USB port.
Examine whether you have uploaded the latest version of Skype or have deleted the Skype Directory and all the user preferences.
Our endeavor shall reflect our efforts to resolve the issue and fix it through this column. 
How To Fix When Skype Dosen't Ring?
Since you are facing the issue that Skype doesn't ring when someone calls, we would like to assure you that you are in the right spot and we will help you to fix the issue yourself. Have look in the below solutions to get the issue fixed.
Solution 1:  Reinstall Or Reset Your Skype
Before trying any other solution to the problem when you are not receiving skype calls, try this feasible solution. It will also mend the problem if your Skype is constantly freezing or crashing. Although if you are using WIN 32 version, you can go for reinstallation but if it is UWP version, just reset it.
A. We are providing you the steps to reinstall Skype for your PC in Windows 10:
Step 1: Open Control Panel by typing Control in the search bar.
Step 2: There you will have to select Uninstall a Program.
Step 3: Here you will get the option to Remove Skype.
Step 4: Navigate and find the latest version of Skype.
Step 5: Now, you will have to log in and check.
B. If you wish to Reset your Skype, here are the guidelines to do it.
Step 1: Open Start.
Step 2: Navigate and find Skype,
Step 3: Right-Click on Skype
Step 4: Hit More, then go to App settings.
Step 5: Now Choose Reset.
Step 6: Just revisit Skype to check
Solution 2: Run The Skype After Receiving Administrative Permission
After you start your Computer, Your Skype may require administrative permission to start. Run the Skype as an administrator and there are possibilities, your issue with not receiving skype calls or receiving no notifications from Skype, will be fixed.
More often there are many hidden reasons for which you fail to enable the sound. Using this step, you will be able to seize the cause.
Follow these steps to run the skype with administrative permission:
Step 1: Open Properties by right-clicking on the Skype Desktop Shortcut
Step 2: Select Compatibility.
Step 3: Inspect the Run this program as an administrator box.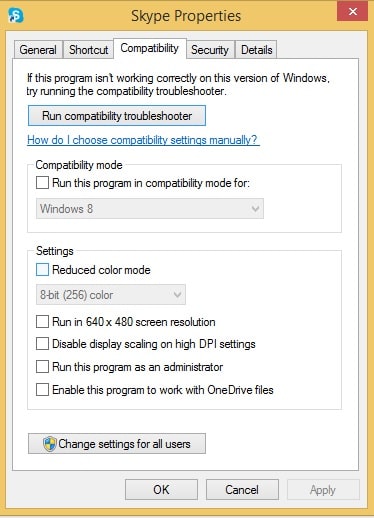 Step 4: Make the desired changes.
Step 5: Now Check whether you have been able to combat the sound related issue. 
Solution 3: Scrutinize The Settings
If you are in an awkward position finding out that you have missed out all the important calls on your skype because skype does not ring when someone calls, you must inspect your settings. There may be a number of  alterations done in the settings because of which this issue is generated or a minor touch of your figure can resolve this very easily and effectively.
Check whether the Skype notification is on. Check whether you have enabled Skype to get access to the camera and microphone.
Here are the basic steps for the refinement of the settings:
Step 1: Please check that you are not keeping UWP version or WIN 32 version for the same account.
Step 2: You need to Sign out and Sign in again.
Step 3: Check that the contacts are not blocked by mistake.
Step 4: You may visit Skype call settings to enable Answer Calls Automatically.
Step 5: Allow Skype to work in the background for you even after closing. 
Solution 4: Disable The Focus Assist Feature
Focus Assist apparently minimizes or stops notifying when you are accomplishing a certain kind of work on Windows 10. It helps you to stay focused without any further interruptions during a fascinating game or giving any exuberant presentation.
Make sure you keep the feature off else it will arrange you a notification-free schedule which will in turn avert Skype to receive calls.
Follow the steps and you can easily enable Skype to get access to phone calls and notifications:
Step 1: Open Settings by pressing Windows Key + I.
Step 2: Now, select  System.
Step 3: Look at the left pane and hit Focus Assist.
Step 4: Navigate for Priority Only and select Customize your priority list.
Step 5: Scroll down and allow Skype.
Wrapping Up
So, I hope you have the solution now and you are able to combat the issue when skype doesn't ring when someone calls. Hope the modus operandi provided has solve your problem.
You are always welcome with any query or suggestion. Feel free to let us know if this article has provided you the basic support to solve your issue by commenting in the section below.