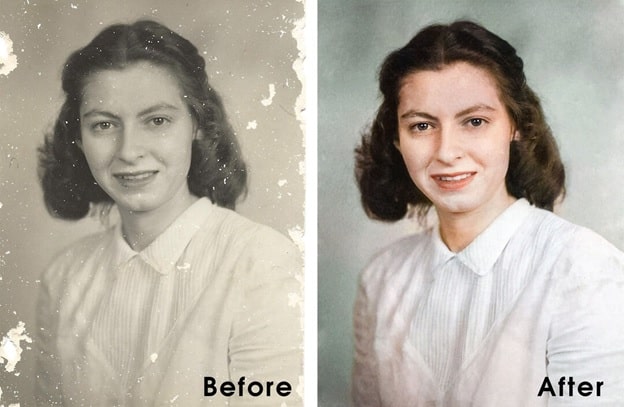 When it comes to remembering the special moments of your life, photos play a vital role. This is the reason why millions of people worldwide have been capturing photos on different occasions for years. Photos provide you with an opportunity to refresh your memories associated with events in the past.
It is an inevitable fact that photos get old with the passage of time and lose their quality. Though you can increase the shelf-life of your pictures, you can't protect them for too long. This is where AI-based old photo restoration tools lend you a helping hand. If you are looking for an efficient photo restorer to restore old photos online for free, try Wondershare Repairit Online.
Can Old Damaged Photos Be Fully Restored?
Well, saying anything like you can fully restore your severely damaged old photos would be a bigger claim. Actually, it all depends on how badly your photo is affected by poor light effects, scratches, humidity, or any other similar factors.
However, restoring your old photos to a great extent is absolutely possible with AI photo restoration services. This technology carefully highlights the damaged or affected parts of a photo and then applies restoration techniques to get it back to its original condition.
Wondershare Repairit – An Incredible AI Photo Restoration Software
Today's market has a number of photo restoration tools, but all of them are not worth it. So, trusting a random utility could be a risky step. We have made the selection easier for you by listing a top-grade AI photo restorer, Wondershare Repairit – Online AI Old Photo Restoration.
It does not matter whether you want to enhance your photo colors, remove scratches or blurry parts, and improve sharpness; this online tool has got you covered. It just asks you to upload your old damaged photos, and the power of AI photo restoration does the rest.
Since it is an online utility, you do not need to download any program or 3rd party application when restoring your damaged or blur photos. This tool supports a range of photo formats, including GIF, BMP, JPEG, WEBP, PNG, and JPG. The size of the image should be up to 300 MB.
The Top AI Photo Restoration Features of Repairit
Though Repairit Online AI Old Photo Restoration has a number of potential functionalities, three of them are unmatchable, as listed below.
1. AI Photo Colorization
It is a fact that black-and-white pictures have their own grace, but many people prefer seeing their colored versions to understand better what the image is about. The colorization makes everything clear in a photo and enhances the overall value. Online AI Old Photo Restoration software allows you to upload a black-and-white image to convert it instantly into a colorized one.
2. Improve Face Clarity
Improper lighting effects or human errors when capturing photos often result in blur pictures with unclear faces. Are you experiencing the same problem after taking a couple of photos? If yes, look no further than the Repairit Online AI Old Photo Restoration tool. Regardless of the fact that your picture is old or recently captured, Repairit will make it clear and sharp.
3. Photo Scratches Removal
Usually, old photos have scratches or spots on them. The longer you keep your picture, the more scratches will likely be present on its surface. These spots often make your important photos unclear, which gets worse with time. This is where Online AI Old Photo Restoration software comes in handy. It helps you remove all kinds of scratches, spots, and smudges from your old pictures within minutes.
How Can You Restore Old Photos Online for Free with Repairit?
Now that you know how credible this tool is when restoring your old photos to their original form. It is time to learn how you can benefit from this utility to recover your old damaged photos. A few steps to follow are as follows.
Step 1: Go to the official website of Repairit – Online AI Old Photo Restoration.
Step 2: A blue-colored screen will appear on your window. From the main interface, tap on the "Upload Image" button. It will enable you to upload an old photo into this tool.
Note: Uploading one picture at a time is possible.
Step 3: Now, select "Old Photo Repair" mode after uploading your old damaged picture. If this mode is not enabled, tap on it to turn on. If you want to colorize your image, turn on "Photo Colorize" mode from the right panel as well.
Step 4: Hit the "Start" button and wait until the old photo restoration process gets completed. It will hardly take a few minutes.
Step 5: Once the restoration process is completed, a notification saying "Processed Successfully" will appear on your screen. Now, you can preview the processed old photo.
Step 6: In this step, you can change the vertical slider's position to adjust photo parameters. Keep adjusting until your photo becomes fully clear. Then, hit the "Download" button to save the restored photo on your operating system.
Tips to Prevent Your Old Pictures from Fading
Are you looking forward to preserving the old photos you never want to lose? If yes, following the tips listed below will surely help you keep your old photos safe.
1. Get Your Old Photos Digitized
First of all, make sure you digitize every single old photo you have, as it is an amazing way to protect them. You can keep their backups at different locations to avoid facing data loss scenarios.
Plus, sharing old photos on your digital media platforms may help you get more engagements, likes, and shares. So, the first thing you must do to protect your old photos is to have them digitized.
2. Keep Your Old Photos in an Ideal Environment
A temperature-stable, cool, and dry place is considered safe to keep your photos. Avoid keeping your pictures in basements because these spots are usually damp, leading to sticking photos together.
At the same time, keep your images away from the hot environment, as it speeds the photo degradation process, and ink fades in return. Therefore, keeping your photos at room temperature is a perfect idea.
3. Don't Use These Supplies
The use of ballpoints, rubber bands, tape, adhesive material, paper clips, and other similar items badly affects your photos, and hence they lose their quality.
Using a photo holder may seem like a good solution to keep bulk photos, but it will surely damage the image quality in the long run. So, it is better not to use these things. Scratches or bent can be introduced to your photos if you use picture holders.
4. Keep Your Photos Away from the Light
The dark spots are the best places to store your photos for a long time. If you expose them to continuous light, they will fade with the passage of time for sure.
If you want to frame some photos, make sure you use a highly-quality picture print and premium frame structure. Considering these factors will prevent your photos from getting faded or blurred.
5. Always Keep Your Old Photos in Photo Boxes
Another great way to preserve your old photos is to store them in albums or boxes. Two types of albums are available in the market, i.e., plastic and paper. If the place where you want to store your photos is humid, avoid using plastic albums, as pictures can stick together.
Using a paper album will be a good idea to proceed with. If you have chosen a photo box to store your pictures, make sure the images lay flat and are not bent from corners or anywhere else.
Ending Note
Photo capturing has always been a trendy subject for hundreds of years. The major reason behind taking photos is nothing but to save beautiful moments to refresh and enjoy them later. But storing your printed photos for a long time is not a good idea, as they fade with time and lose quality. The longer you keep them, the more smudges and spots will be introduced.
If you have an old photo with an unclear face, a lot of scratches, or blurry spots, you can restore it instantly with Repairit – Online AI Old Photo Restoration. It is an AI-powered photo restorer that takes old photos in different formats as an input and produces an output with high-quality pictures. The processing is super quick, as you don't need to download anything to restore your old damaged photos.