These days all of us hear about SSD or Solid State Drives over the Internet and tech magazines but not all of us are aware about the best use of it. So let's go ahead and discuss about how we can benefit from the use of SSD and how we can do that ourselves.
Differences Between HDD And SSD
There is a huge difference between the Hard Disk Drives and Solid State Drives if we look at the way they work to store data. And we are going to discuss them in brief.
HDD: HDD or Hard disk drives which is one of the oldest data storage, stores data in a magnetic platter and are basically mechanical devices. They are prone to shock and magnetic interferences. And hence needs to be handled carefully. These devices are also slow compared to new storage medium which are electronic in nature.
SSD: SSD or Solid state drives which are one of the new storage medium, stores data electronically and does not include any moving parts. They are very less prone to shock and magnetic interferences and hence can be handled carefree. These devices are much faster compared to HDD since they do not have any mechanical moving parts.
Why Should You Migrate Your OS From HDD To SSD?
Since as we have already mentioned above the SSD are much faster than HDD, hence keeping the operating system on an SSD will give you much faster response time and will also decrease the boot up time and a smooth lag free performance for your computer.
However most of us are already using a HDD in our PC and need to add an extra SSD to take the full advantage of the new technology, and at that point of time we require to clone the OS from HDD to SSD and that can be easily handled by free partition manager. And we are going to look into the process of doing it with ease.
How To Migrate OS From HDD TO SSD Using AOMEI Partition Wizard?
To easily migrate OS from HDD to SSD or to a new HDD, you will need to clone the drive from the old to the new, which can be easily done using the AOMEI partition wizard in 5 steps. The best thing is it can a transition from MBR to MBR disk, GPT to GPT disk and MBR to GPT disk.
And all of these can be done without reinstalling the operating system. And that is what most of the users look out for.
STEP 1:
In first step you will need to connect the SSD to your PC and make sure it gets detected. Once done you will need to click on Migrate OS to SSD and then click on next to continue.

STEP 2:
In step 2 you will need to select the SSD that has been recently installed and if there is no unallocated space available then you will need to click on "I want to delete all partitions on the disk 2 to migrate system to the disk" and then select next.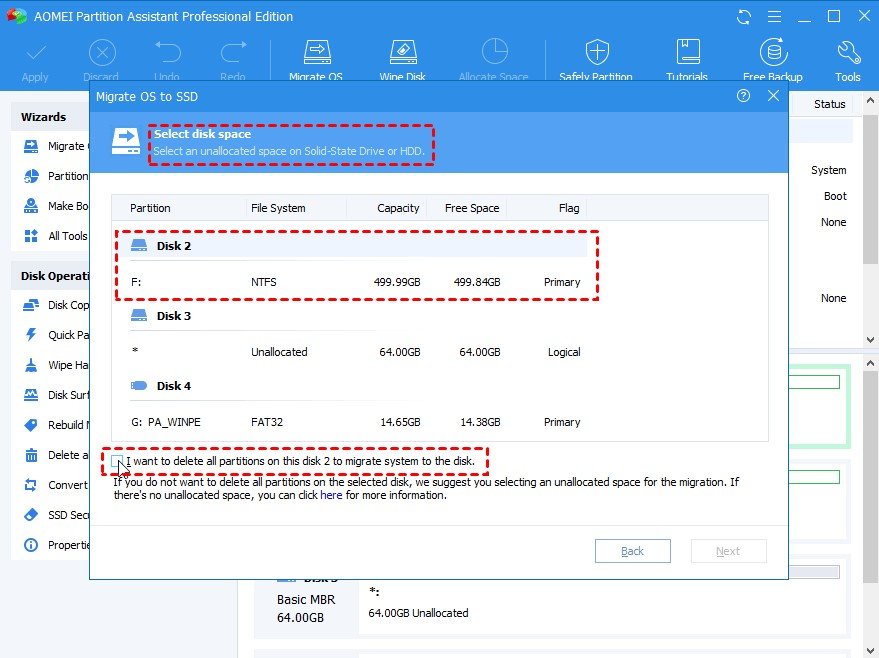 STEP 3:
In this step you can resize partition; insert drive letters and modify other information's. Also if you want you can keep them at its default settings.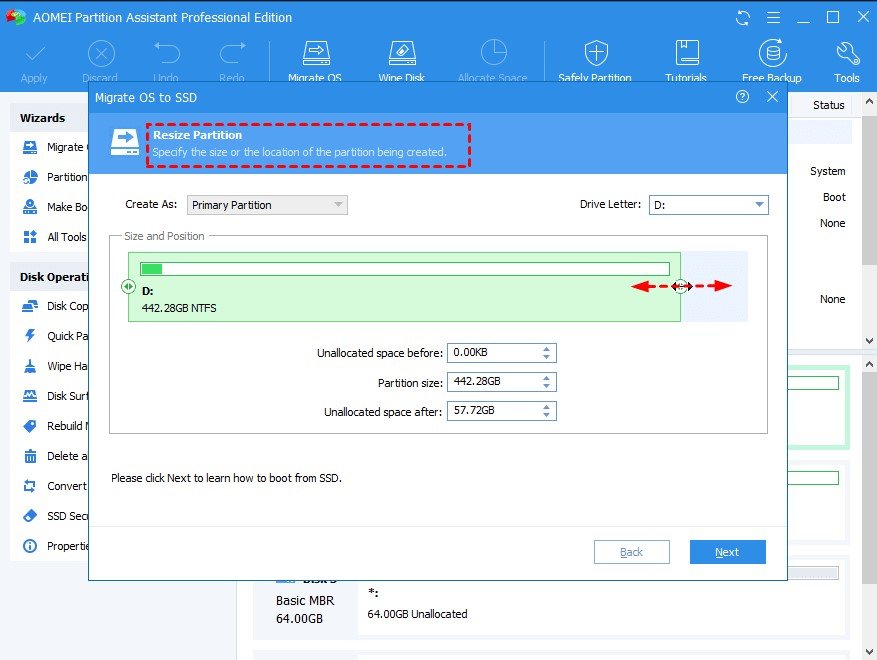 STEP 4:
On step four a note on how to boot after the cloning is completed in displayed on screen. Once you have read the steps and understood, click on the Finish button to finish the job.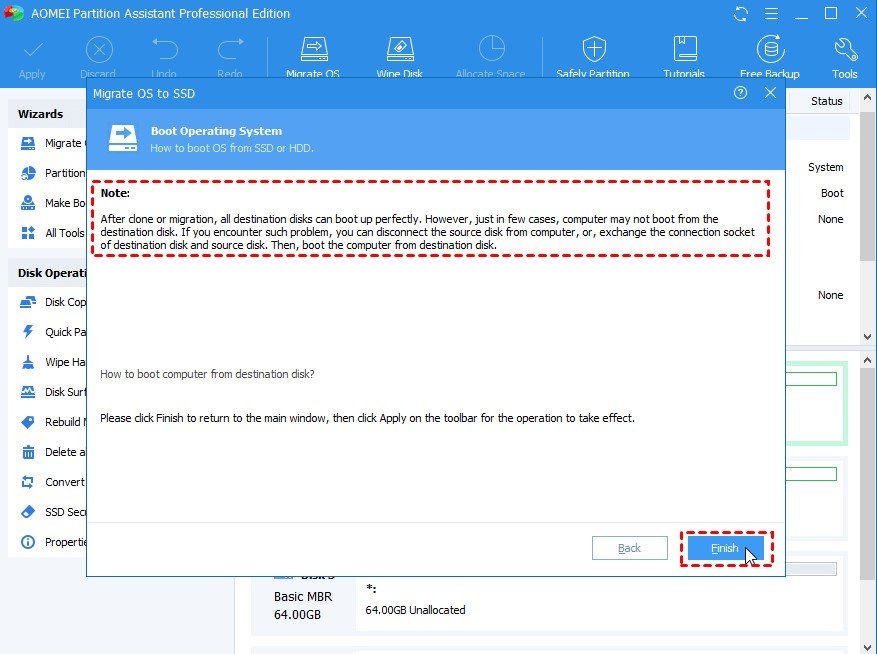 STEP 5:
On step five, you will be back to the main interface where you can review the steps. To finalize it click on "Apply" and proceed further.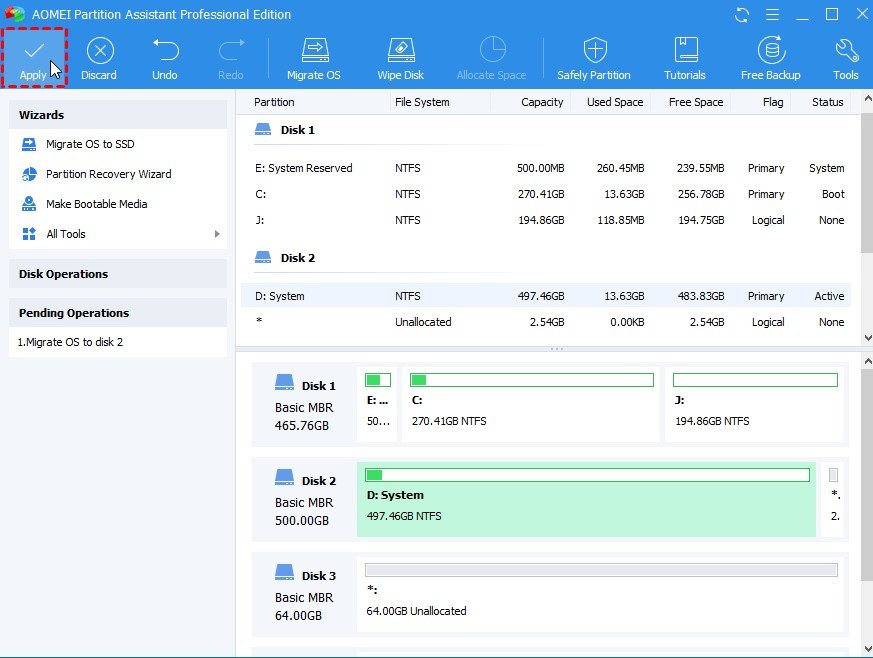 PS: You will need a paid version of the software to complete the process. However the you can always download the FREE version to use some of the other useful features. Also the speed of the disks can be increased via regular defragmentation. You can know more about it here.