Let us begin by addressing what is the most obvious fact known among users. iTunes from Apple is one of the most hated software among users. The application receives constant backlash for being full of bugs, being sluggish and taking ages to launch.
However, it is important software, as Apple needs you to keep it for things as basic as file transfer.  So you must be prepared for it to crash unexpectedly or sometimes not opening at all. Here I shall discuss the 'iTunes not opening in Windows 10' error and how you can solve it.
How To Fix 'iTunes Not Opening In Windows 10'?
iTunes on Windows is one of the worst optimized software, with the iTunes Windows 10 problems being well known among users. Many things can corrupt the application's normal functioning, including Windows updates, corrupted music libraries, incompatible drivers, etc.
If you see iTunes not working on your device, you can follow this list to regain the proper functioning of the application on your Windows 10 device.
Preparation
Before trying the methods from below, remove any SD card that might be in your computer's card reader or any disc in the optical drive.
Disable your Bluetooth app from Broadcom (if you are using one).
Run Task Manager by pressing Ctrl + Shift + Esc.
Click on the Startup
Locate the Bluetooth Tray Application.
Right-click it, and choose Disable.
Solution 1: Update Everything
If you can, forget about the data cap and update everything available. This includes Windows 10, the iTunes app, and sound and graphics drivers.
If you downloaded the iTunes app from the Apple website instead of the Store, try looking for any newer version available on their site.
To update your drivers,
Open a Run dialog box by pressing Win + R.
Type devmgmt.msc and press Enter.
This will open the Device Manager.
If there any available updates, you will see them in a yellow exclamation mark beside the device name.
Or else, locate your graphics and sound devices and right-click on these devices, and select Update Driver.
The Windows assistant will search for and prompt you to install the latest version of the device drivers.
Solution 2: Run iTunes With Administrative Privileges
Some Windows updates adjust some settings that change the way the applications work. This can be the reason for your Windows 10 iTunes problems.
This is an old trick that provides applications with the required permissions to run properly and make the necessary changes to your device.  Simply right-click on the desktop icon and select Run as administrator.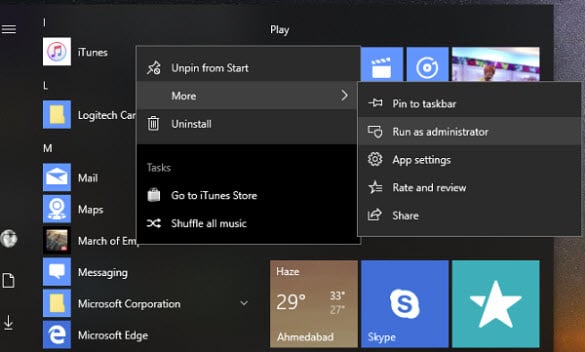 You can configure your device to always allow iTunes to run as an administrator. Follow these steps to do so:
Right-click the iTunes shortcut and select Properties from the context menu.
Under the Compatibility tab, check the box next to Run this Program as an Administrator.
Click the Apply and OK buttons to save the changes.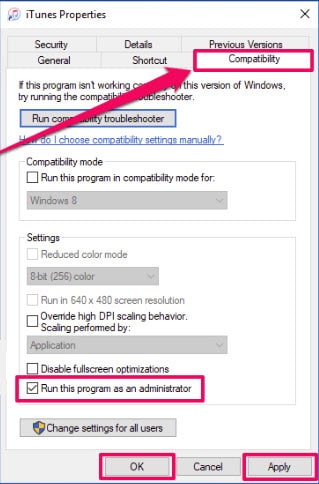 Solution 3: Launch In Safe Mode
If you installed some other third party visual plug-in on iTunes, these can sometimes prevent or crash the application at launch. To prevent this, try running iTunes in safe mode.
Note: Even if you do not have any plug-ins installed, launching iTunes in Safe Mode may fix other problems associated with your application.
Press Ctrl + Shift while clicking on the iTunes application.
You will see a prompt that says, "iTunes is running in safe mode." Click on continue to allow iTunes in safe mode.
If iTunes loads properly, the issue might be caused by an outdated plug-in that is clashing with your software.
To isolate which plug-in is causing the conflict, go to the storage folder where the plugins are stored. It is usually under this folder:
C:\Users\<username>\AppData\Roaming\Apple Computer\iTunes\iTunes Plug-ins
Move the plug-ins to another folder, and then paste them back one by one to isolate which plugin is causing the error.
Once you figure out which plug-in is causing the error, you can either remove the plugin or contact the developer to provide an updated version.
Solution 4: Repair Or Reinstall iTunes
If still iTunes not working on Windows 10, you need to repair the installation or reinstall the iTunes client. First, try repairing the client software from the control panel.
Open a Run window by typing Win + R.
Type appwiz.cpl and press Enter to launch installed apps page in the control panel.
Locate iTunes in the list of installed applications, and click on Repair from the top ribbon.
Follow the on-screen instructions to repair the installation.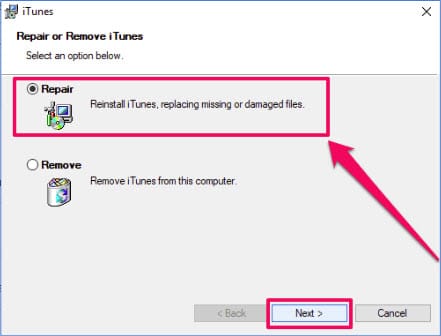 If repairing fails to help you launch the application, a clean install may be beneficial. Use any third party uninstallers (read about batch uninstallers here) to remove the residual files and then install the latest version from the Microsoft Store or Apple website.
Solution 5: Install An Older Version
If you see that, none of these steps helps you and you see that iTunes not opening in Windows 10, you may try installing an older version of the iTunes application.
This is done mainly to resolve any outstanding compatibility issues.
Completely remove iTunes from your device, including the residual files.
Go to the iTunes download page to see the available versions of the application.
Download and install an older version of the application.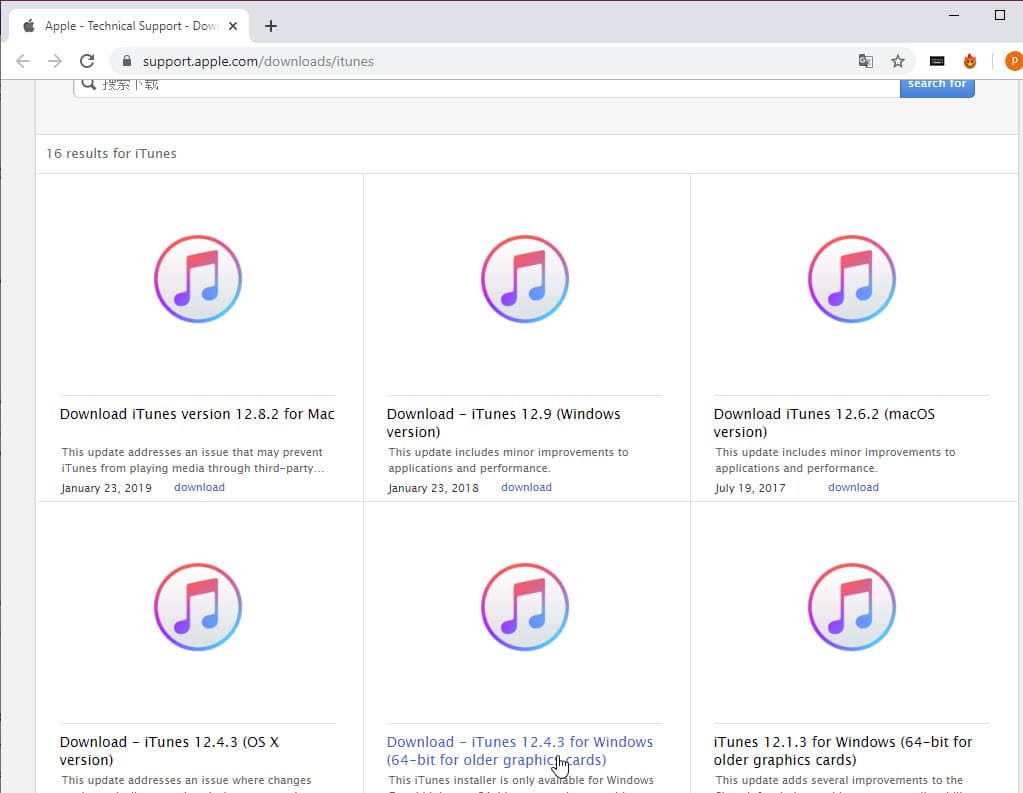 Now check if your error is resolved and you are able to run iTunes normally.
Conclusion
However badly optimized the application may be, iTunes is necessary if you own an Apple phone or tablet. Now you know how to solve the 'iTunes not opening in Windows 10' error using one or a combination of the solutions provided above. Tell us in the comments which solution helped you solve your issue.