Deep Rock Galactic is a cooperative multiplayer first-person shooter video game by Ghost Ship Games.
But this popular game does not have any local co-op options. The gamers are always eager to know if Deep Rock Galactic supports Split Screen.
Read through this article to know if it is possible to play Deep Rock Galactic on a Split Screen.
Split Screen Mode in Deep Rock Galactic
No, to put it frankly, deep rock galactic does not have any split-screen mode.
The game allows you and up to three other dwarves to be tasked with going to space and returning with some rich minerals from the deepest, most dangerous caves of the most hostile planet ever discovered.
This game was published by Coffee Stain Publishing for Xbox One and Windows on May 13, 2020, with two years of the early access period.
In January 2022, it was launched for PS4 and PS5 gamers.
But Split-screen multiplayer is not accessible in any way in the game.
If you wish to play with your friends on the same platform, you can do it via the internet. So, each of you needs to have a device to play on it.
The game supports up to four-player co-op. So, if you prefer PlayStation Plus, it is a perfect platform to gather your friends. This is possible in a couch co-op situation.
But it does not feel the same as when you are seeing the display on the same monitor. Your only alternative is to play the game solo.
You can easily invite friends and make sure that the party is blocked off and is only available to friends.
Is Deep Rock Galactic CrossPlay?
Yes, Deep Rock Galactic is a cross-platform game. Like many other co-op games, Deep Rock Galactic supports a number of platforms. Like Windows, Xbox One, Xbox Series S/X, PS4, and PS5.
But unfortunately, this game does not support crossplay between different platforms.
You will have to play the game on the same platform to crossplay it.
But under certain circumstances, PC gamers and Xbox players can play the game together.
Only if you have purchased the game via PC and Xbox, then are you allowed to crossplay the game on both Xbox and PC.
Good News For The PC Gamers!
For PC players, there is a workaround to desperately give it a try for split-screen.
Software like Nucleus Co-op adds remarkably smooth split-screen functionality to various PC games.
It is a free and open-source tool to allow split-screen play for those games that do not have this option.
But this software is not going to work for the Xbox or PlayStation.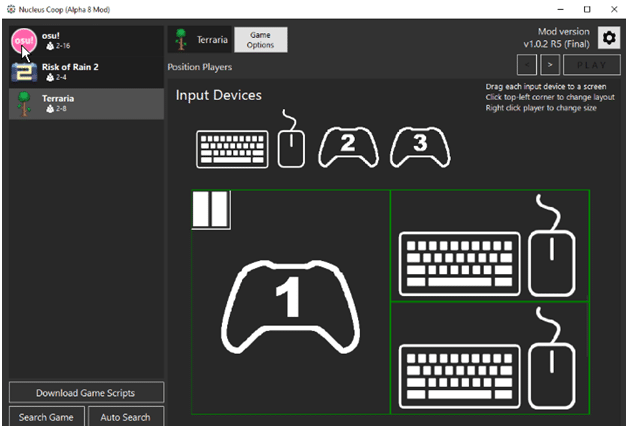 Nucleus Co-op comes with an advanced handler system that means you can click Play & wait for the game to be launched & set up automatically.
Frequently Asked Questions [FAQs]
Is Deep Rock Galactic free to play?
You can download and play Deep Rock Galactic for free for a certain limit of time.
Is Deep Rock Galactic a single-player game?
Yes, Deep Rock Galactic can be a good single-player game as well. You can enjoy it by playing Solo and a cooperative adventure game.
How many levels does Deep Rock Galactic have?
As per the latest update, the maximum level for the characters in Deep Rock Galactic is 25.
Final Words
Send us feedback if the above article was helpful to you.
For further information, reach out to us in the comments section given below.