If you no longer want to get associated with Apple or its products, you can permanently erase your digital footprints by deleting them.
In order to protect the privacy and personal data one may want to delete an Apple ID.
This article is all about how to delete an Apple ID. So, keep reading if you want to delete yours.
What To Do Before Deleting Your Apple Account?
Apple will recommend you perform a few actions to safeguard your data for future use before you start the deletion process.
Apple ID will become useless to the user once it gets deleted so before deleting your Apple ID permanently.
It's essential for you to know the consequences of such an action.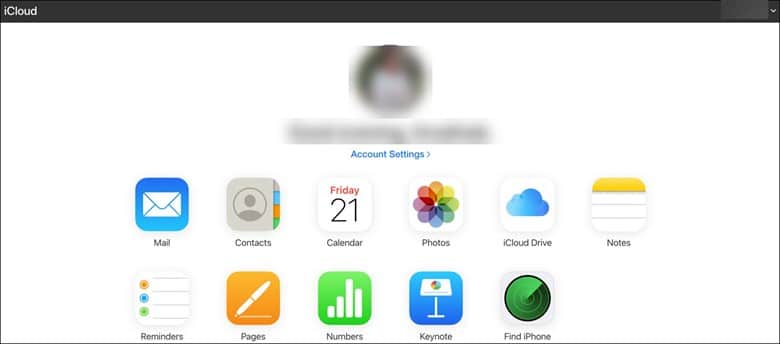 Follow these suggestions before submitting your request to delete the Apple ID.
Don't forget to take a backup of your iPhone, iPad, and Mac, which are associated with your Apple ID.
Cancel all the Apple subscriptions if you have taken any like Apple News+, Apple Fitness+, Apple Arcade, Apple TV, or Apple Music membership.
Your Apple ID is connected to your iCloud drive so before deleting the account take a backup of the data.
Finally, sign out of your Apple ID from all your Apple devices.
How To Delete An Apple Account?
Here is what you need to do if you want to delete your Apple Account permanently:
Go to Apple's Data and Privacy web page login and perform the two-factor authentication to continue.
Select "Request a copy of your data" if you have not backed up iCloud.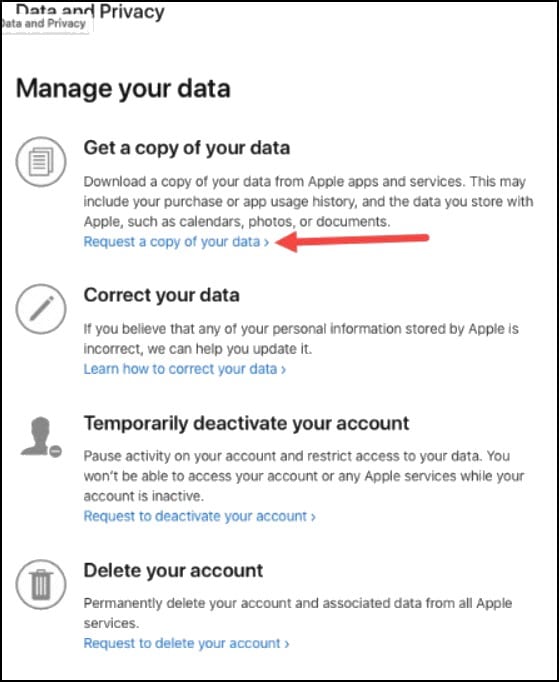 Scroll down to the end, then under "Delete My Account" click on "Request To Delete Your Account".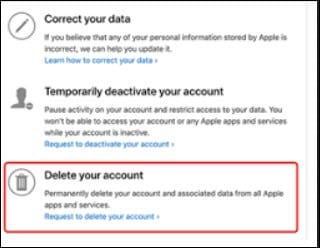 Select a reason for deleting from the drop-down box and click Continue.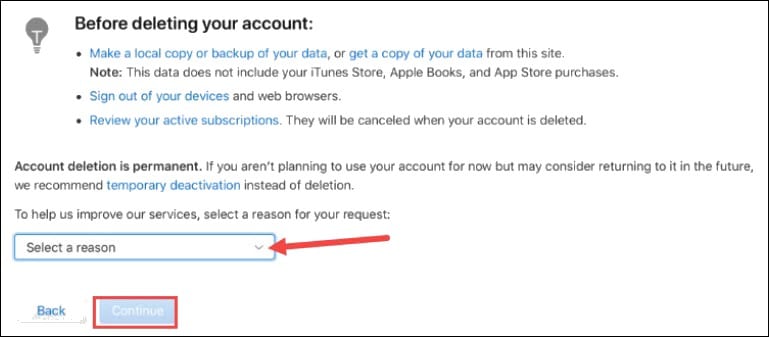 Review the terms and conditions and click Continue.
Ask Apple regarding how to receive a status update about account deletion and then click You can give another Apple Id, phone number, or Email address.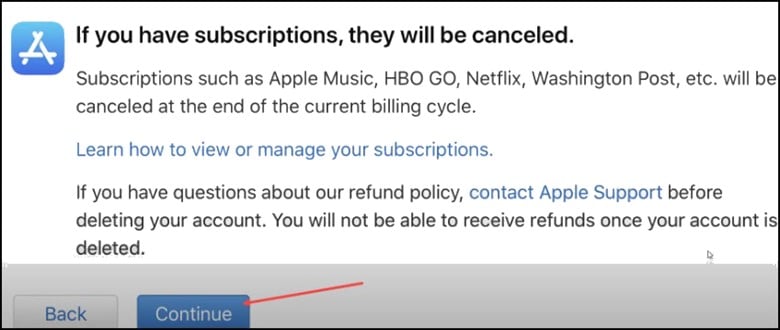 Note down the access code which Apple provides and click Continue.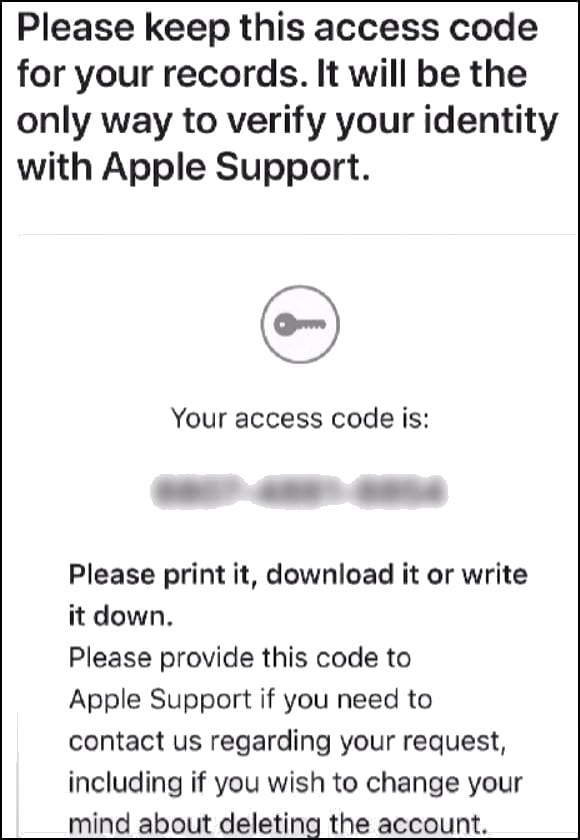 Enter the access code to confirm and then Continue.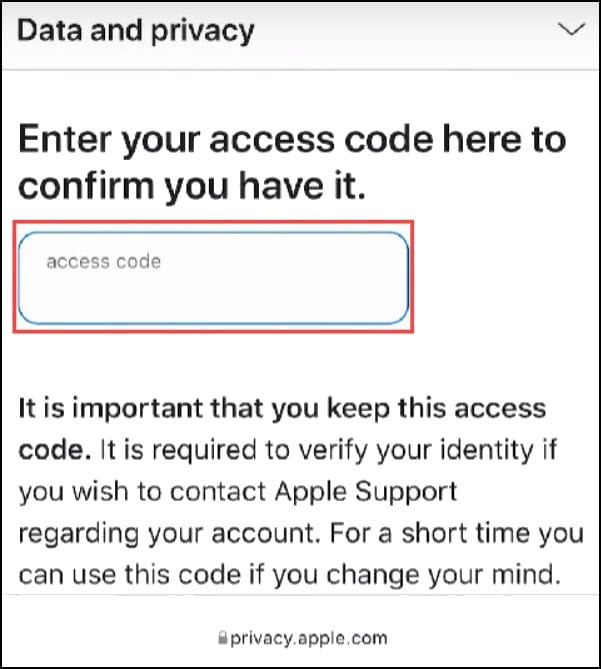 Go through the reminders of the account deletion and then click Delete Account.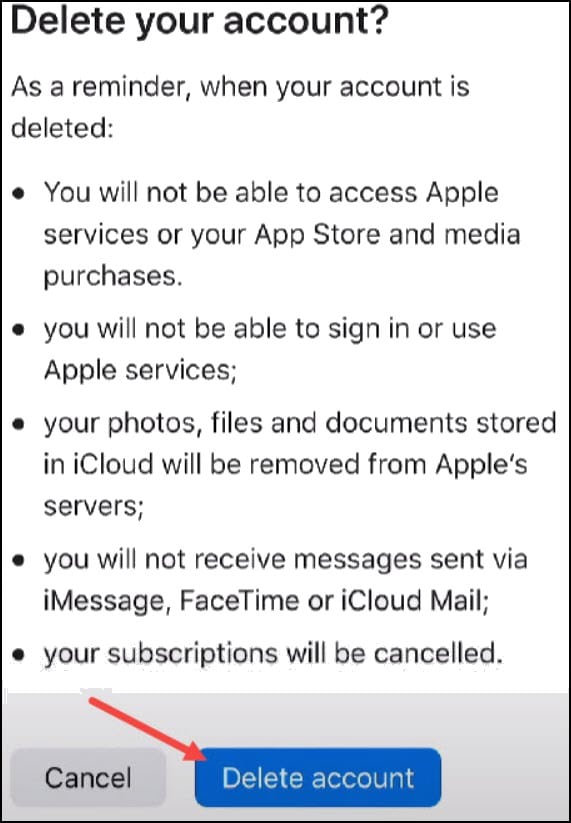 Click Sign Out on the confirmation screen.
What Happens When You Delete Your Apple ID?
Deleting Apple ID is permanent, and it comes with other consequences.
I am providing you a list of what will happen if you delete your Apple id permanently.
You won't be able to log back in and access all the downloads and purchases you made from the Apple store.
Photos, videos, and documents stored in the iCloud will be permanently deleted.
You will not receive any messages sent to you via iMessage, FaceTime, or iCloud.
You will not be able to sign in or use the services like iCloud, iTunes store, Apple books, Apple Pay, iMessage, Facetime, and Find My iPhone.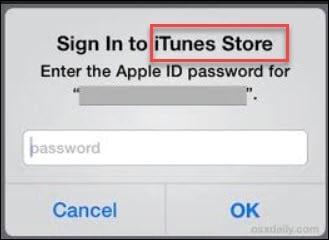 The moment you delete your Apple ID, all the associated data associated with the Apple services will be permanently deleted.
Your Apple Care Support and Apple Store appointments will also get canceled.
Your ongoing subscriptions will automatically cancel after your billing cycle ends.
You will also lose access to movies, ringtones, music, books, and other digital things you have bought using the Apple ID.
Frequently Asked Questions (FAQs):
1) Can I Have Two Apple Ids With The Same Phone Number?
No, you cannot use the same phone number for two Apple id accounts.
2) Will Changing My Apple ID Delete All My Photos?
No, changing or updating your Apple ID to another email address won't delete your photos from your device.
3) Is the iCloud Password the Same As Apple Id?
Yes, the Apple Id password is the same as that of the iCloud password.
Final Words
Reach out to us in our comment section for further doubts and queries.
Also, share with us which method helped you to delete your Apple Id.