Everybody has enough reasons to lock bookmarks. We are surrounded by prying eyes, and maybe you don't want others to see what you browse on a daily basis. Or maybe you want to hide some perfect gift plan for somebody, but you share the device that you browse that gift website from.
It is during these times that the need for private bookmarks arrives.
We all have sensitive bookmarks that we want to keep away from others. Protecting the bookmarks of the sites you access with passwords can be a handy way of doing so. Here I will discuss two extensions for Chrome and Firefox that you can be used to lock bookmarks in Chrome and Firefox.
How To Set Private Bookmarks In Chrome?
Google Chrome does not have this feature by default. But there is a workaround to this.
You can use the Google Chrome extension called Secure Bookmarks to create password-protected bookmark lists that only you can access using the password.
Private Bookmarks In Chrome With Secure Bookmarks
You can install this extension to protect your bookmarks from the Chrome web store.
When you add this free extension and install it to Chrome, you will see a small star icon just next to the address bar (Omni bar). Clicking on the icon for the first time will take you to the Set password page.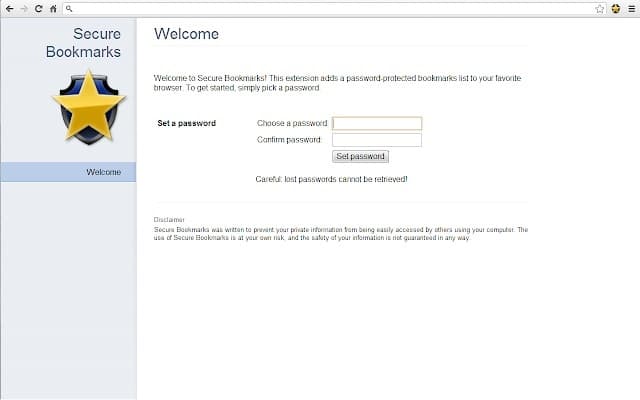 On this page, you can set your password. You will use this password the next time you start a session after you lock when you leave your PC.
When you wish to save a bookmark a new website, clicking on the star will show the options. Here you can select to create a new bookmark, or add bookmarks to a folder. you can also drag and drop to change the position of the link in the list.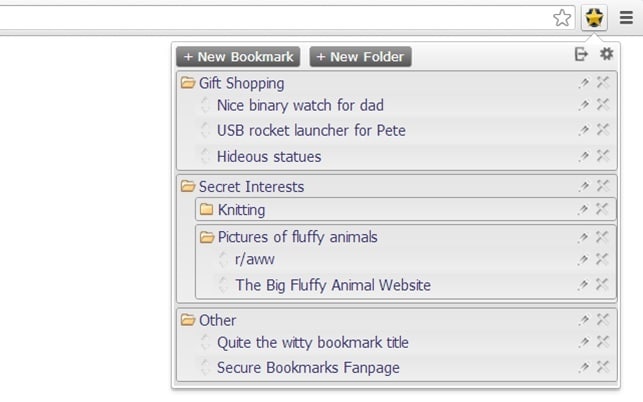 You can perform three tasks from the list as well.
You can delete a link by clicking on the Trash icon.
You can visit the Preferences page by clicking the gear icon.
You can end your session and leave your PC.
When you want to leave your PC or want to give it to another user, you can click the third log off icon and sign out of your session. The next time you want to access the bookmarks list, you will have to log in again.

This extension also works in incognito mode, but you have to enable this from the Chrome settings. Visit the extensions manager here and select the extension. Next, select the toggle to On for Allow in Incognito.
Caution: There is no password recovery option. If you forget your password, you will have to reset thereby losing all your bookmarks.
How To Set Private Bookmarks In Firefox?
Firefox also does not have this feature by default, you must install the addon to bring this feature in Firefox.
Link Password by FigaroSwe brings the same functionality to Mozilla Firefox as well, but with a different albeit easy procedure. With this addon, you can encrypt a URL and store it as a bookmark in your bookmarks folder.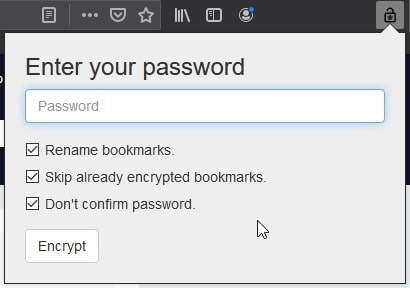 When you are on a page that you want to bookmark, you need to add it to Firefox bookmarks like you normally would. Add the bookmark to a separate folder.
Next, on a new tab, click on the lock icon in the toolbar, and tick the bookmark folder that you want to encrypt. You will be prompted to set a password for the same.
Now the next time you want to view the site, you will be prompted to enter the password you set the last time.

Conclusion
So, there you have it. Now you know to set private bookmarks in Chrome and Firefox using the method given above. Do comment if you found this useful, and to discuss further the same.