Really curious about knowing how many Windows 11 Users are there in the Whole World?
To be specific based on our research it's estimated to be 226 million plus or 0.226 billion plus Windows 11 users are there around the whole world.
We will deep dive into the stats and figures soon below, but before going into that I would like to bring in a comparison with its predecessor, Windows 10.
At the time of writing this article Windows 10 is the most widely used operating system in the World, with a market share of 69.7% in the total personal computer market, where as Windows 11 had only 16.1% share in 2022. However that scenario has changed in 2023 and the market share is now of 23%.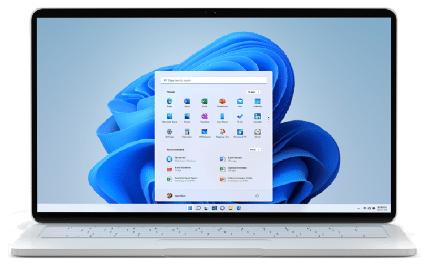 Stats of Windows 11 As Per the Last Year:
Windows 11 was officially launched on October 5th 2021, in a virtual event by Panos Panay. However, the startup build was unstable and buggy and there was a lot of chatter at that point which was expected as for a new release and it got resolved with time.
Just a week after the official launch Microsoft did release an update, 22000.258 which patched some of the bugs. As for now with the Windows 11 22H2 update there had been several updates over time to fix issues.
However, I must say that Windows 11 is slowly catching up with Windows 10, however that growth has not been significant due to various reasons. Some of them being the requirement of TPM 2.0 and Secure Boot, which the older personal computers lack. Although there are ways to bypass the mechanism to install the OS without requiring TPM 2.0 but it is not recommended due to security issues.
Comparison of Popular Windows Version in Use:
With the launch of Windows Version 1.02 on 1986-05-14, every OS from Microsoft has dominated the personal computing industry. And today we are going to deep dive as promised at the beginning of the article in the stats of Market share owned by the latest operating systems from Microsoft.
And below are some of the Graphs and Chats of the products:
As per the data shared by Statcounter almost 75.11% of the computers run on Windows in the year 2022. However, you would be surprised to know that a lot of those computers still run on the older versions of operating system.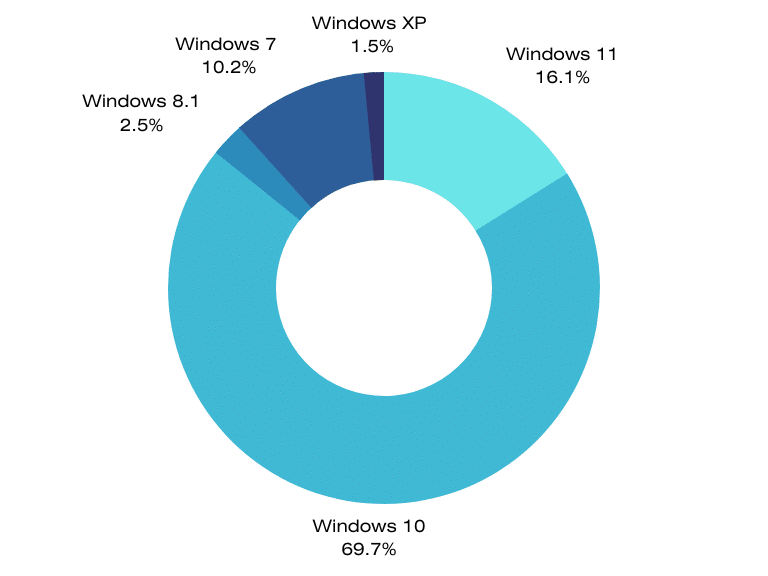 As per the Statcounter data of last 12 months we can see a steady increase in the adoption rate of Windows 11. However, we don't see a significant downfall in the Windows 10 installations. This could be because of the hardware limitations we discussed earlier.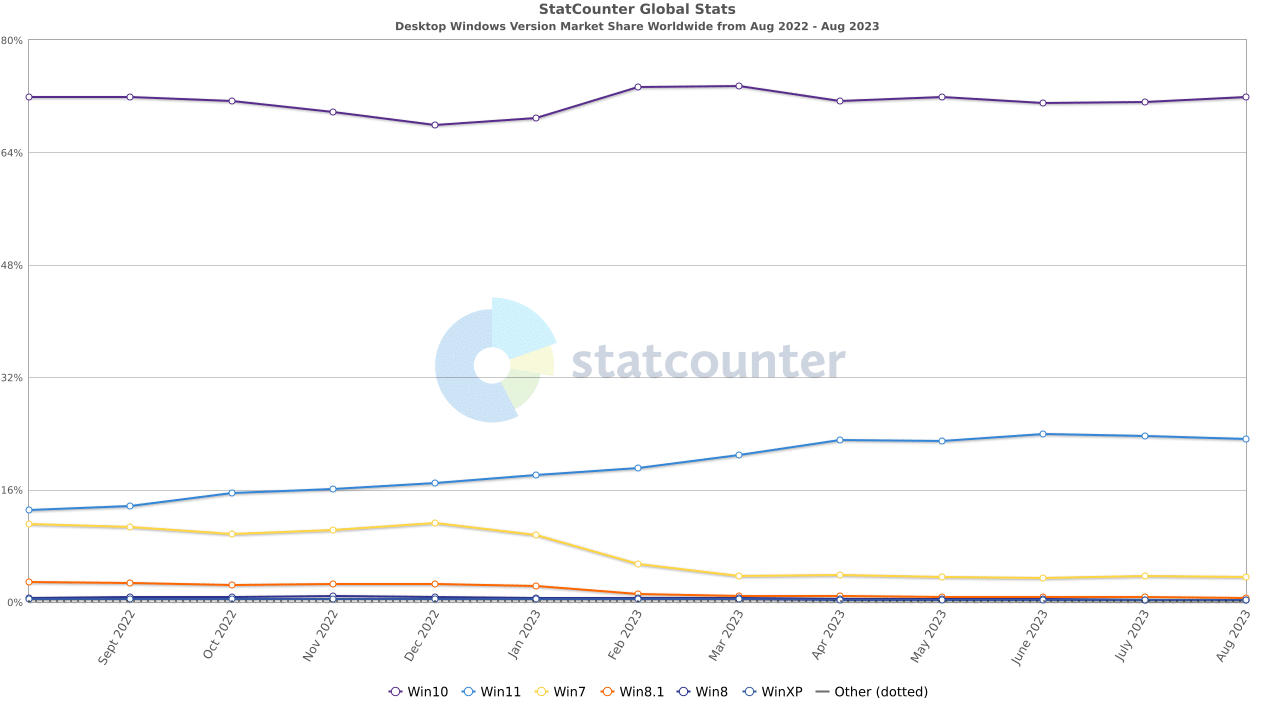 In early 2021 Windows 11 had only 10 percent Market share however that has recently changed and from the more recent graph we can see that an estimated 20% + people have shifted to Windows 11. And almost 24 percent of Steam users are now armed with Windows 11. Which is off course a good thing, as the support for Windows 10 end in 2026.
If you consider all the operating systems out there in the wild the major three Android, Windows and iOS. In which the Android captures the 43.43% market share, Windows being the second with 29.3% market share and iOS being the third with 17.22 %. And they are changing rapidly every month.
Market Share of Windows 11 As Per August 2023:
As of August 2023 Windows 11 has a market share of 23% and it's increasing in the personal computing market.
Which is a great increase over Nov 2022 during which period it had an share of 16.13 percent.
In the year 2022 there were almost 65 million PC shipped with Windows according to Statista.
Even though Windows 11 was released on October 2021, people really started a late adoption because most of them wanted to make sure it is not another Windows 8.
Ever since that has been clarified we can see in the above graph that the user base of Windows 11 has started increasing.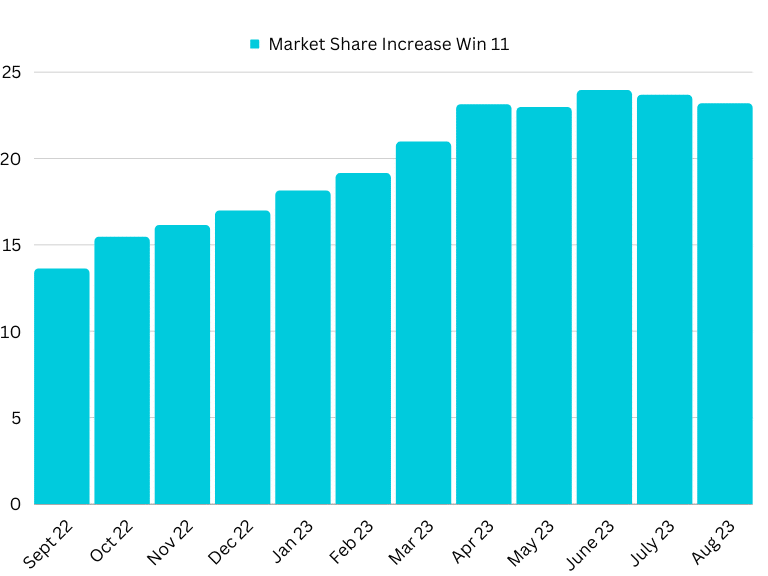 | | |
| --- | --- |
| Month | Market Share in Percentage |
| September 2022 | 13.61 |
| October 2022 | 15.45 |
| November 2022 | 16.13 |
| December 2022 | 16.97 |
| January 2023 | 18.12 |
| February 2023 | 19.13 |
| March 2023 | 20.95 |
| April 2023 | 23.11 |
| May 2023 | 22.95 |
| June 2023 | 23.93 |
| July 2023 | 23.66 |
| August 2023 | 23.17 |
According to steam Hardware and Software survey 2023 there has been a positive growth in the Windows 11 adoption rate among Gamers.

Factors that affect the Adoption Rate of Windows 11 in The Year 2023:
High Hardware Requirements:
Windows 11 is quite demanding on itself on the hardware specifications and needs a new PC to run the operating system. Hence the users with older PC is being help back with Windows 10 since it is cost prohibited for most of them.
Requirement OF TPM 2.0:
The latest OS from Microsoft requires either TPM 2.0 or Microsoft Pluton on the motherboard as a security processor, and since the requirement had been sudden many last generation motherboards don't have it. Hence even if the user wants to upgrade the OS they can't without it.
Reliance On Older Windows System:
People become comfortable in using Operating systems which they had been using for few years, which works for them without much issue and serves the purpose. Funny stuff, it has been even seen in the US Military that they haven't updated from Windows XP in 2018.
Performance Issue:
The adaptability takes time as old users seldom tries to jump into the river with the new OS. They prefer stability and ease of work.
Features:
There has an introduction of few new features which will help the gamers and business mans. And hence the gamers are quickly adapting it. However there has been removal of some of the dependable features from Windows 11.
Windows 10 Support:
Microsoft has promised to support Windows 10 till the end of 2026 and hence many users have decided not to upgrade their hardware or software since it has been working fine for them for all these years.
Should You Update to Windows 11 if You Have Not Yet Already?
As per the current state of Windows 11 it does have bugs and other issues, but so does Windows 10. With the new features and protections from malwares and viruses, it seems to be a good idea to move ahead with the flow of the new generation of Windows.