If you are wondering about the number of skins in Fortnite, then make sure to take advantage of this write-up.
Fortnite is credited with delighting the players with attractive themed skins for years. It consistently delivers awesome skins that the players can't get enough of.
There are approximately 1624 skins or more in Fortnite as of now. Being an avid Fortnite player, you must have a decent collection of skins by now.
This article will tell you everything you need to know about the Fortnite skins in 2023 and look at the best and the rarest ones.
Also, read: Fix: Fortnite Crashing On PC [SOLVED]
What Is The Importance Of Skin In Fortnite?
Due to the ever-increasing popularity of the game, the number of skins will increase exponentially.
Players can get hold of the skins by purchasing those from the item shop or unlocking the battle pass.
Skins are the best ways of expression for the in-game players. Some skins have their own unique effects and voice lines.
It has earned the reputation of having some of the best skins in gaming that allow the players to dress up as movie stars, superheroes, sports champions, or even pop singers like Ariana Grande and Kid Lario.
Players may eventually need more skins in Fortnite right now. Users can now find the current Fortnite skins using the database's item type filter to view only the outfits.
This database helps the user search for skins based on the specific season in which they were released. It also helps to track cosmetic items such as back bling, pickaxes, gliders, emotes, and many more.
But certain skins are only considered rare, such as battle pass skins, crew pack skins, item shop skins, and special events skins. There are also a few skins that are specific season or event-based.
A few skins are available for unlocking during a specific season. Nevertheless, the figures keep increasing as more skins and big-name collaborations are released.
Here is a small data of the skins that make up this massive number:
56 Marvel Characters
24 DC Characters
15 Star Wars Characters
26 Characters from the Video Game Series
39 Real People
List Of Fortnite Movie And TV Series Collaboration: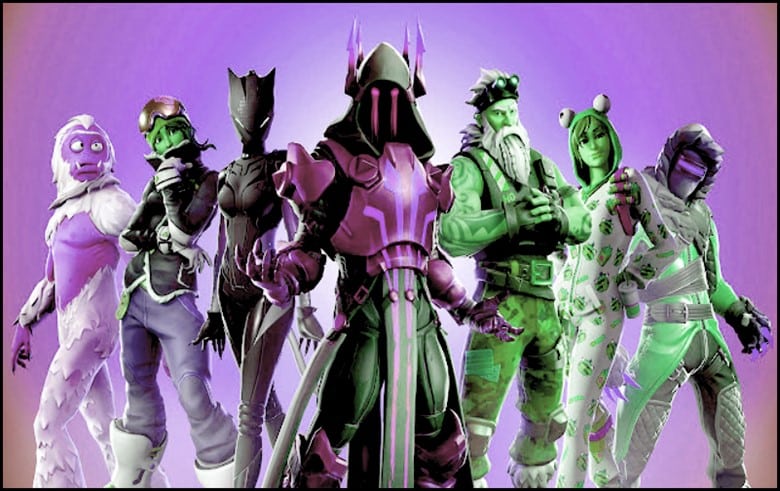 This list features the movies and TV shows that have collaborated with Fortnite. It boasts skins from popular franchises like Star Wars, Walking Dead, DC Comics, and League of Legends' lore Arcane.
Here are a few more:
Marvel
Tron
G.I Joe
Rick and Morty
DC
Star Wars
Space Jam
Free Guy
Bad Boys
Dune
John Wick
The Walking Dead
Naruto
Attack on Titan
Dragon Ball Super
My Hero Academia
The Matrix
Cobra Kai
Indiana Jones
WWE
Predator
Alien
Popular Fortnite Original Skins:
This list features a small portion of the unique skins that Fortnite has created.
Here are the popular Fortnite skins:
Renegade Raider
The Reaper
Midas
Black Knight
Dark Voyager
Jonesy
What Is The Cost Of Fortnite Skins?
The cost of the Fortnite skins varies depending on the characters.
Uncommon Skins- 800 V-Bucks
Rare Skins- 1200 V-Bucks
Epic Skins- 1500 V- Bucks
Legendary Skins- 2000 V-Bucks
So, the cost of higher-end skins is between $12 and $16.
Which Are The Popular Skins In Fortnite?
The popularity of the skins and cosmetics is determined by the factors below:
Rarity
Popularity
Exclusivity
Fortnite is generally known for its unique gameplay and the number of skins players seek.
Players can quickly obtain the skins through the battle pass, item shop, and other promotional events.
Notably, these skins do not affect the gameplay but are highly desirable to many players.
It helps the players to customize their characters to express their individuality.
It doesn't matter whether you are a casual player or a collector; there is no shortage of skins that can be obtained through the battle pass, item shop, or promotional events.
Frequently Asked Questions (FAQs)
Are There Any Free Fortnite Skins?
Yes, there are a few free Fortnite Skins, but those are generally given after the accomplishment of specific challenges or after participating in special events.
What Are The Rarest Fortnite Skins?
The rarest Fortnite skins are generally those that aren't available in the in-game shop. Those were once part of the limited-time events or promotions such as Renegade Raider, the Black Knight, and the Ghoul Trooper.
Can I Sell Fortnite Skins?
No, you cannot sell Fortnite skins as they are non-transferable items.
Can You Get A Refund For A Fortnite Skin?
After contacting Epic Games customer support, players can request a refund for a Fortnite skin within 30 days of purchase.
Closure
Now that you have a clear idea about the numerous Fortnite skins buy the one you want regardless of their rarity. Each person has their own taste and preferences, so it ultimately depends on the style they prefer when choosing the screen.
Let us know which is your favorite, and also discuss the one you are presently using.