With popular most photo management software like Google photos, you can enjoy unlimited photo backups for high-definition pictures.
You will need to buy some additional storage after consuming 15 GB capacity.
With these unlimited free storage options, but the images and videos may be a bit compressed.
Your photos will be compressed to 16 MP and videos to 1080 p. You will always be able to upgrade the Google Photos storage limit quota in case you run out.
Google Photos Storage Limit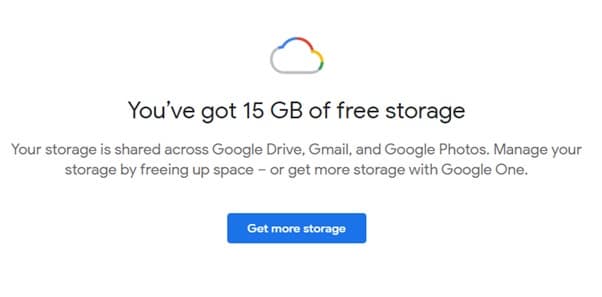 This Al-powered photo storage software was created like freeware.  But after it offered unlimited photo backups, the company has imposed a Google photos storage limit by introducing a paywall for its service.
The amount of storage space may not be plenty for you, so Google provides you some upgrading options for rejuvenating your storage limit.
You may either free up some space or make some additional tweaks.
Ways To Get More Storage For Google Photos
You are allowed to decide if you wish to store your pictures uncompressed in Google Photos.
This will though count against the Google One storage and it will share space with the storage in Gmail, Google Drive, or the GSuite app.
You may alter some settings for Google photos cloud storage limit within the IOPS app as described below:
Step 1: Open the Google Photos app and tap or click on the Menu option. It is the three horizontal lines in the Search bar.
Step 2: Now expand Settings and then go to the Backup & Sync category. Now select upload size.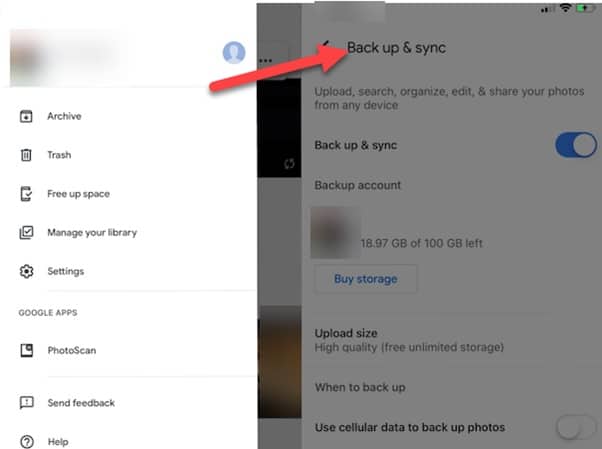 Go for the Original option and you are done!
Now check the information given below to enjoy more space.
1. Free Up Storage Space

You may store Google photos in their original quality and so you need to clear some space and manage your library on regular basis.
You will get some clean-up tools available for freeing up some storage space and upgrade it.
Follow the steps mentioned below:
Step 1:  Go to your Google Photos App.
Step 2: Now expand the menu and go to the Manage Your library option.
Step 3: You will see an Organization card. Select Review Suggestions and then you may check the photos. 
2. Upgrade The Google Photos Storage
You may have cleared some space in the library, but you may still need more space.
With the help of the iOS app, you will be able to upgrade the storage plan.  Just follow the steps as I have mentioned below:
Open the Google Photos app and tap or click on the Menu option. It is the three horizontal lines in the Search bar.
 Now expand Settings and then go to the Backup & Sync category.
Move on to the Buy Storage option and then follow the pop-up instructions given for upgrading your plan.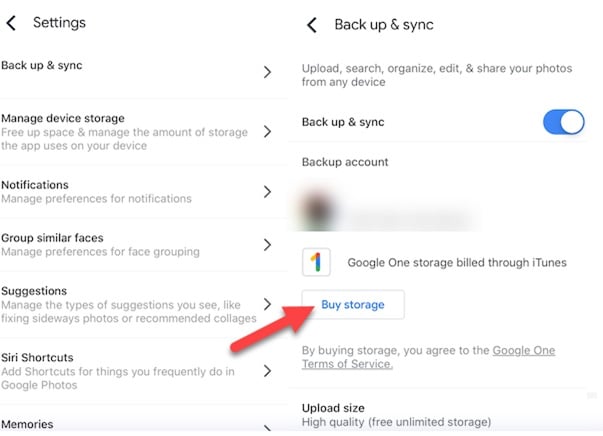 With Cloud storage, you can enjoy the inherent benefits of security, accessibility, and an easy-to-use interface. Your data gets distributed across other data centres.
This ensures a backup if somehow the data gets lost or corrupted.
The storage providers provide you with collaborating features and data sharing options so that you may access cloud storage without any interruption.
With the Google Drive upgrade, you will be able to enjoy these potential benefits of cloud storage.
Upgradation Cost Of Google Photos Storage
With the up-gradation of the Google photos storage limit, you are going to bag in some more space for storing videos and photos.
You must be wanting the service to be pocket-friendly.  Google Drive's pricing structure is justified and reasonable.
Over the years the structure remains the same and Google offers you a variety of other options to consider.
The list is as mentioned under:
100 GB for $1.99 per month
200 GB for $2.99 per month
2 TB for $9.99 per month
10 TB for $99.99 per month
20 TB for $199.99 per month
30 TB for $299.99 per month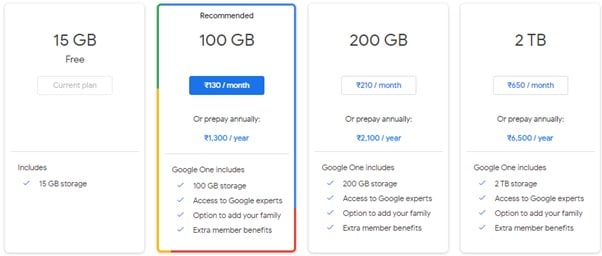 Closing Words
I hope by now, you could explore all about Google photos storage limit.
If you still have queries related to this issue or any other folder, please communicate with us in the comments section provided below.
Feel free to shoot us a mail with your ideas or suggestions. We always look forward to hearing back from you.