Dots on a computer screen are annoying and concerning at the same time.
Since it can ruin your whole computing experience, it is better to prevent more dots from appearing on your screen and, of course, fix the already present ones.
A single dot on a computer screen looks like one or more black squares that is often termed as a Dead Pixel. Pixel is the smallest unit of an image that can be displayed on screen.
A Stuck Pixel is almost similar to a Dead Pixel but shows up in either red, green or blue color.
This write-up will unravel the potential causes and implications and the solutions associated with this seemingly minor issue.
Also, read: Why Is My Computer Screen Darker Than Usual? [SOLVED]
Why Is There A Dot On My Computer Screen?
The dots on your computer screen are of different colors ranging from black, white, or RGB.
There are different reasons for the appearance of dots on computer screens, and some of those are:
Dead Pixels
Stuck Pixels
Damaged LCD Panel
Dirt Or Dust
Software Glitches
Hardware Issues
Drop-in Voltages Or Sudden Voltage Fluctuations Can Affect Your LCD And Cause Malfunction.
Extreme Environmental Temperatures Can Result In Manipulating The LCD Pixels.
How To Fix A Dot On A Computer Screen?
Dots on computer screens can be removed easily and aren't harmful, but it is essential to mitigate this issue. If not taken care of initially, prominent and multiple dots on your screen might be difficult to remove.
Fortunately, there are specific ways to fix the dot through a few methods, and those are:
1) Visit JScreenFix.com
This should be the first thing you can do on your computer by visiting JScreenFix.com.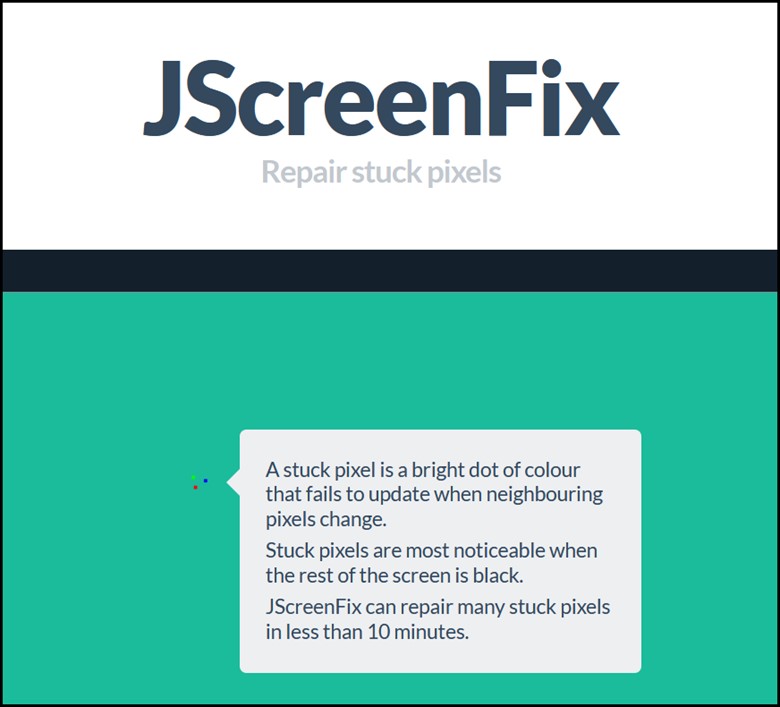 This website will fix the stuck or dead pixel issue within a concise span of almost 10 minutes.
This software changes color repeatedly to fix the dead or stuck pixels, and the whole process takes over 10 minutes to improve the area of your screen.
These are the steps for doing so:
Turn off your device and let it cool for at least 2 hours.
After your system gets cooled down, check whether the browser is outdated. If it is not current, then update the browser and look for JScreenFix.com.
On the website, click on the "Launch to repair" option.
Soon after, your computer screen will turn black, and you will notice a pixelated box on the screen that you can move with the mouse.
Next, drag the box to that particular area of the screen that contains the dots.
Then, leave the box in that place for 10 minutes and wait for JScrrenFix to complete the task.
2) Use PixelHeader
PixelHeader is almost similar to JScreenFix, but the only difference is that it is a website tool, whereas PixelHeader is a downloadable program for your computer.
The screen will start flashing during troubleshooting, so it is advisable to take precautions before using this software.
This is how you can use it: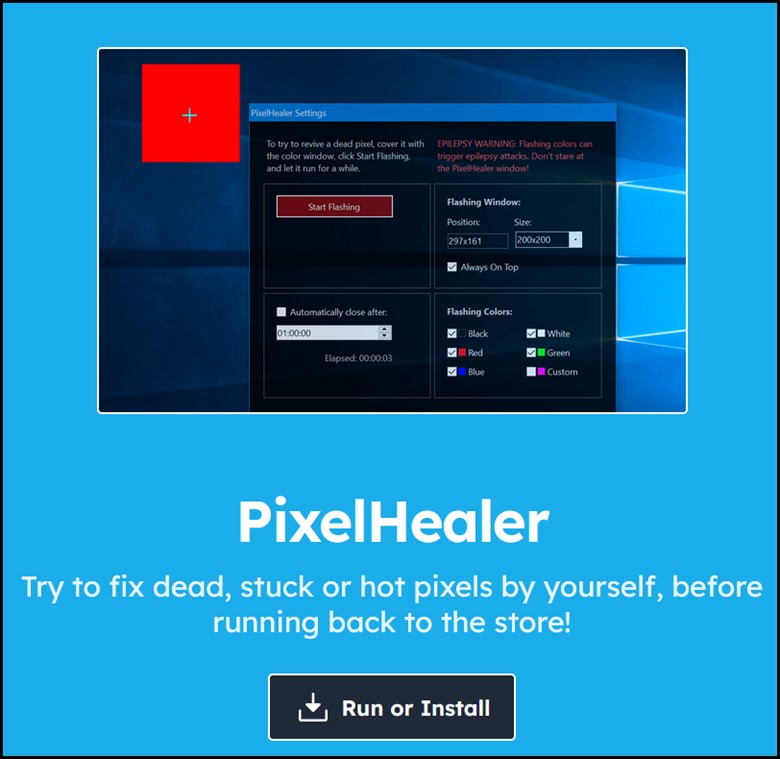 Open the program and soon you will view a red box.
Move that to where the suspected dead or stuck pixels are present.
Finally, click on the "Start Flashing" button to allow the software to begin the troubleshooting process.
3) Reinstall The Display Driver
If the dot on your screen results from a software issue, then reinstalling the display drivers will help mitigate it.
Here is how you can reinstall it:
Right-click on the Windows Start menu and select Device Manager.

Click on Display Adapters and expand it.
Right-click on it and then select "Uninstall."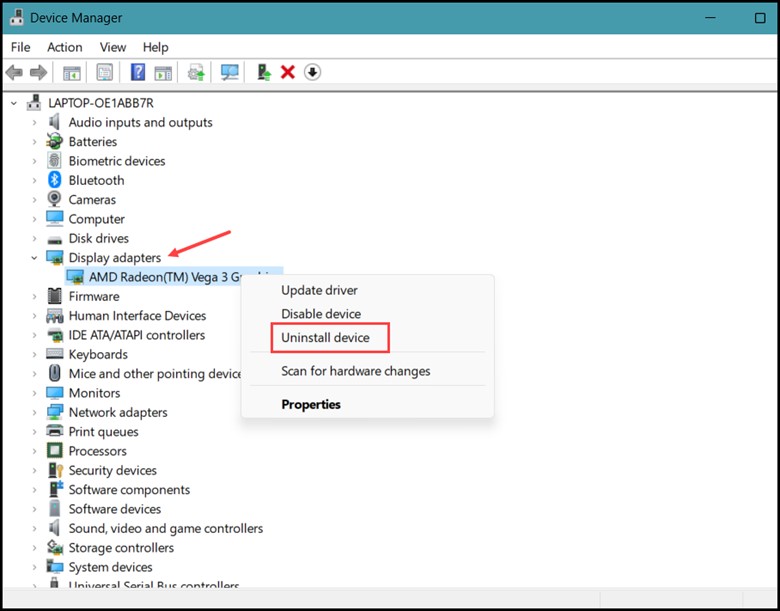 After uninstalling the drivers, reinstall the drivers from where you have installed them the first time or download the drivers from the internet and then install them.
Even after taking the above steps, if the issue doesn't get resolved and the dots persist, it is highly advisable to seek guidance from technical support or a professional technician.
4) Apply Pressure On The Dotted Area
If you need help with the methods, the last thing you can do is apply pressure on the dotted area.
After encountering tiny or large dots on your computer screen, applying pressure on the area can help resolve the issue.
But be careful about how much pressure you apply since it can damage your computer screen physically.
Before applying pressure, you need to clean the screen, apply a bit of pressure on the dotted area, and start rubbing the object against the screen slowly, and then try similarly removing the dots to erase pencil marks.
Tips To Prevent Dots From Appearing On Screen:
There are some tips for preventing dots from appearing on your computer screen, and those are:
Clean the screen regularly with the help of a screen cleaner and a microfiber cloth
Check for dead or stuck pixel
Update the graphics driver
Test with an external monitor
Abstain from touching the screen with your fingers
Using a screen protector will help you keep your screen away from scratches and damage.
Frequently Asked Questions (FAQs)
What Are The Two Main Types Of Dots On A Computer Screen?
Dead Pixels and Stuck Pixels are two types of dots on a computer's screen.
When Should I Be Concerned About A Dot On My Computer Screen?
If there is a single dot on your computer screen, it is usually not a matter of concern, but in the case of multiple dots on the screen or if the dots keep increasing, it can turn out to be a serious issue.
Can The Dots Caused By Dead Pixels Be Fixed?
Unfortunately, the dots that are caused by dead pixels cannot be fixed as they cause permanent damage.
Can The Screen Be Replaced With A Persistent Dot Issue?
If the dot issue is hardware-related and persists, it is essential to consult technical support or a professional technician for screen replacement or repair advice.
Final Words
As we conclude, the sudden appearance of these dots on the screen can be resolved if you perform the troubleshooting steps and promptly address the issue for optimal computer screen performance.
Even though the appearance of a dot on your computer screen is disturbing, it can still be fixed by being vigilant and taking informed actions.
From cleaning to exploring certain software and hardware solutions with the help of experts, you will soon be able to bypass the unexpected dot on your computer screen.