Although in a gradual manner, Microsoft is developing Windows with mobile devices in mind. To compensate for the devices that run on battery, Microsoft has been developing Windows to be more power efficient. It has been able to achieve this bye using various power saving techniques such as the power saver mode, turning off Windows Aero and other transparent themes, and much more.
However, this is still in development and there are many bugs within this implementation. One such error is when the external drive turns off after some time. Here I shall discuss how to prevent power saving mode on external hard drives and peripherals.
Why Does My External Drive Turn Off After Some Time?
As mentioned earlier, Windows 10 is primarily developed with laptops and other mobile devices in mind. To make the most out of the battery, it is important to direct the power where necessary and turn off the devices that are not in use.
This is primarily the reason why a power saving mode has been built into windows 10, which turns off external hard drives and peripherals when not in use.
Another reason why you may see your device turn off after some time is the power saving mode being integrated into the hardware itself. There is not much you can do in this case, as the technology is baked into the hardware itself, and you will have to open the drive which will void your warranty.
How To Prevent Power Saving Mode On External Hard Drives?
To prevent power saving mode from turning off your hard drive and other peripherals, you need to perform 2 steps. the steps involve first turning off Windows 10 power saving mode, and then changing the power configuration to extend the time after which the hard disk is turned off in case of no activity.
Step 1: Change To Balanced Power Mode
There are mainly three power configurations in Windows 10, the power saver, balanced, and the extreme performance mode. To prevent Windows 10 from turning off devices, switch to the balanced mode. This mode is halfway between the other two extremes, and the operating system will automatically detect when to save power.
Step 2: Change Power Options Hey
The next step is changing the power configuration options to extend the time after which the hard disk will be turned off. To do so, follow these steps:
Open Run dialogue by pressing Win + R.
Here, type powercfg.cpl and press enter to directly open power options in control panel.
Click on Advanced Power Settings, inside your active power plan.
This should open the Power Options dialogue box.
Expand the hard disk section, and extend the time next to the following option:
Turn off hard disk after
Next, navigate to USB Selective Suspend Setting, and make sure that the values are set to disabled.
After setting your desired timeout value, click on Apply followed by OK to finalise the changes.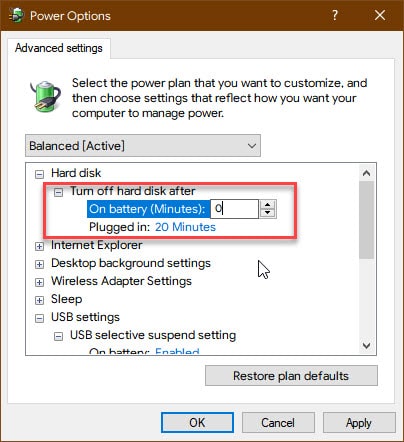 Now you should not see the external hard drive turning off automatically. Although you may see the battery draining faster than usual, however slightly.
Wrapping Up
So there you have it. Now you know why your external drive turns off, and how to fix it using the method provided above. Comment below if you found this useful and to discuss further the same.