Instagram has been one of the most popular social media platforms ever since its launch in 2010. New features have been constantly added, the latest introduction being the Reels feature for videos shorter than or equal to 15 seconds. Although your posts are saved to your account and Instagram keeps a backup locally, these images are saved on one device only.
If you accidentally lose your data, or come across a post where you like the images, you may want to keep the images locally. Here, I shall discuss how to download Instagram photos. Later on, I shall also discuss how to download multiple photos from Instagram posts easily.
Also read: How to download Instagram Videos
How To Download Images From Instagram?
Unlike the Facebook application, the official Instagram application does not support downloading images. There is only one official way to get a copy of your Instagram posts. to download multiple photos from Instagram, you will have to resort to third party applications or online services, some of which are discussed below.
Method 1: Request Images (Official Method)
This is the only official way to download Instagram photos. This method involves requesting Instagram for the download links to your official account data, which involves your posts and stories. You will get an email link to your account data, which can be requested by following these steps:
Open Instagram on your computer using a web browser.
Click on your Profile photo, and click on Settings from the context menu.
Select Privacy and Security from the left pane menu.
In the right pane, scroll down to the following option:
Data Download
Click on the Request Download link.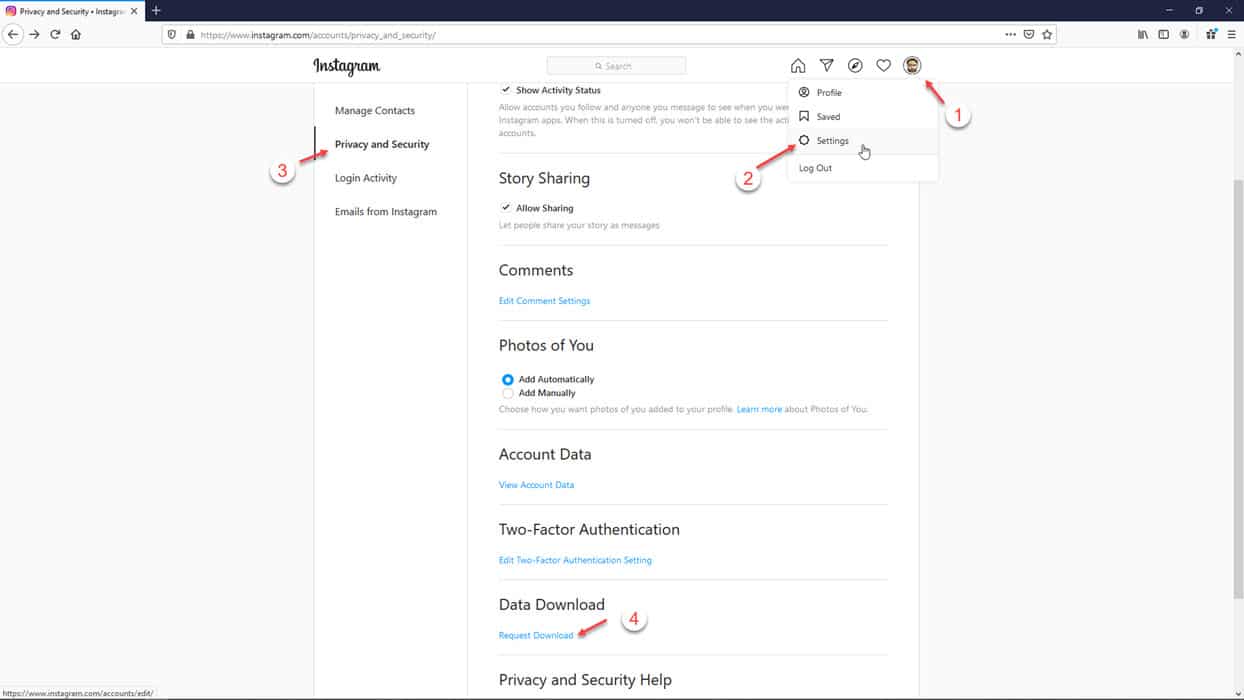 In the next window, confirm your email address and click on the Next button.
Enter your password to confirm your identity.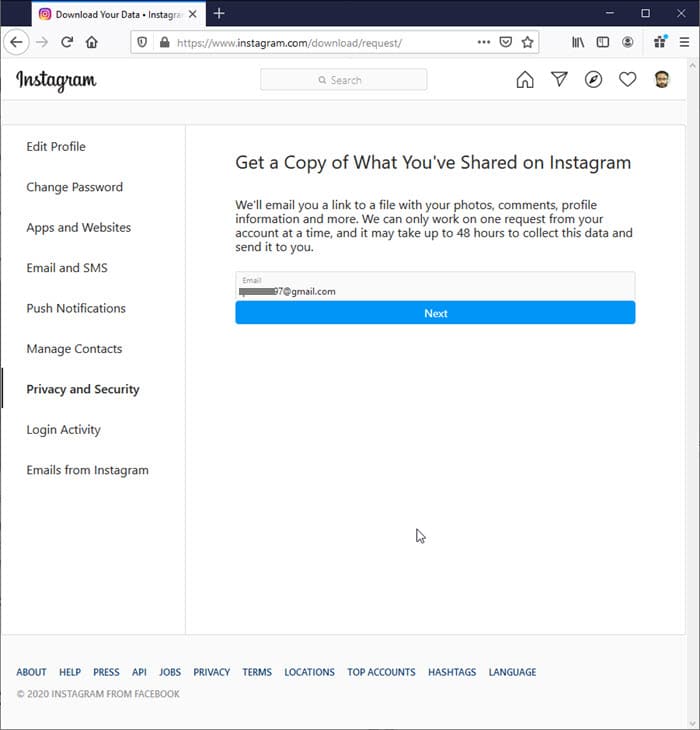 Finally, click on the Request Download button to get a link to your Instagram data in your email.
Within 48 hours, Instagram will send you a link, using which you can download the images locally. All your posts will be sorted in different folders like Photos, Profile, Stories, and Videos. This is the official way to download images from Instagram.
Method 2: Use The Source Code
Since most browsers these days are Chromium based, you can use the Inspect element tool to extract the image from Instagram. This is a free way to download Instagram images, and you will need to follow these steps for the same:
Open Instagram on your browser and navigate to the photo that you wish to download.
Open the DevTools using the keyboard shortcut F12.
Switch to the Network tab.
Under the bar, click on Media or Img.
You should be able to see the image listed here. If you cannot see your image, simply refresh the page and the image should load here.
Right-click on the file link and select Open in new tab from the context menu.
Your image will open in a new tab.
Now, in the new tab with your image, right click again and select Save image as… from the context menu.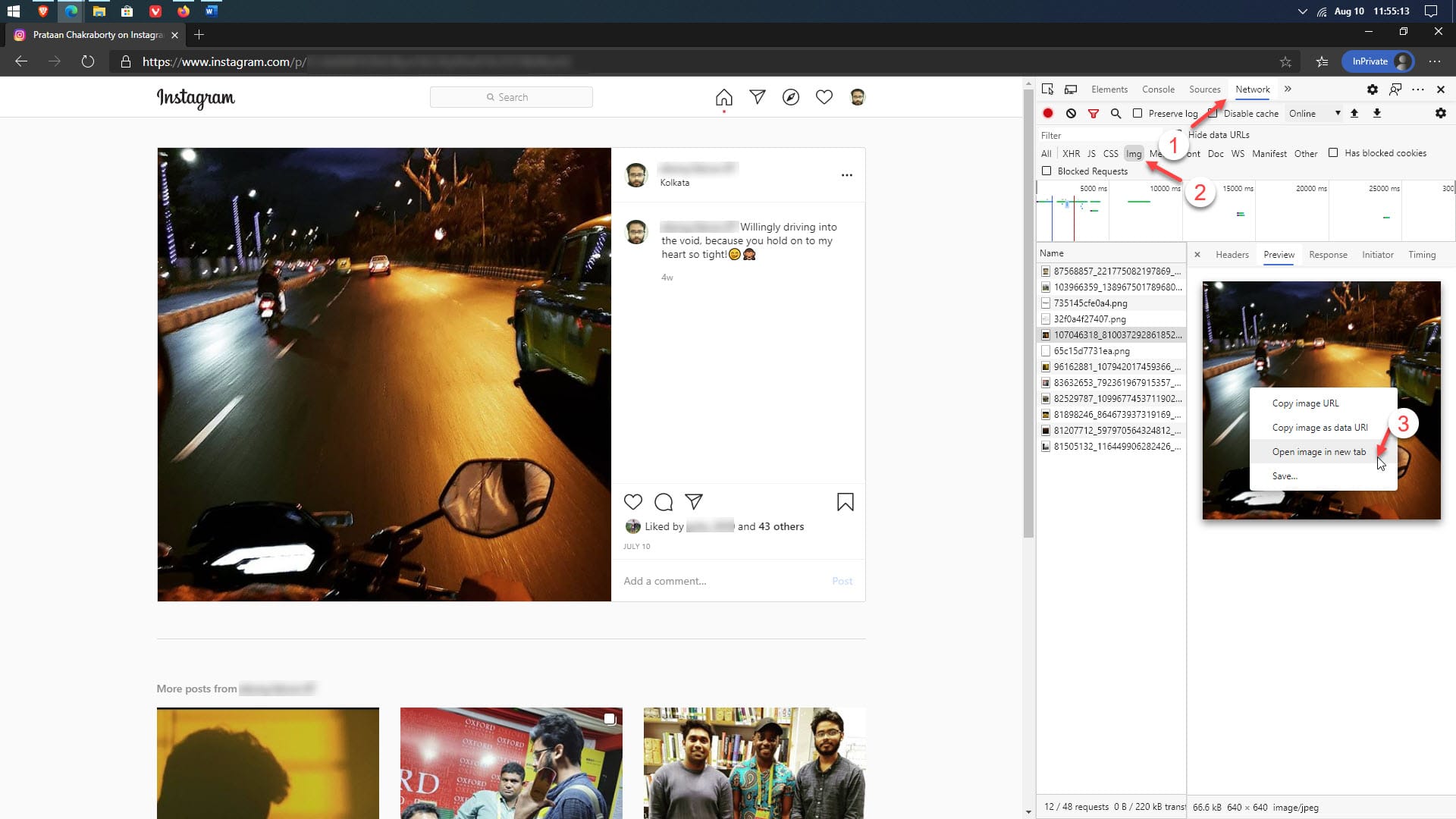 Your image will be downloaded after you specify the location.
Method 3: GramSave
One of the most popular tools for Instagram photo download is GramSave. This online service allows you to download multiple photos and videos inside a single post without having to download any application at all. The tool itself is very easy to use, you need to follow these steps for the same:
Open Instagram and navigate to the post from which you wish to download images using any web browser.
Click on the post to open the popup.
Copy the link from address bar of the browser.
Now, go to GramSave.com in a new tab.
Paste the link in the input form on the tool and click on the Download button.
The images and videos in that post will be listed under the input form, from where you can easily download these using the Download button under each post.
Note: The posts on Instagram accounts that are private cannot be downloaded, even if you follow the page or account yourself. You can only download posts from public accounts.
Method 4: Use Chrome Extension
Finally, you can use Chrome extension Downloader for Instagram to download images and videos from Instagram. This is a handy tool that allows you to get download links for the media content currently on your web page. Simply navigate to the post that you like, and click on the extension icon for additional settings.
Wrapping Up
So there you have it. Now you know how to download Instagram photos, and how to download multiple photos from Instagram posts using the simple methods provided above. Comment below if you found this useful, and to discuss further the same.