For most people, choosing the right kind of television is a tedious task.
Samsung is known to be the sole company which is responsible for the introduction of both Crystal UHD and QLED.
Here I will dive deep into the similarities that the technologies share along with the differences too.
After reading this article, you will have a clear understanding of both panels and you should be able to decide which one to buy.
Also read: Cat6 Vs Cat7; Which Cable Should You Buy?
Choosing Between Crystal UHD & QLED
There is no specific or simple answer to this question since it entirely depends on your preference level and your needs.
Both have their own set of advantages as well as disadvantages.
If you are sensitive enough to the image and color quality, then the best thing you can do is to go with the Crystal UHD option.
But before deciding, you need to keep in mind of all the features and specifications along with the price.
What Is Crystal UHD?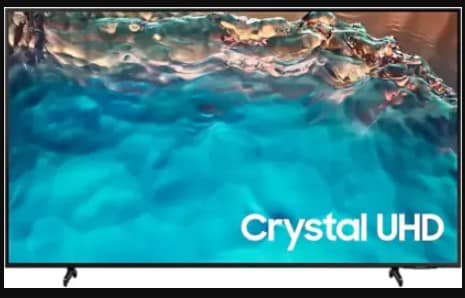 The term crystal UHD comes from a panel that consists of crystalline inorganic nanoparticles which don't degrade over time.
Crystal UHD marks Samsung's entry into the 4K televisions.
Crystal UHD is an ultra-high-definition TV and is referred to as 4K since it is four times the HD resolution.
Samsung produced this crystal color technology which was developed by embedding an actual processor inside the TV.
This hardware is known to make the picture more vivid and crystal.
It is an advancement of the traditional LCD and has got a special crystal layer for improving the color, definition, and brightness of the output.
This has been designed keeping in mind the HRD feature to output bright and clear shades of color.
Crystal UHD is nothing but a high-definition 4K TV that consists of a 3840 X 2160 resolution.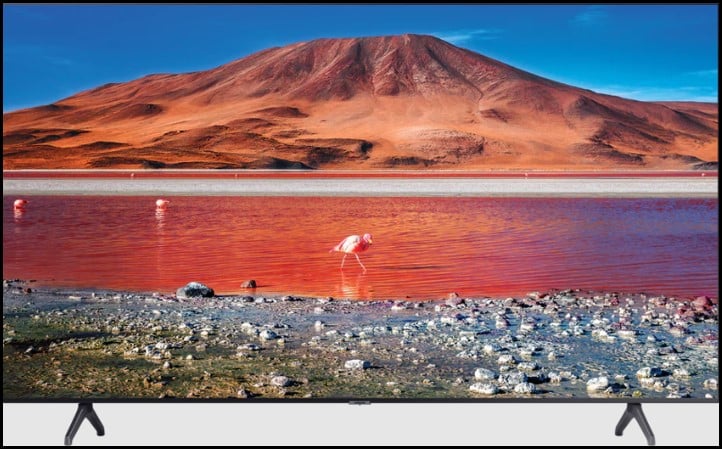 This feature is known to add over a billion shades of color and the image quality offers decent brightness, colors, HDR, and a crisp 4K resolution.
Also, for handling the visual effects effectively, it has got a good refresh rate and brightness level.
There is also an additional in-built microphone for controlling the voice.
This kind of display is generally recommended for gamers due to the clear picture settings of the TV.
Crystal UHD Pros
Budget-friendly TV.
4K Resolution.
Large TV ( 43″-85″) at a comparatively lower price.
Crystal UHD Cons
Color accuracy isn't up to the mark.
What Is QLED?
QLED stands for quantum dot light emitting diode and is known to use a form of backlight for lighting up the picture.
It uses a quantum dot filter and colorless crystals in order to control the color output the moment blue light starts passing through it.
This display technology is fully based on quantum dots, and these semiconductor crystals emit light when initiated by an electric current.
QLEDs are more energy efficient and are used in various applications like LCDs, OLEDs, and Plasma Displays.
These are more expensive than traditional display technologies and the color output is determined by the wavelength of light emitted by the quantum dots.
QLEDs display a wide range of colors in comparison to LCD displays.
QLEDs are known to produce a better range of colors that are not visible to the human eye.
It mainly specializes in quantum dots, which are small semi-conductor crystals that emit light.
These are more expensive than crystal UHD and are expensive and less popular among users.
It is known to use in television, mobile, and monitors.
The light gets emitted to the quantum dots, and the colors are eye-friendly too.
It offers a maximum resolution of 1080 p to 8K, and the refresh rate varies between 60 and 120 Hz.
Pros Of QLED
Extra brightness feature.
Good for use during the day time.
Excellent color coverage.
Longer lifespan.
Cons Of QLED
Less backlight bleeding.
Average or mediocre viewing angles.
Crystal UHD Vs QLED
QLEDs are definitely a better option than the Crystal UHD in the Samsung Model range. They tend to offer better color quality, brightness, and contrast in comparison to standard Crystal UHD.
The picture quality is much better, and its fame is due to the vivid color display.
QLED TVs are known to use LED backlights and LCDs, which are quite affordable. The image quality and brightness are stupendous, and there are lots of affordable QLED TVs too.
NEO QLD is the next step which is known to use mini-LEDs as the backlight.
QLEDs are better than Crystal UHD since they are known to achieve higher brightness and much better color due to the use of Quantum dot nanoparticles.
These models have been configured to achieve 100% color volume in spite of the brightness level of the picture. If you are interested in viewing the best possible picture then go with a Crystal UHD TV, but if you want to derive the best gaming experience then go with a QLED TV.
Paying extra for the QLED TVs is definitely worth it since it offers the best picture quality, and accurate colors, along with all the latest features.
The main difference between these two lies in the fact that the USD is known to offer a resolution of 3840 by 2160 pixels. Whereas the QLED technology, which is utilized in LCD televisions uses quantum dots for providing superior visuals.
Crystal UHD has got better color accuracy and also the brightness level is decent and is good for HDR content. But it has got a lower level of dimming compared to the QLED TVs.
QLED TVs are known to have better input lag than crystal UHD TVs and are better for gaming purposes.But the color performance isn't good as that of Crystal UHD displays.
So, if you are looking for the best possible picture quality, then buying a crystal UHD TV will suit your purpose.
And if you are looking for the best performance in gaming, then a QLED TV is known to suit your level of preference.
The Resolution of crystal UHD is 4K without any range, and the Resolution of QLED varies from 4K to 8K. Crystal UHD TVs are only produced by Samsung, whereas the QLED TVs are produced by Sony and VIZIO.
The chances of high light wastage are more in Crystal UHD, whereas the QLED has a moderate rate of light wastage. The price range of crystal UHD varies from $350 to $2000 whereas the QLED has a moderate price range between $500-$1000.
The color quality of crystal UHD TVs is average compared to QLED and OLED. Whereas QLED has a deeper color quality in comparison to LCD and LEDs.
Crystal UHD TVs are equipped with a Crystal 4K Processor whereas most QLED TVs use a Quantum Processor. Also, the Samsung Crystal UHDs are less expensive compared to the QLED TVs.
Which One Is Better For Gaming? Crystal UHD Or QLED?
If you are well aware of the differences between these two models, then choosing the right one becomes an easier task.
When it comes to gaming, then definitely QLED TVs are better due to their low input lag and impressive response time.
It is known to deliver a smooth gaming experience with a negligible amount of blurring effect.
If you are in need of the fastest refresh rates for gaming, then QLED is definitely the best choice.
Frequently asked questions (FAQs)
Is QLED The Same As OLED?
No, QLED is different from OLED and also has additional features.
Which Is Better UHD Or Crystal UHD?
QLED 4K is better than Crystal UHD as it has certain additional features.
Are There Any Drawbacks To Crystal UHD?
The major drawback is that it isn't available easily and it is more expensive than LCD and Plasma TV.
Final Thoughts
Now that you have a good idea about the difference between crystal UHD and QLED, you will now be able to distinguish both of them and choose as per your preference.
Update us with your inputs or comments if any, in the comment section below.