Many background processes make Windows 10 function normally, so there is a high chance that something may go wrong that can lead to your Windows malfunctioning or refusing to boot as well. The nonvolatile BIOS memory or the CMOS RAM is responsible for storing your time, date, hard disk and other configuration settings of your PC.
It has been reported by many users, that when they try to boot into Windows 10, the computer fails to boot into Windows and instead they get an error that says, 'CMOS checksum error– Defaults loaded'.
What Is The BIOS Checksum Error?
Before Windows 10 boots up, many different processes load and your motherboard handle these low-level tasks, preparing your computer to run and then transfers these to your operating system. The software on your motherboard is the BIOS (Basic Input Output System).
In addition to booting up your computer, BIOS also maintains other settings for the hardware, like boot priorities, time and date, speeds, voltages, etc. These settings are stored on your hard drive; instead, these are stored on a separate nonvolatile CMOS RAM chip.
A Complementary metal-oxide-semiconductor (CMOS) battery maintains the BIOS memory even when your PC shuts down. When you boot back into Windows, your computer will read the previous state in which your device was from the BIOS CMOS RAM.
You will see the BIOS CMOS checksum error when the computer fails to read the said information from your nonvolatile BIOS memory.
What Causes The System CMOS Checksum Bad?
To guard the BIOS software, the CMOS memory stores a specific value on itself. Every time your computer loads, this value is crosschecked against the CMOS memory value. In case of a mismatch between these two values, you will see a CMOS checksum error.
There are primarily three reasons why you may be seeing the checksum error on your device.
The most likely reason why you are seeing the CMOS checksum error is a faulty CMOS battery. The CMOS battery has an expected life span of three years, but it can discharge before that, leading to your computer failing to boot into Windows.
If you made any recent changes to your BIOS, there is a chance that these settings may not have saved. If your BIOS is somehow damaged or corrupted it will cause a value mismatch between your BIOS and CMOS, leading to your BIOS checksum error. Sometimes, a virus can also cause this.
Power surges can sometimes lead to your computer failing to boot into Windows. Microsoft Windows requires your device to shut down prior to the removal of power. If your computer is abruptly powered off, it may have shut down before having the chance to write information to the BIOS memory.
How To Solve The 'CMOS Checksum Error- Defaults Loaded' Message?
Now that you have a slight idea about why you may be getting this error on your device, let's take a look at some potential solutions to the CMOS checksum error.
Solution 1: Restart Your PC
While this may look silly, a simple restart is sometimes more than enough to solve the BIOS checksum error.
Reboot your computer to check if it boots into Windows now. If it does, make sure to note down the CMOS information in case you get the error again.
Solution 2: Replace The CMOS Battery
The most common reason why you may be getting the checksum error is because of a faulty battery. The CMOS memory is powered by a watch button-style battery, which can last from 2-3 years. However, due to various reasons, it can also run out of power earlier than usual.
Replace your CMOS battery on your motherboard. On a desktop PC, you should have access to your motherboard by simply removing the cabinet cover. Take a note of the CMOS battery information like the voltage, size, etc., and then replace the old battery with the new one.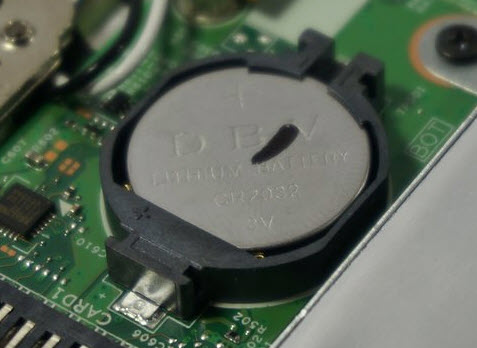 A new CMOS battery should cost you around $1.5. If your faulty battery caused the CMOS error, it should now be solved.
Solution 3: Update BIOS
BIOS refers to Basic Input Output System and is critical for normal functioning of your computer. Remember to be careful while making changes to your BIOS as it is very sensitive, and a small error can brick your device.
You will mostly receive BIOS updates automatically. If you haven't recently received a BIOS update, you should tally the installed BIOS version, and the one available on your motherboard manufacturer website.
To check the current BIOS version, refer to the following these steps:
Open a Run dialog using keyboard shortcut Win + R.
Type msinfo32 and press Enter to launch the System Information window.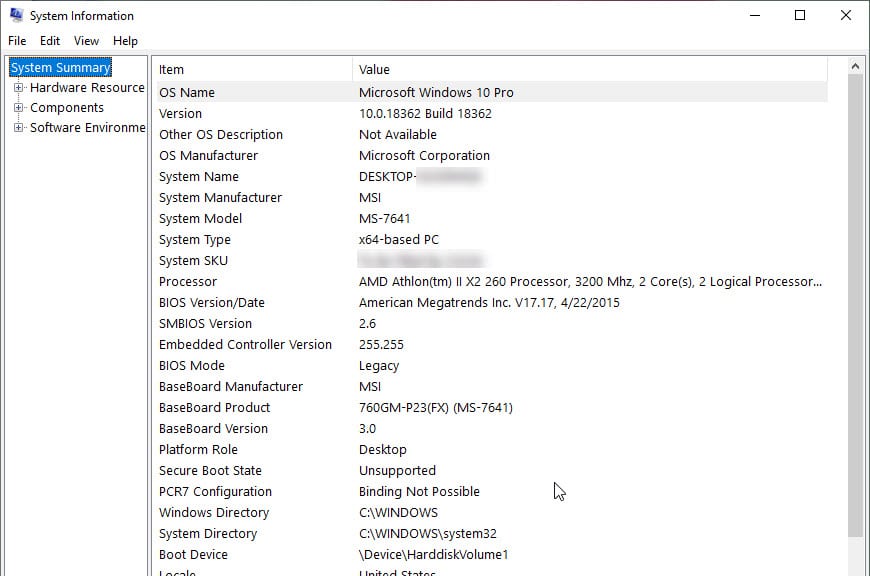 Here, locate the BIOS version/Date section to know the BIOS version that is installed on your computer. If you see that there is an updated version available on the manufacturer's website, you will have to download and install the latest version to solve the error.
If the proper manufacturer's name is not displayed in the System Information window, you will need to check the manufacturer of your computer's motherboard manually. Then visit the website of the manufacturer and download the BIOS update. Your CMOS error should now be solved.
Solution 4: Shut Down Properly
Usually, CMOS checksum bad error also happens when you shut down your computer without shutting down your operating system first. To avoid doing this in the future, make sure that the operating system is shut down first before you power off the computer.
You can do this by going into the Start Menu and clicking Shut Down from the power menu. If your system fails to start, remove residual power by unplugging the power cord from the socket, and then pressing and holding the power button on your CPU for a short while (30 s).
Wrapping Up
So, there you have it. Now you know how to solve the CMOS checksum error on your Windows 10 device using the solutions provided above. Did you find this useful? Comment below if you did, and to discuss further the same.