Using a voice changer or voice modulator, you can change the tone of your voice or able to play pranks on peoples. Voice changer is very popular among the youth to make funny videos. Although masking your voice sometimes can be used for malicious intent, but if you are not having any wrong intention, it is really fun using a voice changer.
If you are looking for a voice changer software, some of the best available options are recommended in this article for your Windows computer as well as a Windows phone. You will get both paid and free voice changer for your device in the given list. You can download whichever you prefer.
Get Top Voice Changer Software Here!
The few best voice changing applications are listed below. Continue reading this article to know about voice changing applications having unique features.
Voxal Voice Changer
Voxal is a convenient voice changer for Windows. This application seamlessly works with other applications. So you don't have to change any settings in other programs. You can install this voice changing software and start masking your voice. Voxal is compatible with many other programs, such as Steam games, Skype, TeamSpeak, etc. The system requirements are as below:
Supports all Windows versions starting from Windows XP.
Works on Windows 64 bit.
Supports MAC OS X 10.5 or above.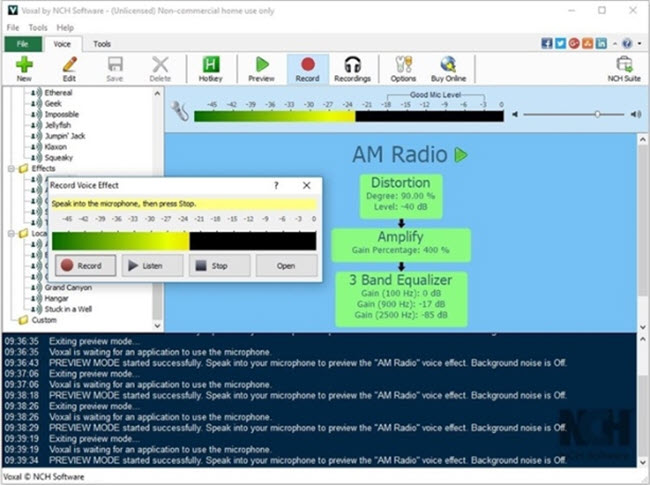 Voxal voice changer has lots of features that make it different from the other voice changing software. A few features are listed below:
It has a simple and user-friendly interface.
It works with all existing programs and games.
The effects can be applied to existing files.
Applying effects in real-time is possible using a microphone or other audio input devices.
The CPU usage is minimum.
It doesn't affect other running applications.
It has various vocal effects including the robot, atmospheric, alien, boy, girl, etc.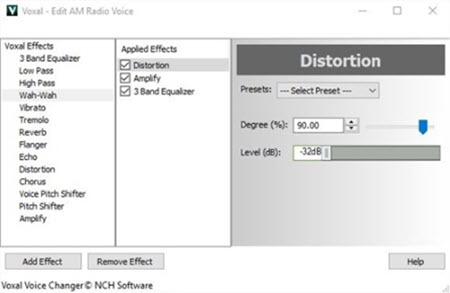 Voxal voice changer has both commercial and non-commercial versions available. For business or industrial use, you should use the commercial version which is paid. You have to spend around $40 to get the commercial license. For the home purpose, use the non-commercial version and it is free.
To download or purchase, click on the Voxal Voice Changer here.
MorphVOX Pro
MorphVOX provides high-quality voice changing experience on PC. Many users choose this voice changer because of its simplicity and easy to use environment. MorphVOX can be used while you chat online or make a phone call to someone. It has excellent voice changing quality with some excellent features included.
This Voice changer is optimized for online games.
You can add any background sound you want.
It has a wide variety of premium sound effects.
It looks compact with a professional user-interface.
There is a backup feature to save your settings in a single file.
This changer supports various audio file formats including mp3 format.
It has multiple-user support.
It uses low bandwidth and CPU for better performance.
You can easily switch between your voices using a single key.
It is possible to play any effect with a single keystroke.
The audio alarm makes it more convenient.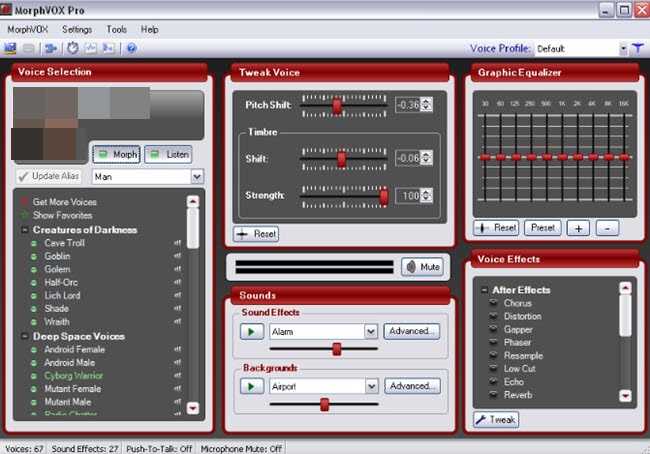 Apart from the key features discussed above, there are more features available in this voice changer which makes it one of the best voice changer apps for Windows as well as macOS.
You can download or purchase MorphVOX Pro from here.
Voicemod
Voicemod is another wonderful choice for gamers. It is compatible with various games such as GTA V, PUBG, Apex Legends, etc. It can also be used while chatting online or making a phone call to your family members or friends. Various chat tools like Discord or Skype are supported to Voicemod enabling you to use this voice changer more conveniently. Few key features of this app are discussed below:
There are various voice effects included in this voice changer, such as deep voice, chipmunk, pitch effect, etc.
This voice changer app can be installed on Windows 7 or above.
This program supports various chat tools like Discord, Skype, VRChat, etc.
This app can be installed on Windows as well as android, IOS and Linux for free.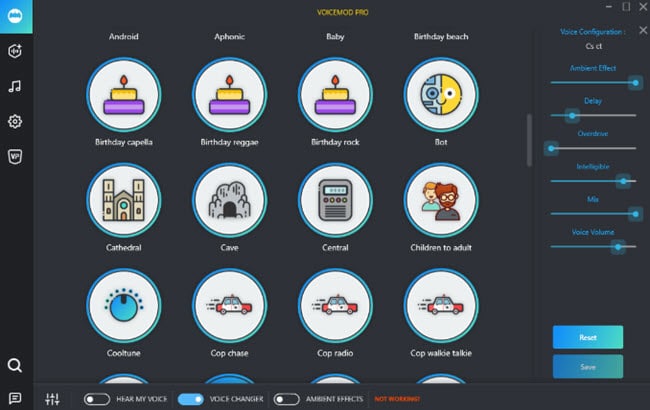 Clownfish
Clownfish has a quite simple interface that helps the users use it comfortably. Using a microphone or other audio recording devices, this voice changer software modifies your voice on online chat tools. It also supports various numbers of online chatting apps. Few features of this application are discussed below:
This application has permission to access all of the application which uses a microphone.
It supports various online chatting apps like Skype, Steam, Discord, Viber, etc.
The user interface is remarkably simple.
This application has the text to speech support.
You can use different audio effects to mask your voice.
It has the VST plugin support.
This application can be used as a media player also.
It supports a large number of audio and media formats.
This program is free and available only for Windows PC. You can install the Clownfish voice changer on Windows 7 and above operating systems.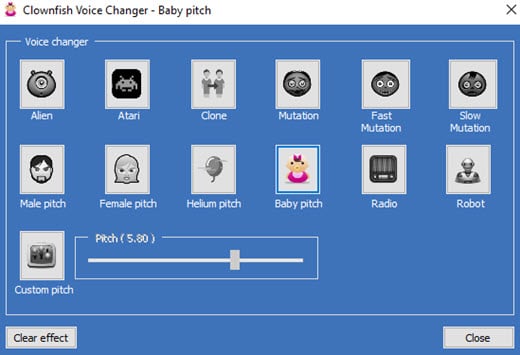 Click on download Clownfish to download the voice changer on your PC.
All-In-One Voice Changer
This voice changer software has similar features like the others discussed above. You can pair this software with various online chat services such as Skype or IM, etc. A few noticeable features are discussed below:
This application supports to work on Windows Vista, Windows 7 and above.
You can change your voice in the middle of chatting.
It has a simple and user-friendly interface.
This application can modify both audio and video files.
The All-in-One voice changer is a paid program, but it has a trial version available. You may buy the product key in order to enjoy the full functions of this program. It will cost around $15 to get the premium version.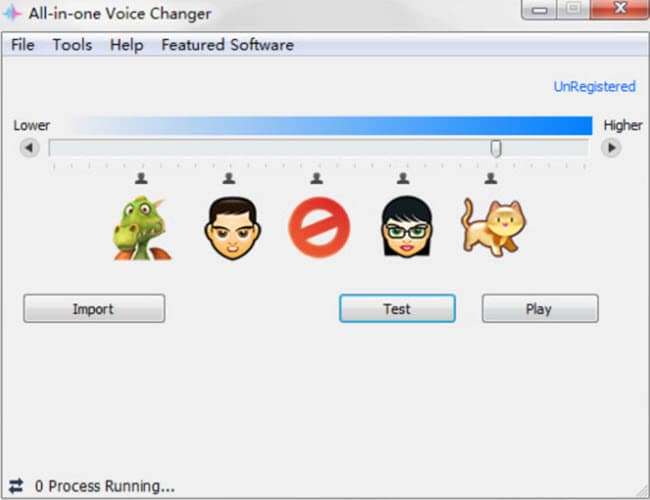 Download All-in-One voice changer.
Conclusion
The most popular and best voice changing applications are discussed above. You can download any of them you prefer. The download links are also provided at the end of each voice changer software. Which one do you prefer? Let us know by commenting below. If you have any queries regarding free voice changer apps, you can ask us here.