The best low-profile CPU coolers have stepped in with technology and a mission to keep your system running smoothly, even in the most demanding scenarios.
They are designed to tackle dissipating heat from the CPU by effortlessly whisking away the intense heat generated by the processor.
Whether you are a gaming enthusiast or a creative developer, it will keep your system cool.
Today, we will embark on a journey to explore the best low-profile CPU coolers that have redefined the limits of cooling technology by offering a perfect blend of style, efficiency, and cooling brilliance.
If you want to know about the best CPU coolers with screens, then go through 6 Best CPU Cooler With Screens
What Is A Low-Profile CPU Cooler?
A low-profile CPU cooler is a cooling solution designed specifically for compact systems or cases.
These CPU coolers are crucial in keeping our systems cool and running efficiently.
The main purpose of creating this is to dissipate heat generated by the CPU.
It comprises heat pipes, a base plate, and a heatsink with fins.
Certain low-profile coolers include fans to enhance the airflow.
They are designed keeping in mind the cooling performance and size.
These are some features of the best low-profile CPU coolers:
Fan Size – It is essential to check the fan size of your CPU cooler, as a 120 mm fan offers better performance than a 60 mm fan.
Fan Speed – A faster spinning fan offers more airflow and better cooling, so a 2500 RPM fan is better than a 1500 RPM in most cases.
Cooler Height – It is important to check the cooler's height while buying a low-profile CPU cooler. The height should be low to fit inside the mini ITX case. The height options can range from 30 mm to 60 mm or are similar.
What Are The Best CPU Coolers That You Can Buy In 2023?
1) Deepcool Assassin III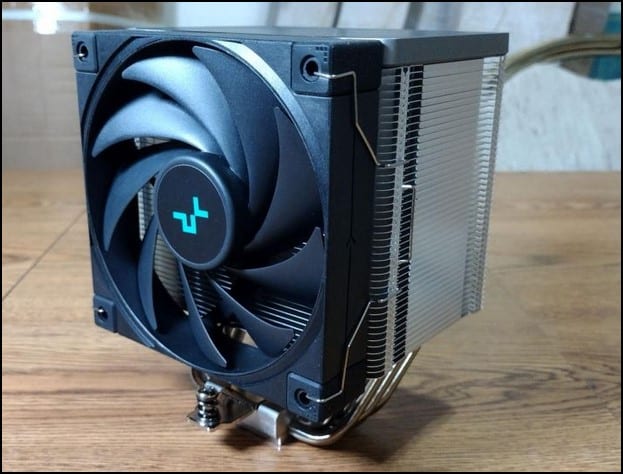 The Deepcool Assassin III has exceptional cooling performance, a sleek design, and innovative features.
It is one of the best contenders in the market regarding low-profile CPU coolers.
The standout feature is its dual-tower design and two massive heatsinks with a total of seven heat pipes that allows for efficient heat dissipation.
Assassin III also has got two premium-grade fans that have got a PWM control that allows for the precise adjustment of fan speeds.
This can be considered one of the top choices for keeping your CPU temperature under control and ensuring optimal system performance.
Pros:
Budget Friendly
Silent Operation
Excellent Thermal Performance
Cons:
Lack Of RGB Lighting Options
Incomplete AMD And Intel CPU Socket Support
2) Arctic Low Profile CPU Cooler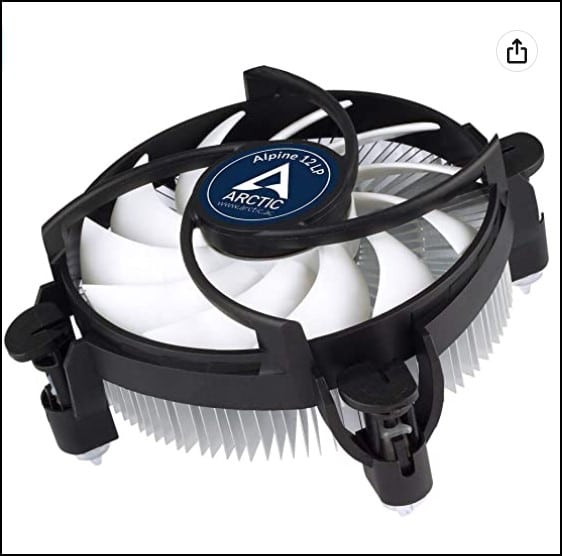 Arctic is a renowned name for cooling solutions, as it offers a range of low-profile CPU coolers that excels in performance, efficiency, and value.
The Arctic Alpine 12 LP low-profile CPU cooler is one of the cheapest options available in the market, where you get a large 92 mm PWM fan along with this cooler.
The fan offers a cooling performance of up to 75 watts.
They are designed considering the cooling needs of compact systems and have a sleek form with impressive cooling capabilities.
They also have an easy installation process, compact design, and effective cooling performance.
Pros:
Highly affordable
Great for replacing the faulty stock cooler
Small and compact
Cons:
Not compatible with AMD sockets
3) Cooler Master Low Profile CPU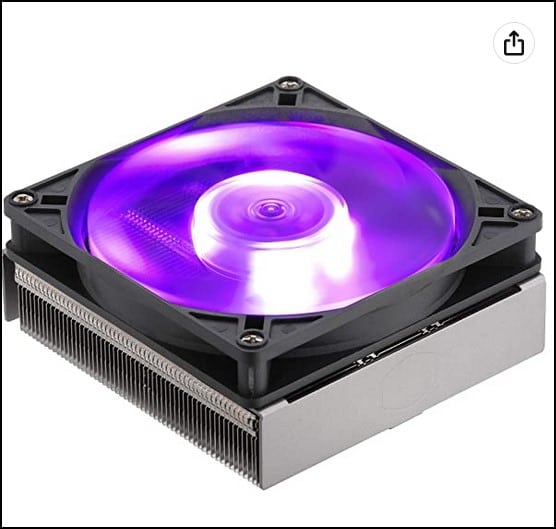 Cooler Master has a range of low-profile CPU coolers that excel in performance, reliability, and aesthetics.
They are designed to provide efficient heat dissipation while fitting into compact systems or cases with limited space.
It also offers a 92mm RGB fan and a height of just 39.4 mm, thereby making it suitable for small form factor builds.
They come with an easy installation process and user-friendly mounting systems that are known to support various CPU sockets.
Pros:
Includes RGB lightning
Works with most motherboards
Quite a low-profile CPU cooler
Cons:
Slightly loud compared to others
Insufficient cooling capacity for overclocking
4) Noctua NH-L9i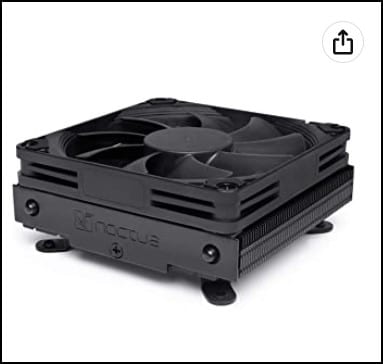 The Nocta NH-L9i is popular among PC enthusiasts regarding low-profile CPU coolers.
It offers a premium cooling solution and delivers an exceptional performance.
The 92 mm fan is designed to provide optimal cooling and operates at a lower sound level as possible.
It is also compatible with both Intel and AMD processors.
Nocta NH-L9i is worth considering because of its excellent cooling performance, quiet operation, and easy installation.
Pros:
Low noise operation
High-quality construction
Compact form factor
Cons:
Relatively higher cost
Limited compatibility
5) SilverStone NT08-115XP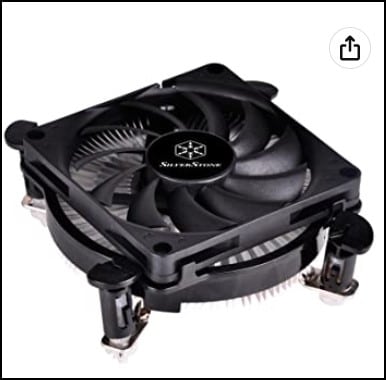 The SilverStone NT08-115XP is a low-profile cooler with a splendid cooling performance, compact design, and compatibility.
It is specifically designed for Intel LGA 115x sockets, ensuring compatibility with a wide range of Intel processors, including the latest generations.
It is designed in all black and comes with an affordable price that makes it worth considering.
With a small size and a height of 33mm, it is known to be the shortest cooler on the list.
It balances size and cooling effectiveness, making it suitable for compact builds or systems with limited height.
Pros:
Efficient cooling performance
Compact form factor
Compatibility
Low noise operation
Cons:
Single fan design
Restricted RAM clearance
6) Thermaltake Engine 17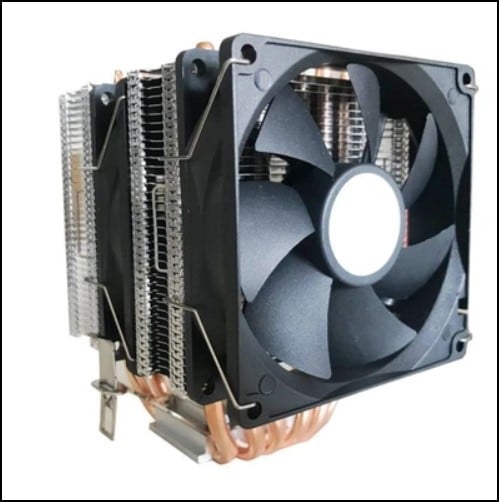 The Thermaltake Engine 17 is a low-profile CPU cooler with a unique design, efficient cooling performance, and broad compatibility.
It has one of the most interesting designs among all the low-profile coolers.
The design also provides effective cooling while fitting into compact systems or cases with limited height.
It is one of the smaller CPU coolers, making it one of the top contenders for ultra-slim PC builds.
Pros:
Direct contact heat pipe technology
Silent operation
Broad socket compatibility
Cons:
Restricted RAM clearance
Single fan configuration
7) Scythe Low Profile CPU Cooler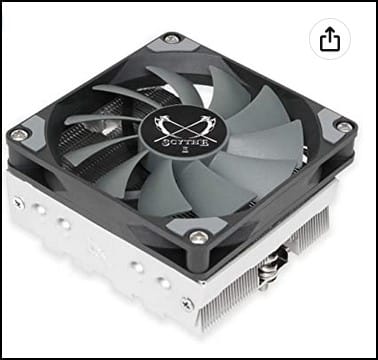 Scythe is a reputed manufacturer that offers a range of low-profile CPU coolers that provides efficient cooling performance in compact systems.
These coolers are effectively designed to dissipate heat while maintaining a small form factor.
It is relatively small and compact, with a copper base and four heat pipes.
Scythe prioritizes silent operation, so the fans have lower noise levels and adequate airflow for effective cooling.
Pros:
Delivers effective cooling power
Zero interference with RAM or PCI-E cards on motherboards
Highly affordable CPU cooler
Easy to install and use
Small and compact
Cons:
Lacks manufacturer warranty
Fan is noisy
Wrap Up
As we learn about the best low-profile CPU coolers, we are left with a deep appreciation for their role in our computing experiences.
The low-profile CPU coolers' remarkable cooling capacity and captivating design have earned them an important place in computer hardware.
According to you, which is the best low-profile CPU cooler in the market?
Write to us in the reply section below.