YouTube has been one of the most popular websites on the Internet for quite a while now. with each minute seeing thousands of videos being uploaded, keeping up with all the content becomes a hectic task. hey, however, there are some advanced ways in which you can use YouTube like a pro, to find the exact video that you are looking for.
this can be done via YouTube search filters, which changes the way YouTube displays videos to you. let us take a look at the YouTube filters and how you can use them to organize your content. Hang on till the later part of the article to find some cool tricks that you can use to narrow down your search.
How To Use YouTube Search Filters?
By default, YouTube shows videos by relevance. what this means is YouTube tries to fulfill your search intent and displays video results according to what you search for in the search box. Thus, if you modify your search term to reflect what you want, you have a better chance to find the video.
There are also advanced search options on YouTube, That allows you to filter out the unnecessary videos and narrow your search results. you can filter your search queries after you have searched for something on YouTube by clicking the Filter button.
Using YouTube Filters
As mentioned above, you will need to click on the Filter button that appears just after you have searched for a keyword. Upon that, you will find that you can narrow down your searches according to various parameters. You can use certain filters in combination as well, so you can keep mixing and matching until you find what you are looking for.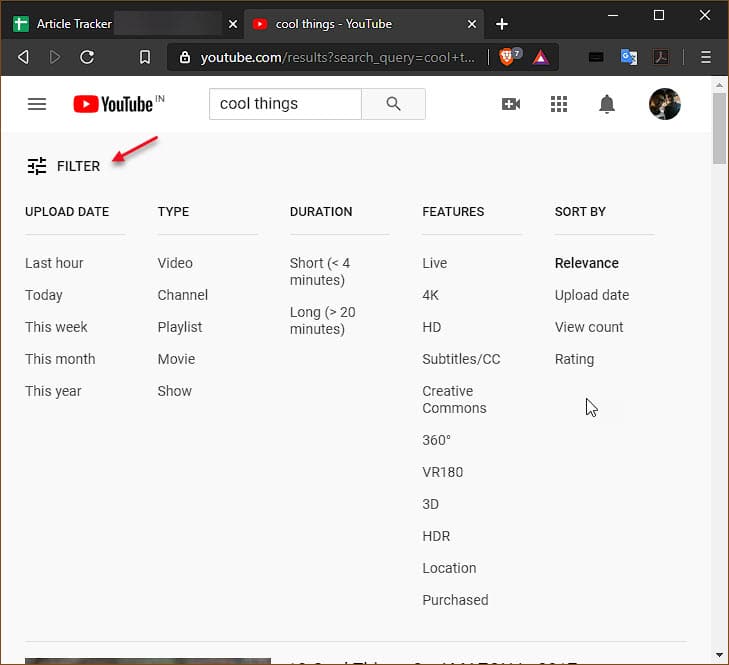 1.    Upload Date
The first filter lets you sort your search results by when they were uploaded to the platform. You can search for a video that was uploaded within the last hour, within a day, week, month, or year according to how recent you want the video to be.
This can be beneficial if you want to search for the recent information about certain news or need to filter out the older videos about certain topics.
2.    Type
This filter lets you sort the results according to what you want to be displayed on your computer screen. For the term that you searched, you can choose to view videos containing the term, a channel of the particular name, a playlist, a movie, or a show.
3.    Duration
While there may not be many options when it comes to this, you can use this filter to sort the videos to make YouTube search by length of the video. If you are searching for a song or something similar, you can filter the videos to be shorter than 4 minutes. In the case of documentaries or similar shows, you can filter the videos to be longer than 20 minutes being displayed only.
4.    Features
With the plethora of options being added to YouTube every minute, there are many new features that have been added to the platform to increase user satisfaction. Now you can filter the search results by their features as well.
You can choose to display videos containing 4K or HD footage, 360-degree videos, VR180 videos, etc. You can choose to see content that has subtitles, which can be useful if you cannot play the audio out loud. The Creative Commons filter shows the content that can be reused without infringing copyrights.
You can also choose to see just the live videos or the videos that you have purchased. You can also choose to view content from a certain part of the country, i.e. creators from a specific country or continent.
5.    Sort by
By default, YouTube displays search results by relevance. This means that YouTube will use its AI to determine the nature of your search result and then display the search results accordingly. However, you can use this YouTube search filter to change the nature of how your search results are displayed, and you can make the search results displayed by the upload dates, the view count, and the rating of the videos.
Advanced Search YouTube Tricks
 The search bar on YouTube also acts as a search engine. This means that you can use certain tricks to direct the search engine to display accurate results. Let us now take a look at some of these search tricks in YouTube:
1.    Use commas
If you do not feel like reaching to the Filter button every time you search for a video, you can use commas to add search parameters to your keyword. This is a much faster way to include YouTube search filters in your search term and get much more accurate results.
For example, if you wish to search for the new MacBook Pro released this year, you can use parameters like MacBook pro, day, short, HD. This will show search results about the latest MacBook Pro videos uploaded within the last day, less than 4 mins and in HD.
2.    Use quotes
YouTube also shows some additional search results which are similar to the term you searched. This is done so that you can gain more information on the topic you are searching for or keep viewing similar content. This is a good way to explore more creators on YouTube, who may be producing amazing content.
However, if you wish to filter out unrelated results, you can include the search results in double-quotes. This will help you search the exact videos in case your search value is too broad, and you want to preserve the order of the terms you entered.
For example, searching for "original fiat 500 Abarth" shows the videos containing content about the mentioned vintage cars.
3.    Use + and – operators
To include and exclude certain terms from your search results, use the + and – operators, respectively. This is a quick way to modify your search results without diving much deeper into the Filter button.
For example, searching for NFS +PS4 shows the results of NFS gameplay on the PlayStation 4 only, filtering out unnecessary results. Meanwhile, searching for Olympics 2012 -archery will show you content from Olympics 2012 except the archery event.
4.    Fill up the search intent
If you are looking to explore something new, you can use the wildcard operator (*) on YouTube to make it search for things. For example, the best * of 2020 will show lists, videos containing this search term.
Now, YouTube has also included hashtags to make things easier for users. You can use certain popular hashtags to show videos containing these hashtags. This is a good way to filter videos from certain topics, like recent trends, etc.
Wrapping Up
So, there you have it. Now you know how to use YouTube search filters and search operators to search videos on YouTube like a pro. Did you find this useful? Comment below if you did, and to discuss further the same.