Although we have previously discussed file recovery software, SSD recovery software is a rare find. With SSDs taking over as the preferred choice of storage, let us take a look at Yodot SSD Recovery software.
What Is Yodot SSD Recovery?
Yodot SSD data recovery is a data recovery software offered by Yodot, targeted primarily towards devices equipped with SSDs. It has many good features that should help users in both home and work settings.
Yodot tries its best to incorporate as many features as possible and does so quite remarkably without making the user interface feel cluttered. This is one of the best things that I like about the software, as a clumsy UI can make even good software feel terrible.
Yodot SSD Recovery Review; Should You Buy?
Let us dive deeper into the Yodot data recovery software, and take a look at some of the things you can expect while using the recovery software.
Pros
User Interface
Many applications try but fail to be complete and clean at the same time. Yodot Recovery Software takes a minimal approach instead. This makes the software feel clean and quite easy to navigate through.
All the various features like File Recovery, Photo Recovery, and Hard drive recovery are laid out right at the home screen and neatly arranged. Hovering over the options provides a description in the box right above so that users don't get lost while navigating the options.
The descriptions are a good touch and give an insight into the minor features which may come in handy.
Functionality (Scan By File Type)
If you lost just a single file or a whole partition, Yodot has you covered. There is support for scanning by file type, which you will find under File recovery. This is one of my favorite features, as scanning by specific file types is a feature that is very rarely found in data recovery software.
Select File recovery > Lost File Recovery.
After this, select the drive that you wish to scan and click on Next.
In the next window, you will be asked to select the file types that you wish to scan.
Note: The more file types that you select, the longer the scan will take.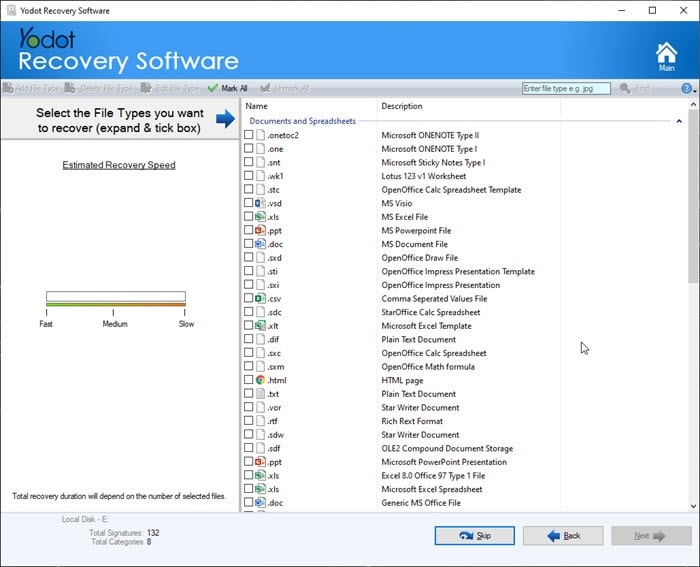 File Type Support
Keeping true to the earlier point, there is a huge variety of file types that the software supports. This file support comes in handy not only during recovering single files but during full SSD scan as well. This means that the software will be able to recover almost any file that you lost on your computer.
Not only is there a huge file type support, but there is also support for many different file systems like FAT 16, FAT 32 and NTFS. This translates to you being able to scan not only internal storage devices but external media like flash drives.
It also supports partition recovery from RAID arrays (including RAID 0, 1 & 5).
Cons
While there are many things to like about Yodot Recovery Software, here are some things that would make the software even better for the consumers.
Performance
In what seems like a trade-off, the extra bit of functionality seems to come in exchange for performance. While this software is targeted towards SSDs, there is still a bit of work that can be done to make the scans faster.
On our Kingston 128 GB SSD, the full SSD scan took approximately 35 mins to finish scanning the drive. While the scans revealed files from a huge variety of file types, the scan time does seem relatively long.
The pressure on the system, however, was relatively low. Only one process run in the background, and the total CPU utilization hardly crossed 4% during the scans, with memory usage being under 400 MB at maximum.
Lack Of Information
For such a clean application, it comes as a surprise that the pricing details are such a well-kept secret. There is virtually no information present as to what features are available for free, and for what features you need to pay.
From the installation to the scanning completion, there is no banner advertisements or any other sort of pop-ups that mention the price or locked down features.
While this creates less distraction, it is really annoying. Knowing the free features beforehand can help a lot in planning before starting the scans. I really wish there was some more information available about the pricing structure and the available features.
Should You Buy Yodot Recovery Software?
Yodot data recovery software is available in three pricing tiers, with the complete Recovery Software being available for $69.95 for the complete license. This price tag is actually what you see from other recovery software as well, so you may not make a huge bargain.
However, for the features that are available with Yodot data recovery software, you might consider buying the premium version if you use your computer for handling sensitive information, or as a backup option in case you lose your data.