A video converter can come in handy to users of all ages. Simple conversion to another video format can help users play a video that was earlier unplayable because of incompatibility issues. Video conversion to a lower resolution can help you save some space on your device if you are running out of it. Lastly, a video to audio converter can help users extract the audio from a music video to carry with them in audio formats.
WonderFox HD Video Converter Factory Pro is a complete conversion software. I used the term complete to highlight the fact that it is a video converter, video downloader and a screen recorder crammed into one small software. It is truly "one application to do it all".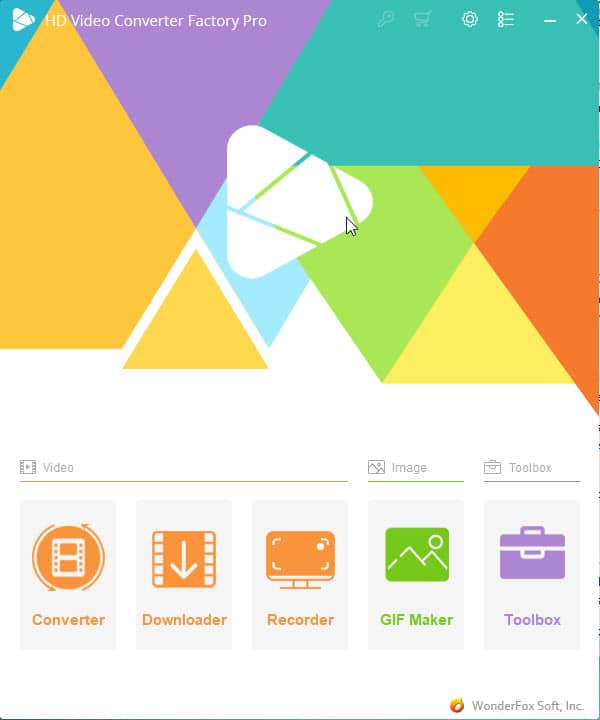 Can My PC Run It?
Being a video converter in its root, a video conversion software can be demanding on your computer. However, WonderFox HD Video Converter Factory Pro has no such minimum system requirements to run. Being a Windows only software due to optimization constraints, it is available for Windows 10, 8, 7 and lower, with support for both Intel and AMD CPUs, and NVIDIA NVENC, CUDA, and Intel HD Graphics hardware acceleration.
However, having an upgraded rig might come in handy during the conversion process, as the conversions will complete faster and smoother on higher-end PCs.
The Video Converter
When you install (and/or register), you will be greeted with the hub that houses the quick navigation buttons for all the features. Selecting the converter will take you to the Video Converter window.
The interface is really easy to understand and smooth to handle. It is one of the cleanest converters I have seen on Windows, and all the settings have been placed perfectly making them accessible under correct headers.
To convert a video, simply click the giant + button in the center, or drag and drop a video onto the app. From the right-hand side, select the output format (video, audio, web and 4K formats available) and change the parameters to how you see fit.
It can easily convert the most popular mkv files which has made it to be one of the popular mkv converter for Windows .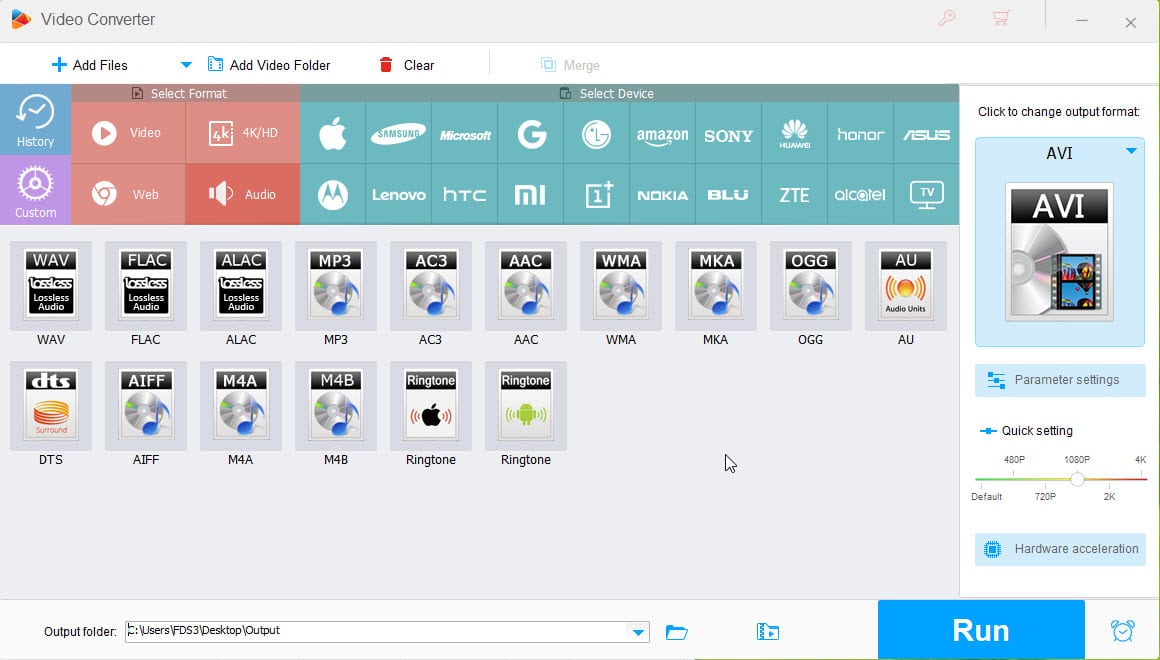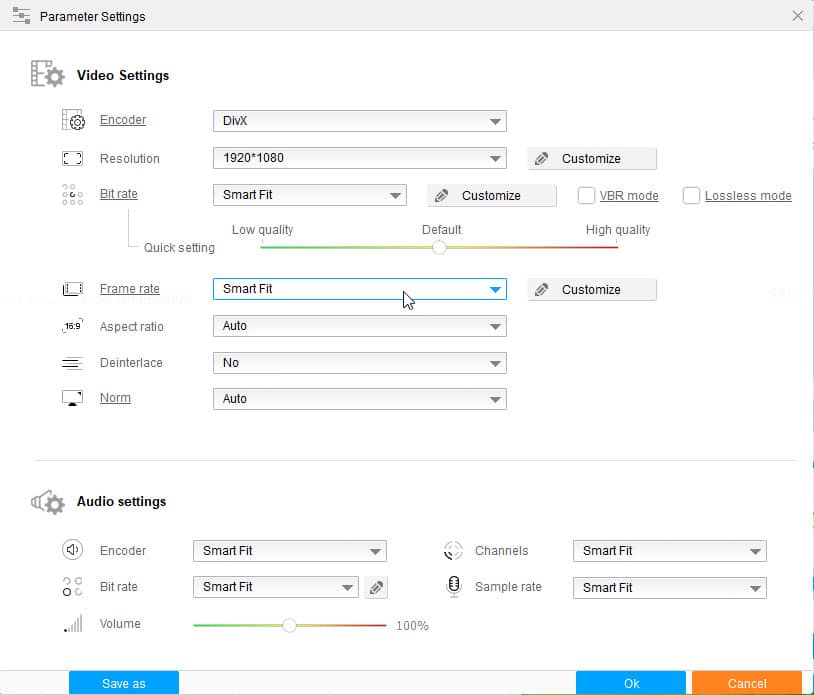 Change the resolution and output folder from below and click on Run. The conversion will start.

Some Appreciable Features
All the settings needed while converting a file is accessible within a click. All the descriptions mention their function clearly, which makes the interface really neat and soothing to the eyes.
The parameters that you can adjust with this application will astound you. Not only can you adjust the quality of the output file, but you can also change the encoder and the Frame rate as well. Adjusting the FPS and Bit rates are really useful features for content creators who will appreciate the customization that the software provides.
Oh, and you can create ringtones as well.
The Video Downloader
The WonderFox HD Video Converter Factory Pro also has a video downloader within it that can help you download videos from a variety of sources.
To download a video, simply paste the URL of the target video page, and click on Analyze. The downloader will pull all the formats the video is available online.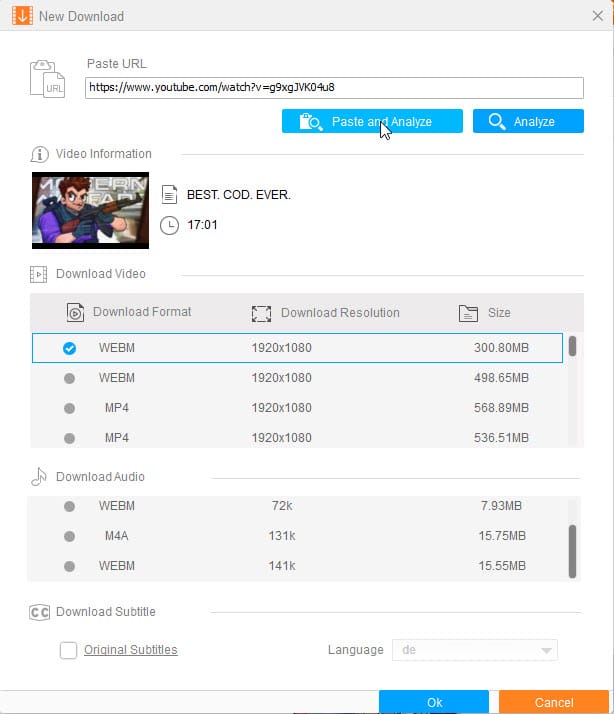 You can also choose to download the file as Audio (inbuilt converter) and download subtitles if available.
Change the output folder from below and click on Download All. The download will start.
Some Appreciable Features
The downloader tool is extremely easy to work with, and the interface is really neat and optimized.
There is a feature called batch download, where you can extract multiple videos and then download them all together. This is a really handy feature, and you can download entire playlists at one go.
We tested and found successful downloads from YouTube, Facebook, Vimeo, and Dailymotion.
Other Features
There is an inbuilt screen recorder, which can let you record the full screen or a custom area of your selection.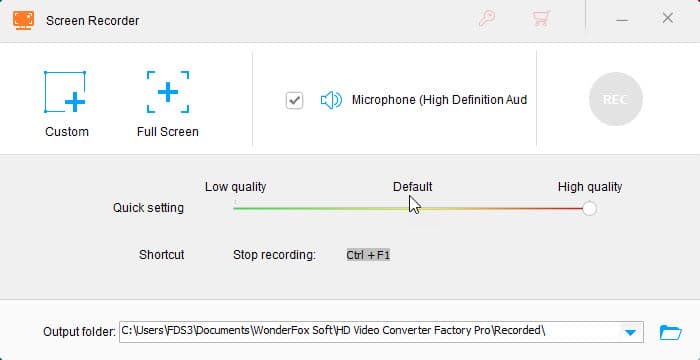 There is a GIF maker, which lets you create GIFs from both photos and videos.
Within the toolbox, you will find a video maker, a split-screen Videomaker, audio trimmer and a subtitle extractor.
Some Things That We Don't Like!
Although the WonderFox HD Video Converter Factory Pro is one of the best video downloader available, there are some things that would make it perfect.
The sizing estimator in the converter is flawed. It showed incorrect conversion sizes on 2-3 different occasions. This can become annoying, and we hope that it will be fixed by the developers.
The biggest problem is with the features that are available with the free software. Since the WonderFox HD Video Converter Factory Pro is a premium software, there are some limited features in the free version. The software does not mention clearly the limited features, and we had to search for these in the app separately. Make sure to check it before downloading it.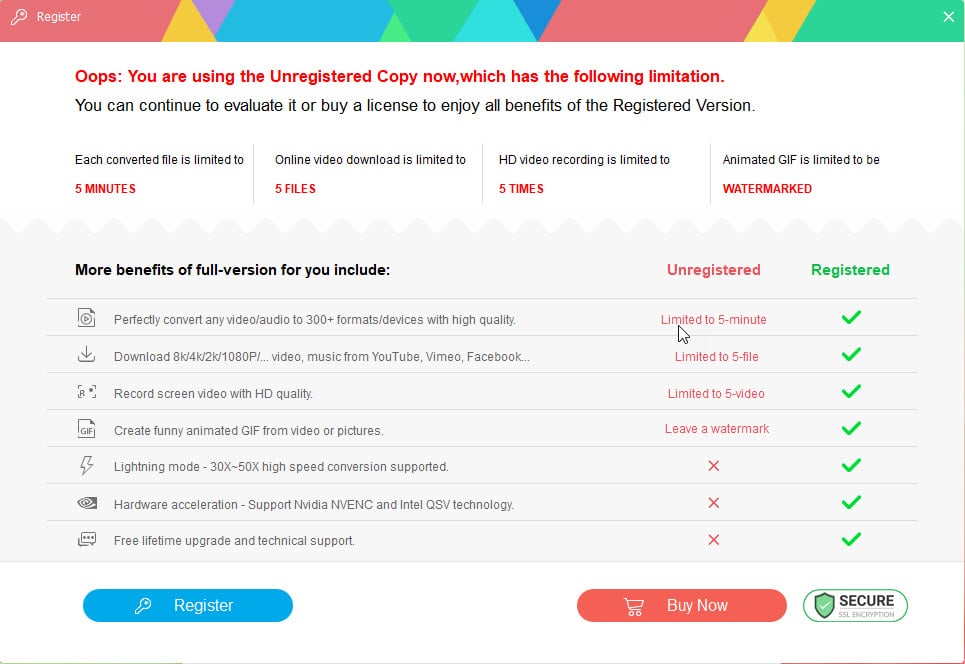 Final Verdict
The lifetime license of the WonderFox HD Video Converter Factory Pro is $69.95 ($34.95 on sale), and one year license with upgrades cost $29.95. The yearly premium version can be a great value for money if you can get it on the reduced costs during sales, as you get lifetime free upgrades and support.
WonderFox has created a neat sophisticated software and has crammed many features within one application. You get a video converter, a video downloader, a gif maker, an audio trimmer and much more in a single app, eliminating the need to search for different sources for the same. If you are looking for a complete application for all your needs, you can check out this software.