During a Windows update, you may sometimes receive an error that says "Setup couldn't start properly. Please reboot PC and try running Windows 10 setup again."
This error usually happens if the Update files get corrupted during a failed Windows 10 download, upgrade or installation. Here I will show you how to fix Windows 10 setup couldn't start properly error using easy solutions.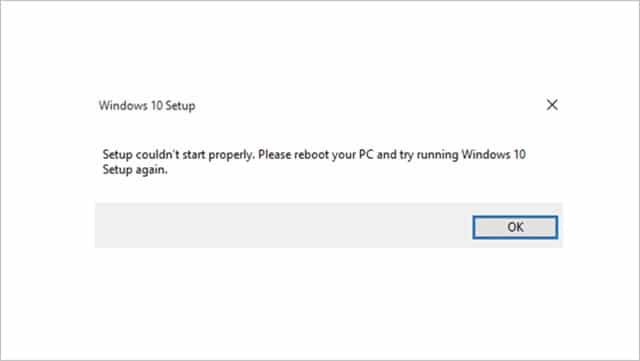 How To Fix Setup Couldn't Start Properly Error?
During a failed installation of a Windows Upgrade, some of the old files remain on your system that cannot be deleted using normal methods. Since these files do not show up in the File Explorer, it is also difficult to locate these files and delete them manually.
Rebooting may help you if the installation failed in its early stages and no files were stored on your system.
These old files will then interfere with your new installation, so deleting them may solve your issue. But before that, it is better to rule out any other possibilities as well, and here are the step-by-step solutions for you to try and solve it.
Run A Disk Cleanup And Error Checking Scan
To rule out that some other file isn't causing the error, you can run some error scans using the inbuilt tools provided with Windows.
Note: Create a system restore point before making any changes to your system.
Open File Explorer and go to This PC from the left pane.
In the list of drive partitions on your system, right-click on the C: drive and select Properties.
Under the General tab, look for Capacity.
Under the Capacity subsection, click on Disk Cleanup.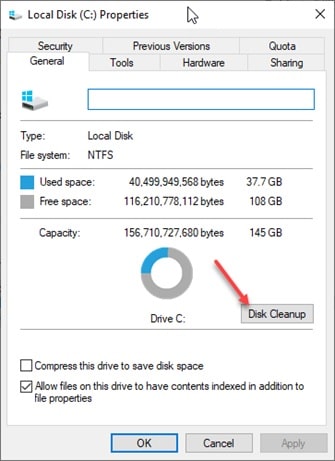 5. Let the calculation run. After some time, a Disk Cleanup for C:\ window will open that will show you the total amount of disk space you gain. Here select all the files that you may want to keep. Click on Clean up system files.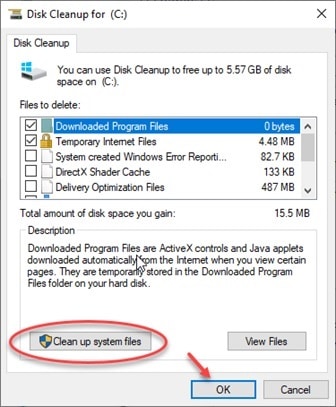 6. Click OK. Let the disk cleanup complete.
7. Again, right-click on the C:\ drive and select Properties.
8. Under the Tools tab, you will find a sub-section called Error checking.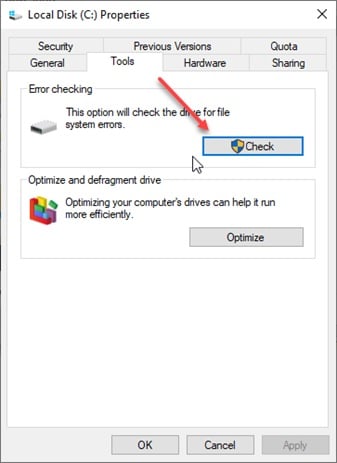 9. Click on Check. Follow the on-screen instructions to finish the error checking.
10. Restart your PC after the end of the scan.
Run the installation again. The error scans will rule out any other possible defects that may be interfering with your Windows 10 upgrade and solve the Windows 10 setup couldn't start properly error.
If the setup still fails to install and the same defect is shown, you can now proceed to delete the backup files left by the broken installation.
Delete The Backup And Server Files
To delete the old installation files, you will need to boot into Safe Mode. Shutdown your PC.
To boot into safe mode, press the Advanced Boot key (usually F8) during startup to enter the Settings and select Safe mode.
Alternatively, here is another method to boot into safe mode.
Open the Run dialogue by pressing Win + R and type msconfig. Press Enter.
Under the Boot tab, you will find the Safe boot under the Boot options
Check the box next to Safe boot.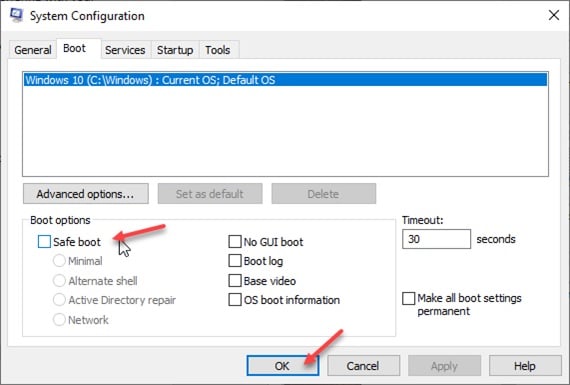 Click Apply and then click OK.
Restart your PC to boot into Safe mode automatically.
Note: If you follow this method, you need to uncheck this box to boot into Normal mode.
Now to delete the files, follow these steps:
Open File Explorer.
Under the Organize drop-down menu, click on Folder and search options.
Tip: You will find folder options under File in File Explorer.
3. Under the View tab, select the radio button next to Show hidden files, folders and drives.
4. Uncheck the box next to Hide protected operating system files (Recommended)
5. Click Apply followed by OK.
6. In a Run window(Win + R), type %windir% to go to the Windows directory.
7. Locate the following folders and delete them permanently (Shift + Delete)
$Windows.~BT (Windows Backup Files)
$Windows.~WS (Windows Server Files)
Note: If you cannot delete these files, rename them. Add .old after the name of the folders.
8. Back in the C:\ drive, delete old folder.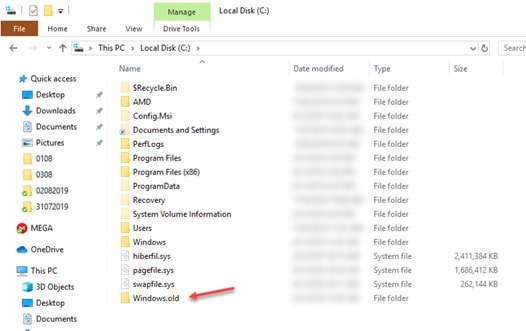 Now boot into normal mode. Try running the installation again. This time the installation should run normally without any issue.
However, sometimes, it is seen that this may not solve the issue, so you need to run the setup file from the update folder.
Run Setup.exe
If the same error is displayed after the above step, do the following.
Again, boot into safe mode and confirm that no new backup files are made, if they are made, delete them as shown above. Boot into normal mode.
Go to the folder C:\ESD\
Run the exe file as an administrator by right-clicking on the icon and selecting Run as administrator from the menu.
Directly running the setup files sometimes solves the Windows 10 setup couldn't start properly error.
Conclusion
This is a common error among users, who have a failed Windows installation on their system. But now you know how to solve the Windows 10 setup couldn't start properly issue using the step by step solutions given above. Comment below for further discussion and tell us how you solved this error.