The Windows.Edb files are known to be database files of the Windows Search Service.
This gives you the search results in reference to your contents, files, etc. because of this Windows Search Service, Windows.edb may bloat and lead to Windows.edb problem.
Actually, it gets increased or becomes huge and consumes large hard disk space. That is why you need to clean up the disk space.
Is It Safe To Remove The Windows.Edb File?
When your Windows.edb turns to be huge, you can do nothing but to free up the space and delete it. But often I am asked whether it's safe to delete this file.
So, here is the answer. Yes, you can safely delete this file and your Windows will take some time for re-indexing.
In this case searches will become bit slower and when this job is completed you can again search faster.
In case you are not using your Windows search Service, you can disable it using your Control Panel. Through this article, I will provide some ways to easily fix up the Windows.Edb problem.
Solution 1: Removing Windows.Edb File
There is another way you can check the windows.edb huge windows 10 is by removing the Windows.Edb File. Follow the steps mentioned below to commence the work:
Step 1: First go to your Task manager and select the Processes tab. Now, choose the SearchIndexer.exe process option and hit the Stop button to terminate the process.
Step 2: Then return back to the Start and open your Run dialog box. Enter services.msc in the box and hit the Enter button.
Step 3: Now search for Windows Search in the search window and double click on it. Hit the Stop button to stop its service.
Step 4: Next you will have to right-click on Windows.edb file and press the delete option.
Solution 2: Rebuilding The Windows.Edb File
By removing the Windows.Edb File, you can easily solve your problem but you will find searches are running slower. So, let us now see the process for rebuilding the Windows.Edb File.
Follow the below mentioned steps for rebuilding the index:
Step 1: Go to the Start menu and then open your Control Panel. Now move on to the Indexing Options.
Step 2: Now go to the Advanced option and from the Indexing Settings option, choose Rebuild.
Press the OK button as confirmation and you are done.
Solution 3: Defragging The Index
If you organize the index it helps you to access the data much faster. So, by defragmenting the index you can easily solve the Windows.Edb huge problem.
Let us discuss the procedure in detail to see how to defragment the index. Follow the steps:
Open Command Prompt and type the following command in order for preventing Windows Search Service to start automatically:
sc config wsearch start=disabled

Now, enter the next command for stopping the Windows Search Service:
net stop wsearch

Now for defragging Windows.edb file type the following command:
exe /d %allusersprofile%microsoftsearchdataapplicationswindowswindows.edb
Input the next command for enabling a delayed start of your Windows Search service:
sc config wsearch start=delaye140-+++*/4*23.56-auto
Now enter the next command for starting the Windows Search service:
net start search
Now check whether your problem with Windows. edb file is solved.
Solution 4: Changing The File Location
In the long run, Windows.edb consumes a lot of space from your hard disk. So, it is a wise decision to shift the file to some other location.
Check the steps provided below to change the Windows.edb file loation:
Step 1: Go to the Start menu and then open your Control Panel. Now move on to the Indexing Options.
Step 2: Now go to the Advanced option and from the Indexing Settings tab, choose Index location, and then go to New.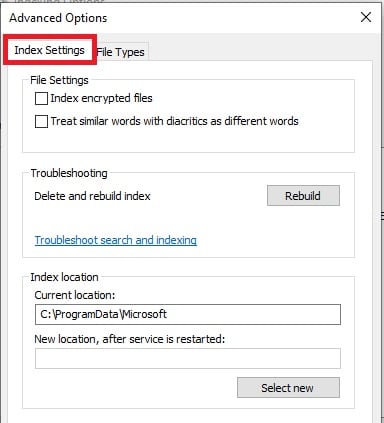 Step 3: Choose to set the new folder as the new location for your Windows.edb file.
Now check whether your windows.edb huge problem is solved this way.
Solution 5: Disabling Windows Search
Windows.edb file gets accumulated because of your Windows searches.
So, when you disable your Windows search from the Control Panel, you can control the much annoying Windows.edb problem.
Here I am mentioning the workaround to disable the Windows Search.
Step 1: Open your Control Panel and then go to All Program. After that move on to the Program and Features option.
Step 2: Now, from your Program and Features window, search and select Windows Features on or off option.

Step 3: Uncheck the Windows Search option.
Also read: Windows 10 Search Not Working
Solution 6: Choosing Hotfix By Microsoft
Hotfix is released by Microsoft for fixing the Windows.edb file problem. For this, you can choose to install Microsoft Hotfix.
I am describing the process for the installation of this Microsoft Hotfix. Follow the steps mentioned below:
Step 1: First of all, open the Microsoft Support link and select choose Hotfix Download option from the displayed menu.
Step 2: Follow the on-screen instructions given to install Hotfix after you have successfully downloaded it.
After installation, give your system afresh restart and check whether your problem is solved this way.
Solution 7: Updating Windows
Updating windows is required to address many problems in the System including your Windows.Edb Huge Windows 10 problem. You can perform this task quite easily from your Updates and Security panel. Follow the below-given steps to do it:
Step 1: Go to Settings and go to Update & Security.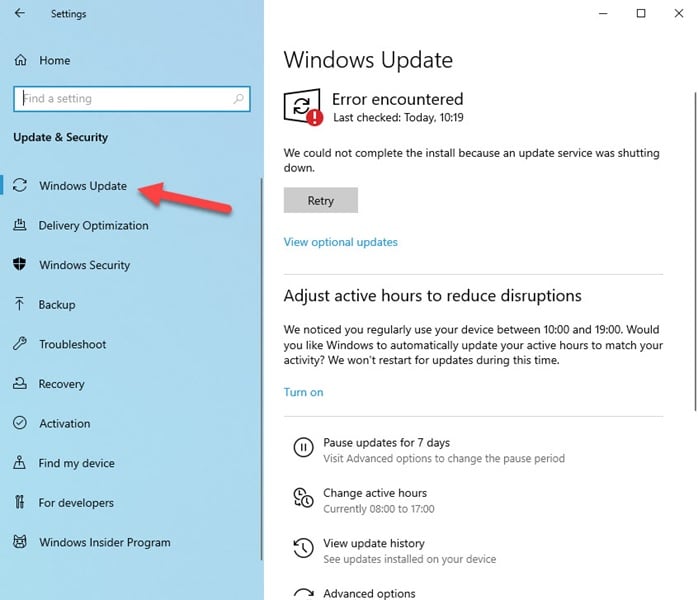 Step 2: Now choose Windows Update and select Check For Updates option. When you locate any update complete the procedure and restart your system.
After you have rebooted the windows check whether it has made any improvement.
Many users have reported this process has solved their problem immediately. So, before you try any other remedy, you can give this a try.
Closing Words
So, I hope by now, you are able to find out a suitable solution if got annoyed with the Windows.Edb error!
If you still have queries related to this issue or any other folder, please communicate with us in the comments section provided below.
Feel free to shoot us a mail with your ideas or suggestions. We always look forward to hearing back from you.