The taskbar is one of the features that is often overlooked, but it is one of the most useful features of the same, with all the applications that you are using docked within the reach of a single click. With Windows 10, Microsoft introduced some new tricks, in an attempt to improve the user experience.
Windows 10 Search And Cortana Box
In earlier versions, the Windows assistant Cortana was built into the search bar. This was done to provide better search results and included Bing results for when you searched for something in Windows Search (which was not very well received).
(Also read: Top 8 Windows 10 Start menu replacements)
Starting from Windows 10 version 1903, the search and Cortana assistant were separated, with individual icons for both of them added next to the Windows icon. This created some confusion among users, and some of them reported Windows 10 search bar missing after the update.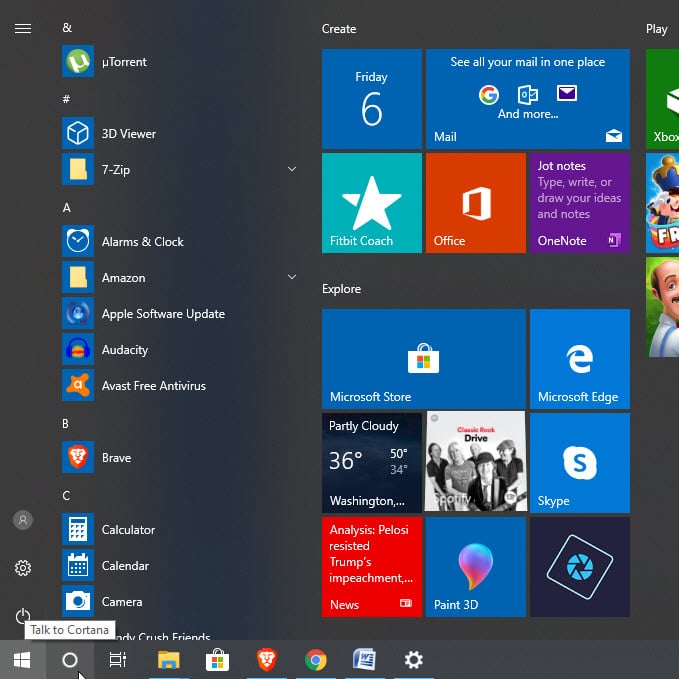 Why Is My Windows 10 Search Bar Missing?
Since individual icons were included for both of them, the Cortana assistant only activates when you ask it to be by clicking on the icon or using voice commands. However, if you prefer using small taskbar icons like me, you will see that there is no search bar in Windows 10.
The small icons look aesthetically pleasing, especially on large resolution displays. When you are using small icons, for Windows search, you will see a Search icon instead of the traditional search bar. This can be perceived as Windows 10 search box missing as reported by many users.
[SOLVED] Windows 10 Search Bar Missing
Here is a simple method that you can use to play around with the Windows 10 search bar if you see Windows 10 search bar missing from your device.
Solution 1: Enable Search From Taskbar Options
Windows search can be toggled to off from the taskbar. If you do not wish to see the Search icon on your taskbar, you can simply hide the Search icon from your taskbar. If you had already hidden your icons, that may be the reason that you see no search bar in Windows 10.
To enable Windows search in the taskbar, follow these steps:
Right-click on the taskbar to reveal the context menu.
Hover over Search to reveal additional options.
Click on Show Search icon to bring back the Windows 10 search icon to your taskbar.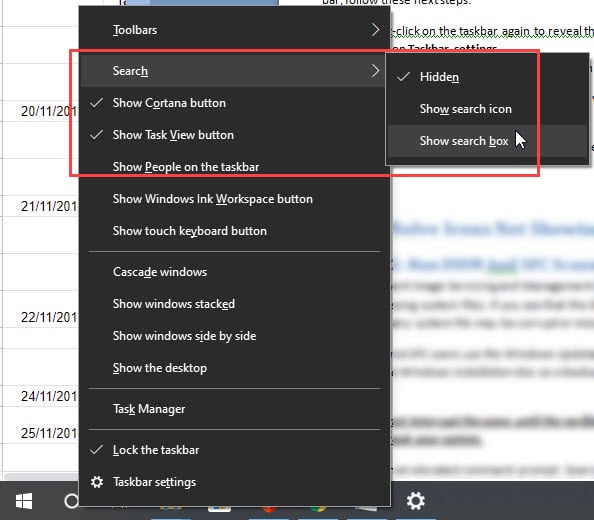 Now you should see an icon for Windows search on the left of the Cortana assistant. To bring back the Windows search bar, follow these next steps:
Right-click on the taskbar again to reveal the context menu.
Click on Taskbar settings.
In the Settings window that opens up, turn the toggle towards off below the Use small taskbar buttons option.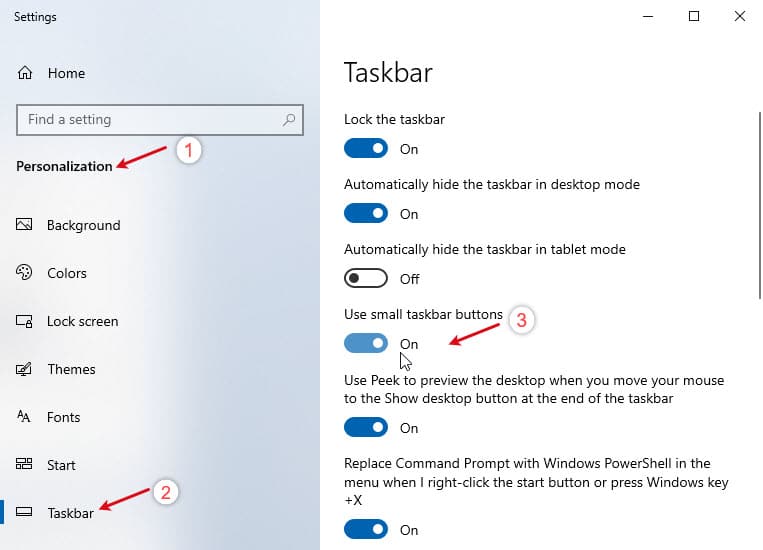 This should bring back the Windows search bar on your device, therefore solving the Windows 10 search bar missing error.
However, if you see entire icons not showing on the taskbar, here are some other solutions that you can try to solve the same.
How To Solve Icons Not Showing On Taskbar Windows 10?
Solution 2: Run DISM And SFC Scans
The Deployment Image Servicing and Management tool and the System File checker scans are used to check for and repair any missing system files. If you see that the icons not showing on taskbar Windows 10, you can try running these scans in case any system file may be corrupt or missing.
Note: DISM and SFC scans use the Windows Update to replace the corrupted files. If your Update Client is already broken, you may use a Windows installation disc as a backup repair source. You have to use a different command which will be listed below.
Caution: Do not interrupt the scans until the verification is complete. The scans do take time, but interrupting the scans may break your system.
Open an elevated command prompt. Search cmd in search and select Run as Administrator from the right-click menu.
Type the following command and press Enter:
DISM.exe /Online /Cleanup-image /Restorehealth

If you are using a repair disc or other removable media, you need to use a different command. The command for this is:
DISM.exe /Online /Cleanup-Image /RestoreHealth /Source:C:\RepairSource\Windows/LimitAccess

Note: you have to replace C:\RepairSource\Windows with the location path of your repair source. You can find this path in the address bar of the drive.
After this scan finishes, you need to run an SFC scan. In the same elevated CMD, write the following command to run a System File Checker (SFC) scan and press Enter.
sfc /scannow

After the scan finishes the problem should be resolved. If there are some corrupt files, the scan will show results as a message.
In case any broken or missing system file was causing this error on your device, the taskbar icons missing error should now be solved on your device.
Solution 3: Create A New Tile Database File
When the database in one account is corrupted or lost, you can try replacing the files from another account on your system or from another system running Windows 10. Obviously, you should try replacing the files from your system itself first.
To do so, you can follow these easy steps:
Create a new User Account with a different name on your system.
Log into that new user account.
In the new user account, open a Run dialogue by pressing Win + R.
Type the following address and press Enter to open the address:

C:\Users\YOUR_NEW_USERNAME\AppData\Local\TileDataLayer

Here you will see a Database folder. This contains the start menu tile database.
Copy the database folder and paste it in any shared folder that can be accessed from the other account as well.
Now log out of this account, and log into your old account that was displaying your issue.
There, go to the following directory by pasting it in the run dialog box:

C:\Users\YOUR_OLD_USERNAME\AppData\Local\TileDataLayer

Rename the database folder in this address to Database.old

Go to the shared folder where you copied the Database folder from the new user account. Copy the file and paste it in the directory given in step 8.

Restart your PC.
Replacing the database files will reset your start menu to default. Nevertheless, it will also be fixed and should work normally as expected.
If copying files from your own system does not work, you can copy the database folder from a different system altogether as well that has a fully functioning Start menu.
Wrapping Up
The Windows Search is a powerful tool that can help quickly find apps and files on your device without having to search for them manually. If you too saw the Windows 10 search bar missing on your device, now you know how to solve this using the solutions provided above. If these solutions fail to solve your error, you may need to reset your device, or use System restores to restore your PC to when it was working fine. Tell us in the comments how you solved the error on your device.