According to user reports, they have run into some problems in Windows 10 when trying to restore it back to previous versions. Restoring is a useful feature to resolve various kinds of issues. But many people complained about the Windows 10 reset stuck which can be caused due to driver issues or corrupted Windows files.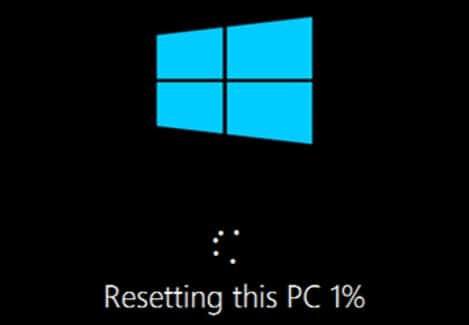 If you have encountered such an issue, don't worry. Here are some effective solutions provided below. Your problems will be fixed easily by applying these solutions.
How To Fix If Windows 10 Reset Stuck?
Some recommended solutions are listed below. Apply them accordingly to your system to know which of the solutions works best for you.
Solution 1: Disable The Internet Connection
When you notice the Windows 10 reset stuck at some point, wait for a couple of hours. If the PC doesn't get back to normal after a few hours, then it might be that your PC stuck while downloading updates. You may disable the internet connection to check if it works. Unplug the ethernet cable from your computer or turn off the wireless router to stop internet service.
If this solution works for you, your computer will show you a connection error. If it doesn't help you to fix your problem, then you should continue to the next solution.
Solution 2: Perform System Restore In Safe Mode
If your PC is still stuck, you might perform a system restore in safe mode. To do this, follow the steps below:
Press and hold the power button for a force shut down.
Switch your computer on and again shut it down by pressing and holding the Power button.
After repeating this three times, Windows will detect unusual startup and will boot into Windows Recovery automatically.
In the Windows Recovery window, navigate to the Troubleshoot option and click on it.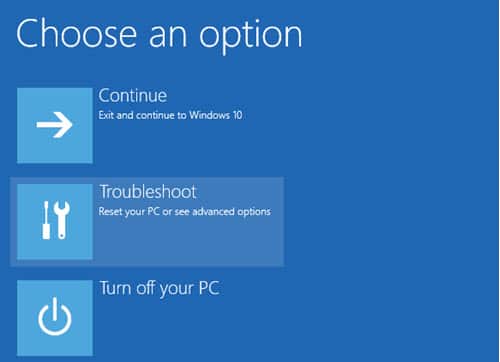 Now Click on the Advanced option.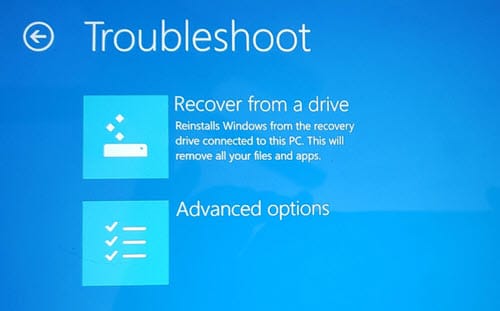 You will find the System Restore option here. Select this option.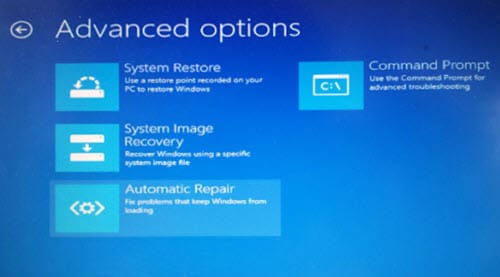 Follow on-screen instructions to start the System Restore Process.
Solution 3: Run Startup Repair
If you don't have any saved restore points, you should perform startup repair in safe mode. This process worked for many users to resolve Windows 10 factory reset stuck issue.
You need a bootable Windows 10 installation file in a DVD or USB drive. You also have to set the BIOS to boot the disk first after inserting the bootable disk into your computer.
When your computer boots up, select the Repair your computer option from the Windows installation interface. Then navigate to the Troubleshoot option and select the Advanced option. Here, you will find the Startup Repair option. Select the option to launch the Startup Repair process.
If you don't have the installation disk, then you should run the startup repair from the Windows Recovery Environment.
Open the Windows Recovery Environment by following the process stated above. Then navigate to the Troubleshoot option and click on it. From the next window, select the Advanced option. You will find the Startup Repair option. Follow on-screen instructions to complete the repair process.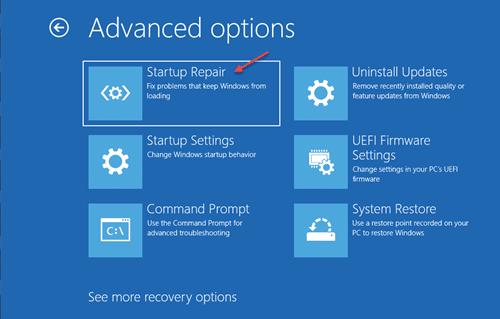 After the repair process completes, restart your computer to apply the changes. Now check if you are able to boot into Windows 10 as before.
Solution 4: Clean Install Windows 10
If the above-discussed solutions didn't work for you, then the last option is re-installing Windows 10. Before you start the re-installation, make sure to create a backup of your files. All your files will be removed from your computer after re-installing Windows 10.
You may take your PC to a computer repair center for a clean installation of Windows 10. Or you can install it yourself by following a few steps.
You should have a bootable Windows 10 installation file in a USB drive. Connect it to your computer.
Now Enter into BIOS settings and set your PC to boot from USB flash drive.
Select your installation language and choose the Next button.
Now click on the Install Now button.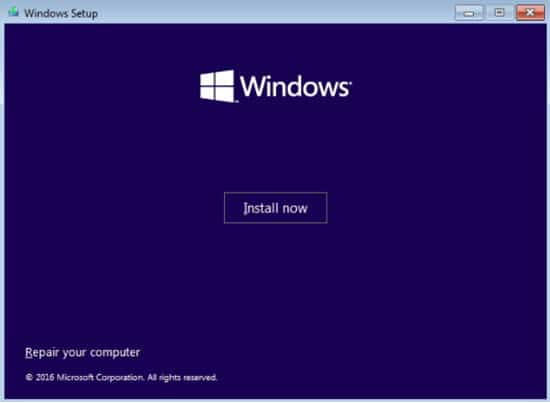 Activate the product if you desire to. Otherwise, skip this step and activate it later from the Settings app.
Click Next from the next window.
Select Custom: Install Windows only.
Select the drive where you want to install Windows and click on the Next option.
Follow the on-screen instructions to finish the installation process.
After re-installing the Windows 10, your problem regarding Windows 10 reset stuck should be completely removed.
Conclusion
Now you know why your Windows 10 reset stuck and what you should do if you face 'resetting this PC stuck'. Let us know which one of the above-discussed solutions worked for you by commenting below. If you still have queries regarding Windows 10 factory reset stuck, feel free to ask us here.