For fixing any corruption or crash, we often choose to start our PC in the Safe Mode.
But sometimes you may come across the Windows 10 keeps booting into safe mode problem. This will disable you to use any feature or update your windows.
Actually, instead of starting in the normal mode due to some error, Windows chooses the Safe Mode option, and this may give you a lot of unnecessary trouble.
In this article, I am going to discuss the possible ways to mend this problem. 
What Happens When Windows 10 Keeps Booting Into Safe Mode?
As Windows get into the safe mode, it tends to use a low screen resolution with not much hardware support.
Now, this only launches minimal necessary services. Besides, it will not load any third-party application.
But when we start the windows normally, it opens the start-up programs loading the installed hard drivers.
But while we wish to perform any troubleshoot, we prefer to open it in the Safe Mode. 
What To Do If Windows 10 Keeps Booting Into Safe Mode?
If Windows 10 keeps booting into safe mode constantly then this may give you a lot of trouble.
Now let us explore every possible way to solve the problem. Have a look.
Fix 1: Use Command Prompt
When you are messed up with the computer keeps starting in safe mode, you can use the Command prompt to find a solution.
Follow the steps mentioned below to execute the task using an Elevated command prompt.
Step 1: Go to your Start menu button and then type cmd in the search box.
Step 2: Now this is going to lead you to open Command Prompt. Choose to run it as admin.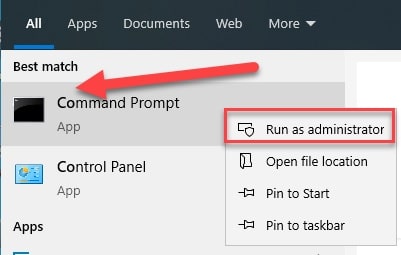 Step 3: When you are in the Elevated Command Prompt, enter the following command:
bcdedit /deletevalue (current) safe boot

Step 4: After this command, hit the Enter button and then give your system a fresh restart.
Hope this will give you some relief. Now check if this has helped you anyway.
Fix 2: Disable The Safe Boot Option
When you find your computer starts in safe mode, you may fix it with the help of your System Configuration window.
Many users have said to get benefited from this procedure. So, you may also give this a try.
Now, follow the steps described below to accomplish the task properly:
Step 1: Open your Run dialog box by pressing Windows + R key. Alternatively, you can go to the Start option and type Run. Now this will lead you to the Run dialog box.
Step 2: Once you find the dialog box displayed in front of you, enter msconfig and get into the System Configuration window.
Step 3: Now locate the Boot option. Now if you find that the boot option is selected anyway, proceed to uncheck the safe booting option.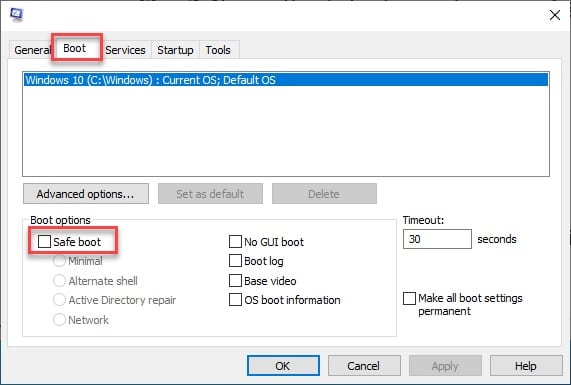 Step 4: After that, hit Apply followed by the OK button.
When you accomplish the entire procedure, give your Computer a fresh restart. Hope this will solve your problem.
Also Read: https://silicophilic.com/windows-10-safe-mode-in-depth-tutorial/
Fix 3: Restart Your System Using Shift Key
To solve the computer only starts in safe mode problem, you can try to mend it using your shift key.
Now follow the steps mentioned below to properly execute the process.
Step 1: Go to the start button and then select your Power option.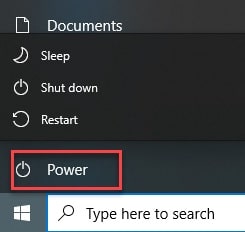 Now from the keyboard, holding the Shift Key choose to Restart your device.
Step 2: Now when you get into the next window, choose the Troubleshooting option.
Step 3: Next move on to the Advanced options. Now choose Start-up Settings and then Restart your Computer.
Step 4: The described process will help you to reboot the device giving you many start-up options.
Now press the Enter key in order to exit the window. Check now, whether this has solved your problem. 
Fix 4: Scan For Any Malware
Sometimes this common scanning technique can help you to fix any problem related to your system.
Just check whether any malware is affecting your system and giving you trouble.
We often use safe mode for some repairing issues and then you can easily perform some of the tasks even being in the safe mode.
Scanning for a virus is one of them. So, don't forget to give this option a try.
Concluding
So, I hope by now, you can find out a suitable solution if got annoyed when your Windows 10 keeps booting into safe mode.
If you still have queries related to this issue or any other folder, please communicate with us in the comments section provided below.
Feel free to shoot us a mail with your ideas or suggestions. We always look forward to hearing back from you.