When you encounter Windows 10 installation stuck issue, first of all check the compatibility of Windows 10 with your system.
This way your setup might take more than an hour or so. Some users have tried to shut down their computers but that might install some corrupted data on your system.
When the external drive or disk that you are booting is somehow damaged, this may also give rise to installation stuck issues. 
What Causes Windows 10 Installation Stuck Issue?
Your Windows 10 installation may freeze on a black/purple screen, logo, checking for updates, blue screen, or spinning dots.
In today's article, I am going to discuss the possible fixes to resolve the issue. When your Computer gets stuck in a restart loop, it's better to check your hardware.
For faulty RAM or unnecessary peripherals, you may also interact with Windows 10 installation stuck sort of problems.
Now let us throw light on all viable solutions to resolve the issue.
Method 1: Try Installing Windows 10 From Some External Media
Sometimes when we choose to upgrade via Windows Update, something may go wrong during the installation process and you will get to see the Windows 10 install freezes issue.
Microsoft provides us the 32-bit and 64-bit ISO files when we do not get the Windows 10 versions through the update.
Thus, we may create an external USB drive for installation and then install it.
We also have an option for downloading a tool to create a USB image with the ISO files of Windows 10. 
Method 2: Check The Region And Language Options
Check the information provided below and we hope you'll be able to check the region and the language options. Make sure that you select the proper region if not set and also the language.
Step 1: Go to the Start option and enter Control Panel for opening the Control Panel window.
Step 2: Now move on to the Region section. Select your region and choose the Administrative section.
Step 3: Change the language option. Most people prefer to set the language to the United States English language. After you have finished doing so, check whether you can smoothly install Windows 10. 
Method 3: Resolving Error 80240020
Some users have reported getting error 80240020 while they tried to install the free upgrade version of Windows 10.
The windows server may get overloaded and for this reason, corrupted files may get downloaded.
Here I am describing to you the process to fix up the issues smoothly.
Step 1:  For resolving the error, first open your C drive and go to Windows/Software Distribution/Download folder and then delete whatever you have in this folder.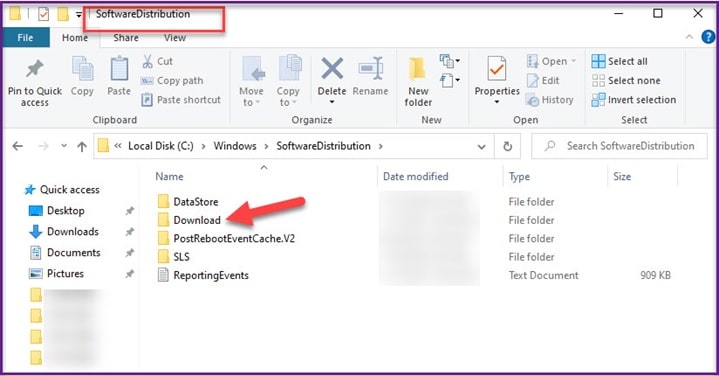 Step 2: Go to the Start option and open the Elevated Command Prompt. Enter the following:
exe/update now
Now hit the Enter button.
Step 3: Wait till the process gets completed and after a few minutes check that the system gets properly downloaded.
Step 4: When you get to see the Preparing for Installation message, make sure that the upgrade of Windows 10 is ready.
Give your computer a fresh restart and install your Windows 10 once again. 
Method 4: Remove The Peripherals And Additional Monitors
If you encounter the Windows 10 installation freeze issue, it may be because of your additional monitors.
Many people need or prefer to use dual monitors nowadays for enhancing performance and gaming purposes.
Most of them faced issues at startup when their Windows 10 fails to handle dual monitors, and for fixing the issue, I suggest you use a single display.
So, make sure to remove all other monitors and peripherals from your system.
Make sure you disconnect the USB devices that may give rise to this kind of problem.
After you remove all the USB devices and then disconnect the additional monitors, check that your issue with installation gets solved.
Method 5: Temporarily Remove Installation Media
Sometimes when the users go to expand the Windows files process, they may face Windows 10 installer stuck issue.
For fixing this problem, here I advise you to remove the installation media temporarily. Afterward, you must choose to insert it once again.
You may also use a DVD for the installation of Windows 10, or you may also select the USB flash drive. Many users have reported solving their installation issue using this technique.
Method 6: Check Your Bios Settings
If you are still strangled with Windows 10 install freezes issue, check the settings of your BIOS.
For this, you will have to get into your BIOS and make some alterations in the settings. Just reset the BIOS to make some adjustments.
Press F2 or Del when you get into BIOS. Check to disable the problematic features and also make sure setting the KN HT Speed to 1X and also the width to 8.
Go through the manual of the motherboard and with the help of the detailed information you can easily perform the task.
When you will reset the BIOS to default, this issue will get resolved completely.
Method 7: Remove Some RAM Modules
Sometimes the Windows 10 installation freeze because of your RAM. Having a huge amount of RAM, many users have reported that they faced the problem when installing Windows 10 on their system.
So, here I suggest you remove some RAM modules. After doing so, check if this has solved your problem.
Many users after they have reduced their RAM, could successfully resolve the issue. After you have successfully installed the Windows, reinsert your remaining RAM.
And check that the problem will get fully resolved. The RAM should not be necessarily broken but it may be faulty. You may also take the help of some third-party tool for testing your RAM.
Method 8: Delete Your Partitions And Recreate Them
You may delete and then recreate the partitions if you got stuck while installing Windows.
But make sure that with this solution all your files will get removed from the hard drive.
Always take back up of your important documents and files before you proceed to remove the partitions.
It's hectic if your Computer is not new as it may have many important files and folders. So, perform the backup to take care of so that you won't miss any of those.
Method 9: Let The Setup Run For Several Hours
This is perhaps the last and the simplest solution to leave the setup and let it run for a few hours. Now when you leave it to run for several hours issue with your Windows 10 installation may get checked easily.
But for this case, you will have to keep patience and wait, and it may even take more than five to six hours.
Try this process in case you have tried all the processes mentioned above and still could not solve the installation issue.
Also Relate to: Windows Setup Couldn't Start Properly – How To Solve? 
Winding-up
So, I hope by now, you are able to find out a suitable solution if got throttled with Windows 10 installation stuck!
If you still have queries related to this issue or any other folder, please communicate us in the comments section provided below.
Feel free to shoot us a mail with your ideas or suggestions. We always look forward to hearing back from you.